MRC Parrots COVID Misinfo, Then Whines It Got Busted For Doing It
Topic: Media Research Center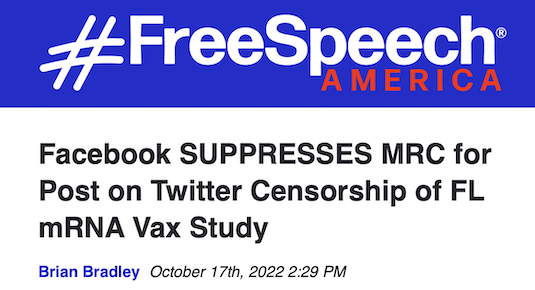 The Media Research Center's Catherine Salgado played the "censorship" card on behalf of a Republican official in an Oct. 10 post:
Follow the science—except when it undermines Big Tech's favorite narratives. Twitter upheld that precept when it censored but later reinstated a tweet from Florida Surgeon General Dr. Joseph Ladapo recommending that young men not get mRNA COVID-19 vaccines based on new evidence he has.

Ladapo tweeted Oct. 7 about a new analysis showing the relative incidence of cardiac-related death increased 84 percent in men ages 18-39 within 28 days of mRNA vaccination. Ladapo recommended men in this age group refrain from getting mRNA COVID-19 vaccines.

Twitter apparently objected to a public health official making science-based recommendations, because it removed the tweet, according to Breitbart. Twitter reinstated Ladapo's tweet on Sunday after backlash, according to Reclaim The Net, and the tweet is once more accessible on Ladapo's profile. Reclaim The Net reported that Twitter originally claimed Ladapo's tweet violated "Twitter rules."

"Today, we released an analysis on COVID-19 mRNA vaccines the public needs to be aware of," Lapado's Oct. 7 tweet said. "This analysis showed an increased risk of cardiac-related death among men 18-39. FL will not be silent on the truth." He then linked to his press release with the mRNA vaccination analysis results and his guidance.
But as we documented when WorldNetDaily pushed this same study, there's little to suggest there's any credible "truth" to the study that Ladapo promoted.It's based on information from death certificates that are likely to be inaccurate, it's based on a group of only 20 deaths, and Ladapo is hiding the names of the study's authors -- all warning signs of shoddy research. Salgado's appeal to authority by portraying Ladapo as a "public health official making science-based recommendations" falls flat because no genuinely competent public health official would put out a "study" with so many warning signs.
When the MRC itself got dinged for amplifying Ladapo's shoddy work, it whined even more. Brian Bradley complained in an Oct. 17 post:
Facebook is ironically censoring an MRC story that calls out another platform's suppression of a study questioning the safety of COVID-19 mRNA vaccines.

MRC Free Speech America staff writer/researcher Catherine Salgado on Oct. 10 posted to Facebook her report on Florida Surgeon General Joseph Ladapo getting censored by Twitter for sharing results of a Florida Department of Health study showing cardiac-related death increased 84 percent in men aged 18-39 within 28 days of COVID-19 mRNA vaccination.

Facebook on Thursday put a warning label on Salgado's post, stating it was "missing context" and "could mislead people."

In addition to censoring Salgado's account, Facebook censored four other MRC accounts in connection with the Florida Department of Health study, including NewsBusters, Free Speech America, CNSNews, and MRC's main account.

The speech police, a.k.a. Facebook, added a stern reprimand against those who engage in free speech. "People who repeatedly share false information might have their posts moved lower in News Feed so other people are less likely to see them," the warning label says.

Facebook applied a warning label – similar to an interstitial – requiring users to click through the label to see the original post. Facebook users fail to click through fact-check interstitials 95 percent of the time, AP News reported in April 2020. This means MRC's post likely received much less reach than it would've had it not been censored.

When it censored Salgado, Facebook linked out to a supposed " fact-check" by Health Feedback. Health Feedback's parent organization Science Feedback is part of the Poynter International Fact-Checking (IFCN) Network, which is funded in part by liberal billionaires George Soros and Pierre Omidyar. Facebook partners with IFCN to "fact-check" certain posts, which restricts their reach.

The "key take away" of that fact-check was that studies "much larger" than the Florida one found benefits of COVID-19 mRNA vaccines to outweigh the risks, "even in people at the highest risk of post-vaccine myocarditis," according to Health Feedback.
Bradley censored ther fact that Health Feedback's fact check said that the Ladapo study is too small to be meaningful and pointed out that the study authors are anonymous -- facts he apparently feld he needed to hide by playing guilt-by-association with Soros.
Bradley then complained that Salgado's COVID claims tend to get "censored":
Big Tech has censored Salgado four times this year, including Facebook censoring her three times in June for COVID-19 content. The last June post called out The Vatican's issuance of a coin "celebrating the ineffective, dangerous, abortion-tainted Covid-19 vaccines." Facebook slapped a June 5 Health Feedback "fact-check" on another June post by Salgado. The fact-check linked out to her Substack article highlighting a German study showing that mask mandates didn't restrict the spread of the virus.

Facebook applied another "fact-check" on a post of a June 3 article by Salgado citing feminist Dr. Naomi Wolf, who claimed COVID-19 vaccines were causing a "genocide" of babies.
Salgado was wrong to spread such misinformation-- and Bradley is helping anyway by appending the "Dr." honorific to Wolf to suggest that her false conspiracy-mongering is medically based; in fact, Wolf is a Ph.D., not an M.D.
Bradley didn't explain why Salgado's COVID misinformation shouldn't be called out -- or why the MRC continues to employ such an unrepentant misinformer. Unless, of course, her actual job is to spread misinformation that gets flagged by social media so her employer can cry "censorship."
The MRC has defended Ladapo before. In January, Kevin Tober tried to distract from a report by Rachel Maddow arguing that Ladapo has not treated COVID patients despite portraying himself as doing so by parroting Florida state officials claiming that Maddow didn't give Ladapo adequate time to respond. Clay Waters complained in February that the New York Times was allegedly targeting Ladapo because he "doesn't buy into COVID-hysteria, a complaint he repeated the following month.
Posted by Terry K. at 3:16 PM EST