MRC Sports Blogger Still (Mostly) Cool With WNBA Player Rotting In Russian Prison
Topic: Media Research Center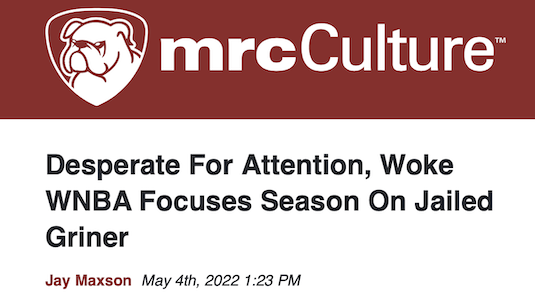 We've seen how the Media Research Center cares more about the plight of Russian athletes following Vladimir Putin's invasion of Ukraine than it does about an American athlete imprisoned on dubious charges in Russia. So it's no surprise that the MRC continues to express glee that WNBA star Brittney Griner is rotting away in a Russian prison despite a lack of evidence that the charges against her are valid. Jay maxson used a May 4 post to smear the WNBA as being desperate for attention for carring about Griner, and he (oir she) has assumed she is guilty despite, again, no evidence to back that up and suggests that she deserves everything bad that happens to her because she's not heterosexual and cares about racial justice:
The woke WNBA begins another season Friday, and the league is desperately hyping a Brittney Griner campaign in hopes of attracting some attention. Griner has been detained by Russia since February, when she attempted to enter the country with drugs.

ESPN reports that Griner was detained in Russia since Feb. 17, when customs officials found hashish oil in her luggage at an airport near Moscow. She was allegedly trying to bring vape cartridges containing oils derived from cannabis through a Moscow airport, Fox Sports noted.

[...]

So that's the story, and here's the bottom line. The WNBA is glorifying someone accused of breaking another country's drug laws. Players who have not violated any such laws will have to actually play to earn their salaries, and they won't be honored with floor decals.

What's more is that Griner is a black, married lesbian and a past anthem kneeler – a Black Lives Matter supporter and a social justice warrior extraordinaire. All of which count huge in the WNBA, previously called the most radically woke sports league of all.

[...]

The thought of being jailed in a foreign country is scary. However, Griner's history is one of uncivil behavior and drug use. She is not a model citizen, and for an entire sports league to build a shrine around her is positively ridiculous.

The WNBA ought to be warning its players not to use drugs, and not to try smuggling them into other countries. WNBA TV ratings are horrible, and this is a new attempt by the league to gain some attention. Building a media campaign around an inactive player sitting in a foreign jail is beyond pathetic.
The MRC frets much more about Russian athletes made inactive because their government committed evil deeds.
But Maxson suddenly did a flip-flop on Griner in a May 19 post -- but only so that he can quote conservative sports guys attacking the WNBA and the Biden administration for not doing enough to help Griner (even though Maxson was bashing the WNBA just a few weeks earlier for doing anything):
The "champions of women's rights" aren't all they claim to be, say two conservative writers today. Not when it comes to WNBA super center Britney Griner, who has been locked up in a Russian prison on drug smuggling charges since February. President Joe Biden, the Women's NBA and the Left aren't doing enough to help her return to the U.S., the critics charge.

Outkick sports blogger Gary Sheffield, Jr., says, "The WNBA and President Biden have done practically nothing other than slap logos on the court and start hashtags." All 12 WNBA teams are planning to feature center-court logos of Griner's initials and her uniform number in the next women's basketball season.

[...]

Sheffield said there would be considerably more action by left-wingers if LeBron James was confined to a Moscow prison cell on charges of possessing hash oil, like Griner is. "The NBA would throw a fit and perhaps cancel games to assure his safety, and that's probably how leagues should treat their most prized assets," he claimed.

In 2019, President Donald Trump made sure the black rapper A$AP Rocky got released from prison in Sweden. "Trump took action to release a black rapper from prison, but Joe Biden tweets nice things about minorities — he'll leave the black WNBA star in Russia, though," Sheffield wrote.

[...]

Griner is a frequent critic of the United States, and [Breitbart and onetime NewsBusters blogger Warner Todd] Huston said that has made the pursuit for her safety "more complicated and polarizing." The people she perceived as her allies, the so-called champions of women's rights, have not rushed to her defense. Their inaction prompted the petition, which is merely giving those who signed it an opportunity to feel good about themselves.
A May 27 post by Maxson also took a less-harsh line on Griner so he could bash the Biden administration for allegedly not doing enough to free her:
It's been 100 days since Brittany Greiner, center for the WNBA's Phoenix Mercury, has been locked up in a Russian prison on drug charges. Her wife, Cherelle Griner, says President Joe Biden is the deal maker, the go-to man who can get Brittney released.

"There is one person that can go get her, and that's our president," Griner told Angela Rye in an ESPN interview this week. "He has that power. You know, I'm just like, 'Why are we not using it? Like, urgently, use it.' We're expecting him to use his power to get it done."

If President Biden is this fabulous miracle worker, he sure is taking his sweet time living up to that hype. Maybe he's waiting for just the right time to hatch a genius prisoner exchange, but it hasn't happened yet.

[...]

This administration may impress Cherelle Griner, but the talks are proceeding at a snail's pace. In fact, Brittney Griner is now beginning her second hundred days in prison.
Not that Maxson doesn't actually mind Griner rotting in a foreign prison on dubious charges for sin of having opinions on issues and not be heterosexual.
Posted by Terry K. at 8:39 PM EDT