MRC Writer Frets Over Those Poor, Canceled Russian Athletes
Topic: Media Research Center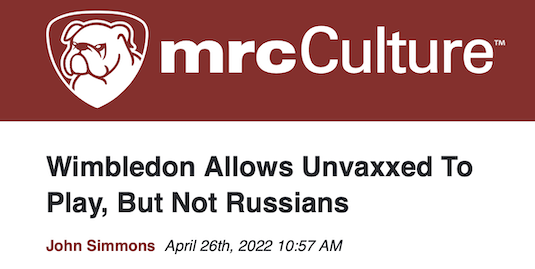 Media Research Center sports blogger John Simmons started writing about the Russian war on Ukraine the right way, with a Feb. 22 post cheeriing European soccer officials for pulling a tournament final out of St. Petersburg -- though he couldn't resist getting in a needless partisan dig, sneering that moving it "would be more nerve than President Biden had when he had the choice to boycott the 2022 Winter Olympics, but chose not to." That was followed by a Feb. 28 post on how "more and more Ukrainian athletes have chosen to take up arms to defend their homeland, then a March 3 post on Riussian oligarch Roman Abramovich deciding to sell his Chelsea soccer team in Britain.
Since then, however, Simmons' focus has been on how unfair it allegedly is that Russian athletes have been barred from competing in various world events. He lamented in a March 8 post:
The ostracism of a Russian presence from sports leagues continues.

On Monday, the NHL announced they cut ties with the Kontinental Hockey League (KHL), a professional hockey league based in Russia, making it nearly impossible for the NHL to sign anyone playing in that league.

[...]

Unfortunately, Russian businesses have not been the only ones to suffer because their globally ambitious government decided to launch an invasion.

At the start of the 2021-2022 NHL season, five percent of all players on opening day rosters were Russian. That's not a lot, but it seems many of these athletes have received an unjust amount of abuse and ridicule in recent weeks.

Thanks to the invasion, Russian and Belarusian-born hockey players who play in both the NHL and other professional and amateur leagues in North America have received numerous discriminatory comments based solely on their origin.
Simmons tried to walk a fine line on the issue:
While the sports world was right to remove numerous international competitions from taking place in Russia, this level of hatred towards the players specifically is way out of line. The majority of these players and organizations (like the KHL) do not support Putin's actions and have no power over their leaders or what they decide to do. As long as they do not post "Down With Ukraine" messages on social media or say anything that would imply that they are happy with what is going on, they should not receive this level of hatred.
The day after, though, Simmons cheered former NHL star Jaromir Jagr for raising money to help Ukranian victims of the war. On March 10, though, he was back to lamenting that the Chelsea soccer team was facing sanctions due to Abramovich's ownership:
So basically, a soccer team that had nothing to do with Abramovich's potentially shady business dealings or status within Russia now has their traveling funds slashed, their revenue stream strangled, and the ability to keep their players under contract stripped from them. This begs a question: how much of this is a serious attempt to hold Putin and his cronies to account and how much is simple cancel culture?

In this particular case, no one within the Chelsea organization has supported the war or condoned Russia's actions, and yet everyone in Chelsea's camp is suffering major consequences -- right down to the fans.
Well, yes, shady dealings tend to have a lot of collateral damage involving innocent people. Simmons lamented some more about collateral damage in a March 18 post:
The future of Russian soccer just took a massive blow.
Russia had been suspended and prevented from competing in World Cup qualifiers, and the nation appealed and pleaded for FIFA's (Fédération Internationale de Football Association) ban to be removed. But on Friday, the Court of Arbitration for Sport (CAS) denied Russia's request,meaning that Russia will still be suspended.
[...]
Just like the economic sanctions placed on Premier League team Chelsea F.C., it's difficult to know if these measures are really all that effective in holding Vladimir Putin accountable. Most Russian athletes have not supported Putin, so punishing the players and sports teams who have nothing to do with him seems like an overreach.
Simmons' whining on behalf of Russian athletes continued in an April 20 post:
Apparently, the sports world still has a thing for banning Russian athletes from competitions.

Wimbledon announced that Russian and Belarusian tennis athletes will not be allowed to compete in the iconic tournament, but those same athletes can compete in the French Open as neutral athletes.

"In the circumstances of such unjustified and unprecedented military aggression, it would be unacceptable for the Russian regime to derive any benefits from the involvement of Russian or Belarusian players with The Championships. It is therefore our intention, with deep regret, to decline entries from Russian and Belarusian players to The Championships 2022," the All England Club said in a statement.

The desire to hold Russia accountable for their actions is noble, but punishing athletes that have nothing to do with the war seems to be a miscalculation of what will solve the problem.
Simmons whined somemore about the decision in a post the next day:
Wimbledon's senseless decision to ban Russian athletes from the iconic tournament has drawn lots of backlash from the tennis community at large.

Novak Djokovic, who knows a thing or two about being on the receiving end of stupid decisions from governing tennis bodies, blasted the decision as "crazy."

[...]

?Nearly all Russian athletes across sports have said they do not support any actions from the Russian government involving the invasion of Ukraine, and are being treated unfairly for something they are not involved in. No athlete, regardless of the country, should be held to that standard.
Yes, Simmons still thinks that it was a "stupid decision" to bar a selfish unvaccinated athlete from playing a tournament in the middle of a disease surge that wash killing hundreds of people a day during a raging pandemic.
The complaining continued in an April 26 post about how Wimbledon decided to let unvaccinated athletes like Djokovic play but not Russian athletes: "Logic would suggest that you should not hold athletes who have nothing to do with a major conflict accountable for a country's decision. But then again, logic is in short supply these days." Logic would also suggest that athletes who choose to remain affiliated with a warmongering authoritarian leader should have to feel the consequences of that decision, but that seems lacking on Simmons' side.
Simmons was at it again in an April 29 post:
At least one tennis player is disgusted with Wimbledon's decision to ban Russian athletes from this summer's tournament.

Victoria Azarenka, who at one point in her career was the No. 1 tennis player in the world, wants the Women's Tennis Association (WTA) to protest and combat the ban.

"If you are asking me if I agree with Wimbledon or see their reasoning after being on a personal call with them, I don't see their reasoning," Azarenka said. "It does not make sense and it does not connect to what they are saying. I have made my stance very clear on the issue. I will never, ever support war."

Azarenka gets it. It's not like any Russian or Belarusian tennis player is a sellout for Vladimir Putin and his political actions, so it doesn't make sense that anyone born in those countries should have to face this wacky form of punishment.
Simmons didn't mention that Azarenka is from Belarus.
Posted by Terry K. at 9:33 PM EDT
Updated: Wednesday, May 11, 2022 9:36 PM EDT