Newsmax Plugs Newsmax-Published Book By Newsmax Host
Topic: Newsmax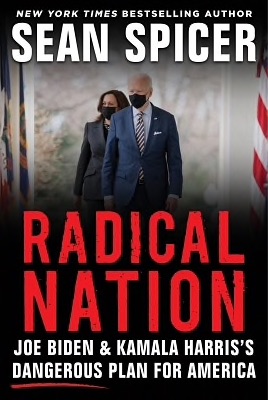 An Oct. 26 Newsmax article weirdly credited to "Newsmax Wires" states (bolding in original):
Sean Spicer warns that the Biden-Harris administration is not only the most progressive administration in history, it is also the most destructive to the nation.

The Newsmax host and former Trump White House press secretary is out with his latest bestseller today, "Radical Nation: Joe Biden and Kamala Harris's Dangerous Plan for America."

"Radical Nation," former House Speaker Newt Gingrich says, "presents a clear and concise understanding of the direction we are headed."

In "Radical Nation," Spicer writes: "We need to understand how wrongheaded, destructive, and dangerous the current Biden-Harris agenda is. We must present a strong opposition to the many deluded and divisive notions this president has put forward."
Apparently, Newsmax press releases are released on "Newsmax Wires."
Newsmax can be expected to promote a book by one of its hosts, but it left out just how vertical and self-serving this operation is: Spicer's book was published by Humanix Books, which is owned by Newsmax.
In short: Newsmax promoted a book by a Newsmax host that was published by Newsmax. That achieves astronomical levels of self-dealing, and portraying this corporate press release as "news" is utterly dishonest.
Posted by Terry K. at 5:52 PM EST