CNS Reporter Keeps Trying To Burnish Trump's Presidency
Topic: CNSNews.com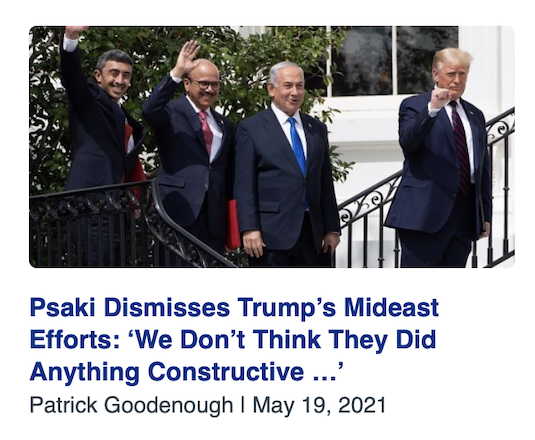 We've documented how CNSNews.com reporter Patrick Goodenough has a weirdly obsessive interest in burnishing the reputation of Donald Trump's presidency. Months after Trump left office, he's still at it.
When Biden White House press secretary Jen Psaki failed to give Trump sufficient credit for his administration's Middle East initiatives, Goodenough took offense in a May 19 article:
The Trump administration did little to advance peace in the Middle East, White House Press Secretary Jen Psaki suggested yesterday.

She dismissed initiatives whose crowning achievement was the securing of four normalization agreements between Israel and Arab nations in less than four months.

"Aside from putting forward a peace proposal that was dead on arrival, we don't think they did anything constructive, really, to bring an end to the longstanding conflict in the Middle East," Psaki told reporters on Air Force One accompanying President Biden to Michigan.

[...]

Psaki's dismissive comments about the Trump administration's efforts in the region stand in contrast to generally positive reactions by the Biden team to those initiatives, which produced a historic series of recognition agreements between Israel and Arab states.

[...]

Psaki was responding to a question by a reporter who suggested that "the thinking behind" the normalization agreements was, "forget the Palestinians, they're not a problem. We're just going to move on."

In fact, the thinking behind the agreements, according to those who brokered them, was that the U.S. should not allow the recurring deadlocks in Israeli-Palestinian negotiations to prevent progress in the broader region.

Then-White House senior advisor Jared Kushner described it as breaking with "the failed conventional thinking of the past."

[...]

The visible improvement of relations between Israel and the Arab world was welcomed at the time by then-Democratic presidential nominee Biden, even as he sought to give the Obama-Biden administration credit for the achievement.

Senior officials in the Biden administration have also referred to the agreements in positive terms, with both Secretary of State Antony Blinken and National Security Advisor Jake Sullivan expressing hope in January that the incoming administration could build on them.
Goodenough has effusively praised the Trump administration's moves to help Israel normalize relations with four minor countries.
Goodenough also demanded credit for Trump in a June 15 article:
As President Biden was attending the first NATO summit of his presidency, the lingering effects of his predecessor could be seen in the alliance's most recent defense spending data.

Ten of NATO's 30 allies have now reached the target of devoting two percent of their national gross domestic product to military spending. That is twice as many as hit the benchmark in 2016.

Neither Biden nor NATO Secretary-General Jens Stoltenberg in their public comments Monday gave President Trump credit for that, although the former president made the issue a top priority in his often fractious interactions with some NATO allies, notably Germany.
Goodenough even worked Trump into something he had nothing to do with -- the 2002 authorization of force that led to the Iraq War -- in a June 18 article:
The U.S. House on Thursday voted to repeal the 2002 authorization for the Iraq War, with almost one-quarter of Republicans voting in favor.

Others argued that it should have been replaced by an updated one, dealing with today's threats emanating from Iraq – primarily Iranian-sponsored proxies.

"This feels like yet another political effort to undo one of President Trump's boldest counterterrorism successes," House Foreign Affairs Committee ranking member Rep. Michael McCaul (R-Texas) said on the House floor before the vote.

After Trump ordered the drone strike that killed Qods Force commander Qassem Soleimani in Baghdad in January 2020, the White House cited the 2002 authorization for the use of military force (AUMF) as legal justification.
By contrast, Goodeneough has been much less kind to President Biden, subjecting him to nitpicky fact-checks he avoided doing when Trump was president.
Posted by Terry K. at 12:33 AM EDT