CNS Reporter Still Touting, Defending Trump
Topic: CNSNews.com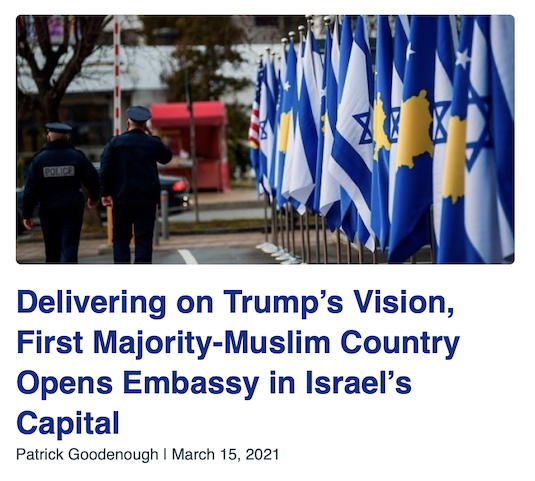 CNSNews.com reporter Patrick Goodenough has been a longtime defender of Donald Trump, particularly championing his administration's moves in getting minor countries to sign normalization deals with Israel. He's also been doing nitpicking fact-checks of Presient Biden, something he never did of Trump. Even though Trump is out of office, Goodenough has continued serving as his champion and defender.
Despite the fact that he's ostensibly CNS' international correspondent, Goodenough is the one who wrote a Feb. 24 article on Trump appealing the suspension of his Facebook account, lamenting that "Thirty-three million Facebook followers have been denied access to Trump's views for more than six weeks." But it was not until the 18th paragraph that Goodenough noted the reason why Trump's account was suspended, and that occurred only because he was quoting an organization that note Trump's incitement to violence and that he "spread lies and false information on Facebook."
Goodenough gushed again over Trump's Middle East policy in a March 15 article:
A Trump administration vision moved ahead on Sunday when Kosovo became the first majority-Muslim country to open an embassy in Jerusalem, the city which President Trump in 2017 formally recognized as Israel capital despite broad international opposition.

[...]

The opening of Kosovo's embassy came six months after the White House announced a U.S.-brokered deal whose main focus was a process of economic normalization between Kosovo and Serbia, the country from which Kosovo was carved in a bloody ethnic conflict late last century.

In an unconventional bit of diplomatic maneuvering overseen by Trump's special envoy for the region, Richard Grenell, Kosovo agreed as part of the deal to recognize Israel – which reciprocated – and to open an embassy in Jerusalem. Serbia, meanwhile, agreed to move its embassy from Tel Aviv to Jerusalem, a step yet to be taken.

"Huge. Historic. Beautiful," Grenell tweeted on Sunday of the embassy opening. "I can't wait to see it in person."
Goodenough served up even more Trmp-gushing in a Marcb 22 article:
Watch your back, @Jack?

Former President Donald Trump is exploring launching his own social media platform, months after censors at Twitter and Facebook/Instagram suspended his accounts, leaving his tens of millions of followers in the dark.

Jason Miller, a spokesman and former Trump presidential campaign senior advisor, told Fox News' "Media Buzz" on Sunday that the former president's new venture would be "the hottest ticket in social media," and "completely redefine the game."
Goodenough completely failed to tell readers why Trump was suspended from Twitter, complaining only that it came following "sparring with Trump for many months over posts relating to unrest in American cities, the coronavirus pandemic, and election results." No mention of the false claims and misinformation he spread.
Goodenough came to the defense of the Trump again in a March 31 article:
As the State Department released its annual report on human rights on Tuesday, a senior official was unable to say whether the Trump administration's decision – now reversed – to drop a subsection on "reproductive rights" in recent years' reports had any impact on reproductive health globally.

[...]

The Trump State Department said it had stopped including the subsection because the term "reproductive rights" has been interpreted and used by some activists around the world to encompass a "right" to abortion.
In an April 7 article, Goodenough got upset at the reversal of another Trump policy:
How many of the more than five million Palestinians who benefit from international funding to a controversial U.N. agency are actually refugees?

The decades-old issue remains a matter of dispute as the Biden administration confirmed Wednesday that it was restoring funding to the U.N. Relief and Works Agency (UNRWA), two-and-a-half years after the Trump administration defunded the agency, describing it as "irredeemably flawed."

[...]

Shortly before the end of the Trump administration, however, then-Secretary of State Mike Pompeo argued on Twitter that "most Palestinians under UNRWA's jurisdiction aren't refugees."
Goodenough is a bit obsessed with the idea of refugees.
There was more defense in an April 15 article noting that "the Biden administration on Thursday conceded that the intelligence community has only 'low to moderate confidence' regarding one of the issues that has been under review – claims that Russia offered terrorists bounties to kill U.S. troops in Afghanistan," adding that "White House press secretary Jen Psaki on Thursday dodged a question on whether the president now regrets that."Goodenough went on to complain that Biden called Trump "Putin's puppy" and highlighted that the claims were "denied by both Moscow and the Taliban." But as others have pointed out, "low to moderate confidence" in the story does not necessarily mean it was false, and paying bounties to kill U.S. soldiers is not exactly out of character for Putin.
Goodenough seems more interested in pushing a political agenda than doing straight reporting -- but that's not a surprise given that he works for CNS.
Posted by Terry K. at 3:26 PM EDT