MRC Puts Lipstick On A Partisan Fox News Interview
Topic: Media Research Center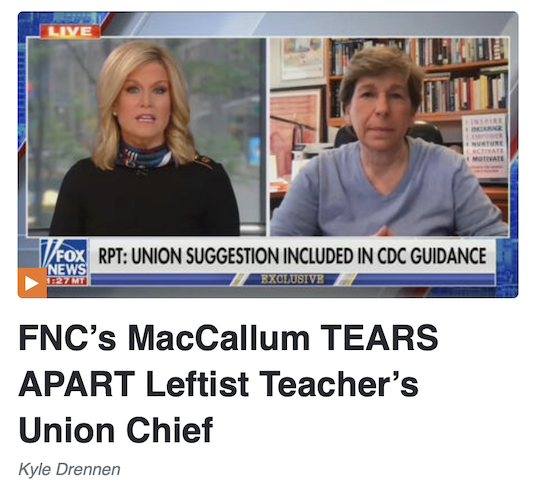 As part of its incessant slobbering over Fox News, the Media Research Center served up a gushing May 11 post by Kyle Drennen:
Appearing on Fox News Monday afternoon, left-wing American Federation of Teachers President Randi Weingarten faced the kind of tough questions that her buddies in the liberal media would never dare ask. Anchor Martha MacCallum grilled the major Democratic Party backer on a range of topics from powerful teacher's unions tampering with CDC pandemic guidance to radical critical race theory being taught in schools.

"So one third of American public school kids are still not fully back at school. The teacher's unions have been accused at times of dragging their feet and more recently of having too much influence over the White House and the CDC," MacCallum told viewers just moments before bringing Weingarten on her 3:00 p.m. ET hour show. She cited a bombshell New York Post report "that the American Federation of Teachers union, known as AFT, was able to coax their language directly into CDC policy."

Turning to Weingarten, MacCallum pressed: "You can see why that would lead people to think that you all have a lot of muscle over at the White House when it comes to reopening our schools." The hackish union chief desperately tried to deflect blame by attacking Donald Trump: "I begged the Trump administration to do exactly what the Biden administration did, which is real safety guidance, that Trump – that the former president didn't mock every other day."
MacCallum wasn't buying it:
Of course, Drennen was cheering that MacCallum was pushing right-wing talking points in the name of "journalism." But as a less biased website pointed out, MaCallum was the desperate one, getting mad at Weingarten for defending how schools are run and even for daring to say something nice about President Biden.
Drennen later praised MacCallum for parroting right-wing attacks on the 1619 Project, then added:
Clearly growing uncomfortable with the topic, Weingarten resorted to juvenile Fox-bashing: "I would hope that Fox would be just as focused on lets get rid of the misinformation about what happened in this election. This election was – "

MacCallum cut her off:
Drennen made sure not to let any criticism of Fox News enter his post, though he quoted MacCallum furiously trying to deflect, "Oh, come on, Randi, come on. This is not the topic that we're here to talk about. I'm not going to talk about that. We've talked about that before. But – no, that's a dodge, okay?"
Meanwhile, that less-biased outlet told the truth that Drennen wouldn't about that exchange:
Fox News viewers were treated to a heated debate between The Story host Martha MacCallum and American Federation of Teachers president Randi Weingarten on Monday, as Weingarten sought to hold Fox's feet to the fire over some of the network's biggest names spreading misinformation about the 2020 presidential election, specifically the baseless theory that President Joe Biden won the election due to voter fraud – a theory that former President Donald Trump and his supporters have continued to espouse , despite Fox's own fact–checks of the claims.

[...]

After some more back and forth about how the history of slavery should be taught in the U.S., Weingarten pivoted again to Fox's election coverage.

"If you're talking about misinformation now, Martha, and I hope you are, I really would hope that Fox would really look at what happened in this election and how we can – because every social studies teacher is wrestling with this — discern fact from fiction. We have to do that."

MacCallum responded that the outcome of the election is well-settled.

"Well we have a president, President Biden was elected in 2020, and I think all of that is quite clear. So I'm not sure why you are so concerned with that part, with that particular moment in history. Every election is significant. Nobody is hiding anything under any rocks here."
We can see why Drennen wouldn't want to breathe a word of that -- a non-insignificant part of the MRC's readership likely believes that Trump won, and the MRC has never retracted, let alone substantiated, its own variant of the stolen-election conspiracy theory.
Despite Drennen's all-caps insistence that MacCallum TORE APART Weingarten, all MacCallum did was spout political talking points that Weingarten easily swatted away.
Drennen concluded: "A leftist partisan like Weingarten is so used to having friendly chats with compliant reporters who support her agenda that she doesn't know how to deal with real questions about teacher's unions damaging the American educational system." But he'll never identify MacCallum as the right-wing partisan she is, and he'll never criticize MacCallum's compliant interview with her fellow right-wingers.
Posted by Terry K. at 9:49 PM EDT
Updated: Tuesday, June 29, 2021 10:08 AM EDT