CNS Commentator Is Latest To Defend Crowder's Hate
Topic: CNSNews.com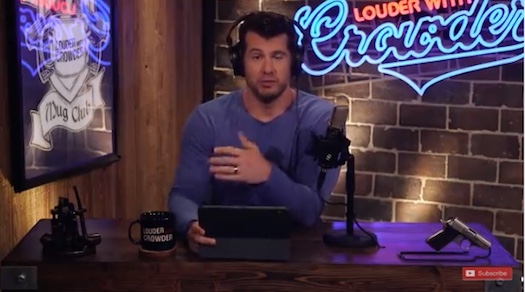 CNSNews.com took after its Media Research Center parent again, this time in trying to defend right-wing videomaker Steven Crowder. A May 21 CNS commentary by the Heritage Foundation's Kara Frederick stated:
Conservative comedian Steven Crowder filed notice last week of a lawsuit against YouTube, claiming, "This is the big one, boys and girls."

Crowder's May 14 filing follows his second "strike" in as many months. In March, YouTube demonetized Crowder's channel and issued his first demerit of 2021 on grounds that one of his videos contained COVID-19 misinformation. In April, Crowder earned "strike two" under the pretext of harassment and cyberbullying.

One more infraction in the designated 90-day window and he will be permanently cut off from his 5 million YouTube followers.
Note that, like the MRC, Frederick refused to say exactly what earned Crowder his second strike. No, Kara, it was not "the pretext of harassment and cyberbullying'; it was mocking a woman shot to death by police.Frederick also didn't mention that the"demerited" Crowder video containing COVID misinformation also contained a lot of racism.
Frederick then combined the comedian's pass (though Crowder isn't all that funny) with whataboutism:
Crowder is polemical—he is, after all, a comedian—but his undue scrutiny ignores a morass of unpunished "violations" that proliferate on YouTube all around him.

If the coronavirus misinformation standard were applied consistently, Dr. Anthony Fauci's announcement in March 2020 that "there is no reason to [walk] around with a mask" would have been struck from the platform during the height of the pandemic.

If the harassment and cyberbullying standard were applied uniformly to comparable accounts, left-of-center comedian Bill Maher's glee over billionaire businessman David Koch's death would no longer be searchable on Maher's show's channel.
From there, Frederick used crowder to push the factually deficient right-wing narrative that "Big Tech" is solely targeting conservatives for saying conservative things:
As such, conservative voices like Crowder's should not be sacrificed on the altar of Big Tech.

Yet the fight is not about Crowder. Instead, it's a crisis of the tech titans' own making. Inconsistent enforcement of vague rules, the opacity of content-moderation practices, and a lack of recourse are the hallmarks of Big Tech today.

Crowder's latest legal move points to a broader, more pernicious trend taking hold in Silicon Valley and beyond. (He's threatened to file suit against Big Tech before, as recently as February.)

The evolution proceeded slowly at first. When platforms banned gratuitous-chaos agents, such as Alex Jones and Milo Yiannopoulos, many conservatives were reluctant to defend them, even on principle. Now, social media companies are sprinting away with the goal posts.

What began as an effort to ban fringe outlets such as Jones' "Infowars" has rapidly expanded to the restriction of traditional conservative views.
Huh? Mocking a dead woman and launching homophobic attacks against a gay journalist -- something Crowder has also done -- are "traditional conservative views" whose expression must be protected? And Frederick also thinks that Yiannopoulos and Jones -- who are weirdly described as "gratuitous-chaos agents" and not the ideological far-right provocateurs they are -- are pushing "traditional conservative views" too?
Frederick is playing the bogus victimhood card and trying to portray hate as "traditional conservative views." We know CNS and the Heritage Foundation have a narrative to maintain even as it's falling apart, but sheesh, guys.
Posted by Terry K. at 8:23 PM EDT