CNS Attacks Yet Another Biden Nominee
Topic: CNSNews.com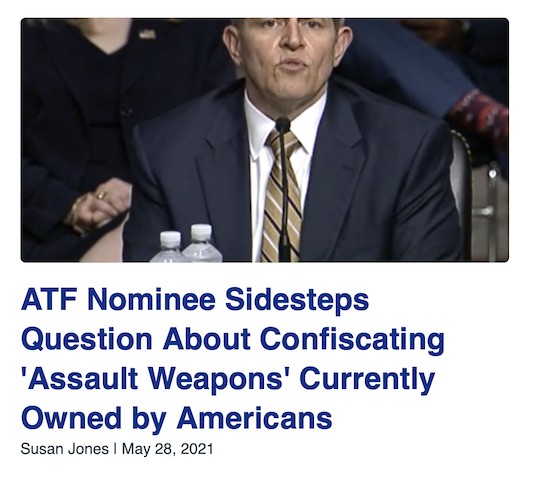 CNSNews.com has found itself yet another Biden administration nominee to attack. This time, CNS' target is David Chipman, nomated to be head of the Bureau of Alcohol, Tobacco and Firearms.
Chipman's nomination merited only a passing mention by Melanie Arter in an April 8 article otherwise focused on President Biden's efforts to curb gun violence. But by the time his confirmation hearing rolled around in late May -- and Chipman's support for gun-control efforts made it to the radar of right-wing activists -- CNS was ready to attack, cranking out a whopping five articles related to it. A May 28 article by Susan Jones complained:
David Chipman, the former ATF-agent-turned-gun-control-activist, told Congress on Wednesday that he supports a ban on AR-15s and other semi-automatic rifles "as has been presented in a Senate bill and supported by the president."

But if it were up to him, Chipman would go further than banning so-called "assault weapons."

Chipman told the Senate Judiciary Committee that in his work as a gun control activist, he has advocated for placing regulatory burdens on Americans who currently own the AR-15 and similar firearms:

"So you want to ban the most popular rifle in America," Sen. Ted Cruz (R-Texas) told Chipman at the confirmation hearing.
An article by Melanie Arter went on to complain that Chipman "refused Wednesday to define what assault weapons are, saying that would be up to Congress to define." This was followed by two attacks on Chipman by Republican senators:
An article by Jones touted a gotcha question by Sen. Tom Cotton demanding Chipman define an assault rifle.
An article by Arter featured Sen. John Kenney ranting that Chipman "does not believe in the 2nd Amendment, and he's just one of many Biden appointees that are the most radical people he's ever seen."
There was also a fifth article written by Jones, which carried the headline "ATF Director-Nominee Asked If He will Prosecute Hunter Biden for Lying on Background Check Form." But the article was deleted from the CNS website without explanation; the URL now returns an error message.
None of the four extant articles (and, we can presume, the disappeared one as well) quoted any Democratic senator questioning Chipman; indeed, none mention the presence of Democratic senators at all. So much for CNS' mission statement to "fairly present all legitimate sides of a story." Meanwhile, CNS has yet to report that Chipman's nomination was advanced out of ommittee to the full Senate for a vote.
Posted by Terry K. at 1:16 AM EDT