CNS Unemployment Coverage Distortion Watch
Topic: CNSNews.com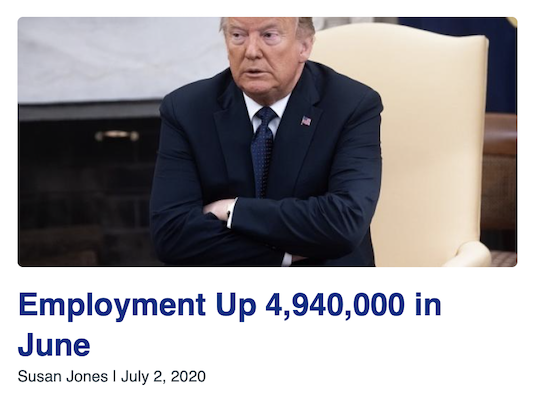 As a pro-Trump media outlet, CNSNews.com is compelled to make the unemployment numbers as good as possible in service of President Trump. Susan Jones was in full embellishment mode for her lead article on June's unemployment numbers:
As America reopens, the economy is recovering from the devastating employment snapshot recorded in April and May, and while the numbers released today show improvement, they're still far from the many records set under Trump.

According to the Labor Department's Bureau of Labor Statistics, the number of employed Americans increased by 4,940,000 in June to 142,182,000.

While that's well below the Trump-era record high of 158,803,000 set in December 2019, it is is 30,000 more than the number of Americans counted as employed when Barrack Obama took office amid a recession in January 2009.

The number of unemployed Americans dropped by 3,235,000 last month, and the nation's unemployment rate also dropped to 11.1 percent, down from 13.3 percent in May and the record 14.7 percent in April.

President Trump, at an impromptu Thursday morning news conference, hailed the 4.8 million jobs added in June, calling the "largest monthly jobs gain in the history of our country."
Jones made no mention of the BLS' classification errors that should have made the unemployment rates for April and May even higher than they were.
As usual, CNS served up sidebars on government employment and Hispanic employment. These articles also failed to mention the BLS' classification error affecting the numbers, nor did it tell readers what the "real unemployment rate" was, even though that U-6 rate (18.0 percent) is much higher than it was under the Obama administration, a time when CNS last regularly reported it.
Instead, CNS did an article on Senate Minority Leader Chuck Schumer pointing out that Trump needs to demonstrate "real leadership" by working with Democrats to pass a relief bill, which Craig Bannister chose to interpret as Schumer demanding that "Senate Republicans give Democrats what they want" -- blithely ignoring the fact that Americans are in need of further economic relief.
Posted by Terry K. at 12:53 AM EDT