CNS Still Promotes Candace Owens, Still Censoring Her Extremism
Topic: CNSNews.com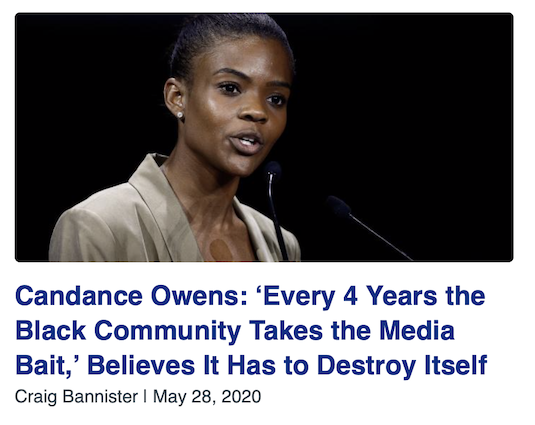 We've documented how CNSNews.com has become enthralled with right-wing activist Candace Owens, promoting her declarations while whitewashing or hiding completely her more extreme claims, even falsely crediting her with creating the so-called "Blexit" movement to encorage Blacks to become Republicans. That enthrallment has continued this year as well -- including her claim that Hitler would have been OK if he didn't have "dreams outside of Germany."
CNS -- mostly blogger Craig Bannister -- has remained a dutiful stenographer for Owens' pronouncements this year as well:
While CNS was touting Owens' right-wing-friendly declarations, it was censoring her controversies:
Owens is a liar, conspiracy-monger and grifter, yet CNS continues to give her a platform.
Posted by Terry K. at 3:03 PM EDT