CNS Managing Editor Obsesses Over Chicago Violence To Distract From Mass Shootings
Topic: CNSNews.com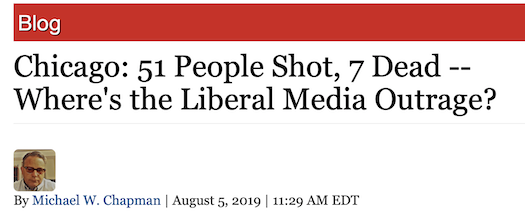 CNSNews.com managing editor Michael W. Chapman has occasionally invoked violence in Chicago when it suited his right-wing agenda. For instance, in 2016 he featured spotlight-loving Wisconsin sheriff David Clarke touting how "there have been 455 murders in Chicago so far this year, which is greater than the 270 coalition soldiers killed in Afghanistan since 2013." Given how Clarke has since abruptly resigned from his sheriff amid lawsuits and became so toxic and extreme that even the Trump administration wouldn't hire him and Fox News barred him from appearing on the channel, this one hasn't aged too well. Chapman also wrote about Chicago violence a few times in 2017 and 2018, and he hadn't written about it at all for the first seven months of 2019..
But with the El Paso and Dayton massacres in early August -- one of which was clearly influenced by right-wing anti-immigration rhetoric that President Trump -- Chapman found a new reason to invoke Chicago: as a distraction. We've already noted that in an article just a couple days after the massacres, Chapman claimed that "51 people were shot in Chicago and seven of the victims died" the same weekend of the massacres, huffily adding that "the liberal media did not express nationwide outrage over that gun violence and politicians did not blame President Doanld Trump for the violence."
Chapman became mildly obsessed with Chicago violence for the next few weeks:
On Aug. 12, he wrote that "shootings in Chicago left 4 people dead and 43 wounded" over the previous weekend.
On Aug. 26, he detailed that "Over the weekend, six people were killed and 29 people were wounded by gunfire in Chicago" and that "1,800 people have been shot in Chicago since Jan. 1, 2019,"adding that "For comparison, there were 1,196 people killed in "mass shootings" -- four or more people killed by a lone shooter -- in the United States between Aug. 1, 1966 and August 19, 2019, according to The Washington Post."
On Sept. 9, he wrote: "Despite having some of the toughest gun control laws in the country, Chicago experienced another weekend of gun violence with 34 people shot, six of them fatally, reported the Chicago Sun-Times. That's on top of the 44 people shot, nine fatally over the Labor Day weekend, and the 282 Chicagoans killed by guns since the first of the year." He again compared the number to mass killings: "ABC News, using a definition of four (or more) people killed in a one-day incident, reported on Sept. 3 that at least 116 people had been killed in mass shootings."
Chapman hasn't written about Chicago violence since. Perhaps the massacre story has sufficiently faded that he doesn't feel the need to.
Posted by Terry K. at 12:42 AM EDT