Help, MRC! We've Been Censored!
Topic: Media Research Center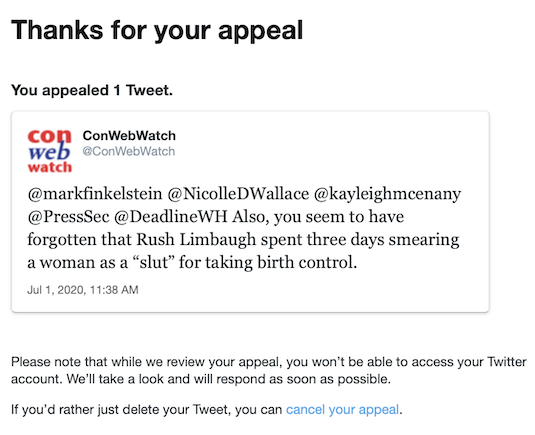 Dear Media Research Center:
In your posts on purported attacks on conservatives in social media, you have stated: "If you have been censored, contact us at the Media Research Center contact form to be included in our database, and help us hold Big Tech accountable." I have an addition for your database.
On July 1, we responded to a tweet by NewsBusters blogger Mark Finkelstein promoting his post attacking MSNBC host Nicolle Wallace as "sexist" for calling White House Press Secretary Kayleigh McEnany as a "spokesgal" by pointing out conservative criticism of women that, by Finkelstein's definition, are also sexist -- first, by noting that MRC writer Gabriel Hays called the U.S. women's soccer team "gals" for fighting to increase their salaries and, later, by pointing out that Rush Limbaugh repeatedly smeared Sandra Fluke as a "slut" for talking about birth control.
That last tweet got us in trouble with the powers that be at Twitter, which deemed it offensive and suspended the ConWebWatch account -- even though the tweet was factually accurate and in no way an endorsement of Limbaugh. (By comparison, your organization started an "I Stand With Rush" website to support Limbaugh after his sleazy attack).
We appealed the suspension -- but after more than two weeks of waiting, we heard nothing from Twitter about the appeal, during which our account was suspended and we were unable to post anything to it. Bcause the delay has hurt our mission to report on right-wing media, we have canceled our appeal and deleted the tweet in question in order to regain control of our account.
By your definiton, we were censored for expressing a conservative viewpoint. Can we be on your list?
Thanks in advance,
ConWebWatch
Posted by Terry K. at 8:17 PM EDT