MRC's Double Standard On Referring To Women As 'Gals'
Topic: Media Research Center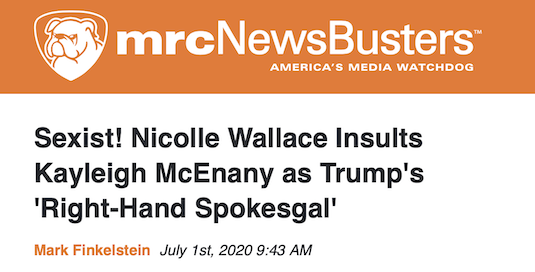 Mark Finkelstein ranted in a July 1 NewsBusters post:
On her MSNBC show this afternoon, the sexist Nicolle Wallace slighted Kayleigh McEnany, President Trump's spokesperson, as a "spokesgal."

It actually got worse. Wallace noted that Keir Simmons, the NBC reporter with whom she was speaking, had spoken with Vladimir Putin's "right-hand man," and that he sounded similar to President Trump's "right-hand spokesgal."

So according to Nicolle Wallace's sexist standards, a senior male aide to Putin is a "man." But a senior female aide is a "gal."

I'm guessing Harvard Law grad McEnany will let the slight by this liberal lightweight roll off her back. But it's a fascinating take for someone who complains Trump "bullies female reporters."

But imagine the MSM fainting spells if a conservative like Rush Limbaugh had said the same about a Democrat spokeswoman? Or called Nicolle a "spokesgal" for Biden?
Would Finkelstein faint if he know that his employer engaged in the very same behavior he's attacking Wallace for? Because it did.
The lead sexist perpetrator here is MRC writer Gabriel Hays, who loves to bandy the word "gals" around to demean women:
He's not the only one, of course. In August 2017, Curtis Houck attacked Wallace as among the "guys and gals ... who loved what Jim Acosta did in treating a poem at the base of the Statue of Liberty like it's the law of the land."
And Matt Philbin sniffed in an April 30 post attacking those concerned about women being vulnerable to coronavirus: "Women are, by the authors' admission, more likely to be "essential workers" (70% of healthcare workers are women) and so they haven't had their livelihoods destroyed. But okay, let's talk about the plight of gals."
If Finkelstein had the guts to call out Hays and his fellow MRCers doing the same thing he furiously denounced Wallace for doing, he would be a profile in courage. On the other hand, he likely wouldn't be writing for the MRC anymore.
Posted by Terry K. at 2:04 PM EDT