MRC Complains That Media Treated Trump's Candidacy As A Joke, Censors That It Did Too
Topic: Media Research Center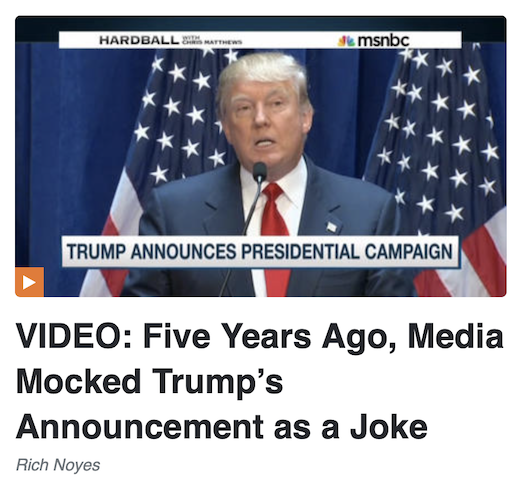 A June 16 Media Research Center post by Rich Noyes carried the headline "Five Years Ago, Media Mocked Trump's Announcement as a Joke" and complained: "Five years ago today, when billionaire businessman Donald Trump announced his presidential campaign on June 16, 2015, the savants in the news media weren't just skeptical — they were openly disdainful of the man who would go on to win the Republican nomination and the presidency."
You know who else was openly disdainful of Trump's presidential run? The MRC.
As we documented, the MRC so dismissed Trump's chances that it ignored Trump's complaints of media bias against him (though they were against Fox News, which is a sacred cow at the MRC). MRC chief Brent Bozell so opposed Trump's candidacy -- his preferred candidate was Ted Cruz -- that he penned an article for National Review declaring that Trump does not "walk with" conservatives, and his MRC was complaining that media coverage of Trump insufficiently covered his Trump University scam.
But Trump kept winning, and the MRC eventually flip-flopped to become an aggressive Trump defender, excusing his every action no matter how offensive.
This happened even as Trump apparently lied about Bozell himself. In his 2019 book with Tim Graham, "Unmasked," he claimed that a Trump tweet after the Bozell piece came out said that Bozell had previously "came to my office begging for money like a dog" when he did not ask for money during the visit (though Trump had donated to the MRC anyway). But it's also a sign of how Trump has co-opted Bozell that he handwaved the lie as "just another day at the office for Trump."
Bozell also admitted the transactional nature of his (and the MRC's) relationship with by stating of his National Review denunciation: "I stand by what I wrote, without apologies. It was true. It is also true that since taking the oath of office President Trump has walked with conservativces as well as Ronald Reagan and in some respects even more than the Gipper did."
More importantly, though, Trump and the MRC share the same anti-media agenda; Bozell proclaimed how "Donald J. Trump understood that the news media were his most powerful enemy , hell-bent on preventing his election and, when that failed, destroying his presidency."
Trump has effectively bought the loyalty of Bozell and the MRC -- which results in posts like this one that censors the MRC's own early history of opposing and disdaining Trump's candidacy.
Posted by Terry K. at 11:24 AM EDT