CNS Unemployment Coverage Distortion Watch
Topic: CNSNews.com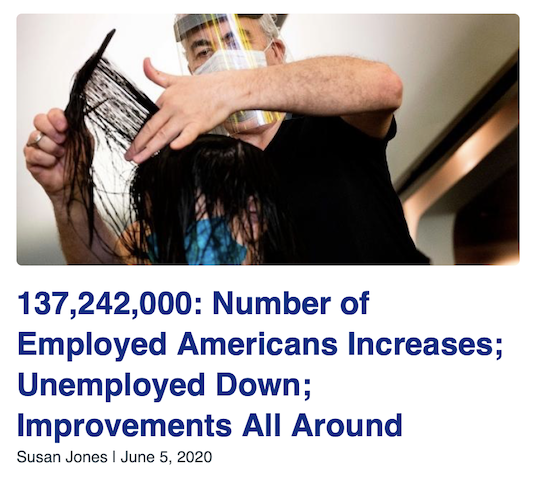 As it did the previous month, CNSNews.com did what it could to prepare readers for even worse unemployment numbers. A May 18 article by managing editor Michael W. Chapman highlighted a prediction that the unemployment rate could reach 25 percent, near Great Depression rates. So when the actual May numbers were released, even Susan Jones was surprised that the rate actually dropped from the previous month:
The jobs/employment report issued today by the Labor Department reflects what was happening in mid-May, and while it remains a grim picture, there are signs of improvement in every category as Americans straggle back to work.

The number of employed Americans increased by 3,839,000 in May to 137,242,000 -- far short of the record 158,803,000 set in December, but a move in the right direction.

The last time this number hovered at the 137M level was in 2000-2003.

At the same time, the number of unemployed Americans dropped by 2,093,000 to 20,985,000 in May, resulting in a lower unemployment rate than last month -- 13.3 percent in May versus 14.7 percent in April.
Even with those numbers, Jones still felt the need to distort numbers. Note the weasel words here: "The jobless rates for teenagers (29.9 percent), Blacks (16.8 percent), and Asians (15.0 percent) showed little change over the month." In fact, the rates for blacks and Asians rose.
CNS also served up the usual sidebars on Hispanic unemployment (declined) and government jobs (the lowest level in 19 years). It didn't, however, tell readers what the "real unemployment rate" was, even though that U-6 rate (21.2 percent) is much higher than it was under the Obama administration, a time when CNS regularly reported it.
CNS also hasn't told its readers about a statistical aberration that should have made the rate even higher. Due to a misclassification error, the May rate should actually be about three points higher. Buyt that would make things look even worse for President Trump, and CNS is not in the business of making things look worse for Trump.
Posted by Terry K. at 1:33 AM EDT