How Is The MRC Freaking Out About George Soros Now?
Topic: Media Research Center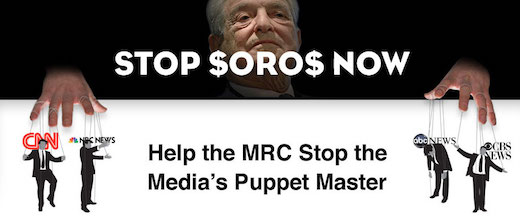 For years, the Media Reserarch Center has shared the right's obsession with George Soros as a bogeyman -- to the point that it notoriously used anti-Semitic imagery to portray him as a liberal puppet master. That obsession is still going strong.
The main way it's been showing up these days is in numerous posts by Joseph Vazquez -- who did a post attacking Soros at the start of the year -- complaining that he's allegedly funding political groups attacking President Trump and promoting Joe Biden. Here's what Vazquez has attacked since the start of 2020:
You will not be surprised to learn that Vazquez does not track right-wing anti-Biden ads -- which may ahve been funded by the MRC's chief benefactor, the Mercer family -- with the same level of obsession.
Vazquez also contributed a Feb. 4 post complaining that Soros criticized Facebook because it might help get Trump re-elected, sarcastically adding: "Is Soros concerned that Trump's social media game will hinder his agenda to bend the 'arc of history' in 'the right direction?'"
In March, Alexander Hall complained that Soros bought an interest in a video game company that "appears to have jumped the shark in recent years -- even capitulating to communist censorship in 2019." Hall never returned to the subject, and thus didn't bother to report that Soros saw a 45 percent return on his investment in just a few months, which made it a smart financial decision.
Also in March, Gabriel Hays went far afield to attack a British website in his usual sneering way because it received some funding from Soros and expressed an opinion he didn't like:
Lefties on George Soros's payroll know that no good crisis should go to waste and are using the coronavirus pandemic as an excuse to peddle their communist garbage, like the idea that this crisis should remind society of its imperative to "abolish the family" and the "private household." Wow, what a wonderful thought.
In April, Vazquez served up this curious thought: "The Washington Post continues to ruin its reputation by relying on a mix of a Soros-affiliated organization, the UN and the ADL to claim criticism of China's handling of the coronavirus is racist." No, Joe; they criticized the use of slurs like "kung flu" are racist. And he nev er actually explained how the Post citing any of these groups -- even the pro-Jewish Anti-Defamation League, which he snidely dismissed as "lefty" -- "ruin its reputation."
The MRC even bashed something as uncontroversial as media literacy as being tainted by Soros' involvement. A May 7 post by Hall grumbled that "Facebook is partnering with Soros-funded Poynter's 'Mediawise' project and a progressive news outlet to teach youth how to process media," going on to further attack Poynter as "openly liberal." In fact, the Poynter Institute is a nonprofit institute that educates journalists; of course, in the highly skewed eyes of people like Hall and the MRC, any organziation that refuses to be as right-wing as they are is automatically slimed as "openly liberal."
Vazquez returned yet again for a May 11 post complaining that Soros said in an interview, "I have put my faith in Trump to destroy himself, and he has exceeded my wildest expectations." Vazquez didn't note that letting Trump destroy himself has worked out quite well so far; instead, he huffed that "Soros's super PAC Democracy PAC has been involved in funding radical left-wing groups. These groups have been exploiting the coronavirus in TV ad blitzes and appear to have aligned with Soros in an attempt to 'destroy' Trump and undermine his efforts."
This is the kind of abject hate and enemy creation that the MRC has to create to keep its right-wing narratives alive.
Posted by Terry K. at 7:17 PM EDT
Updated: Tuesday, June 15, 2021 10:21 PM EDT