CNS Tries To Manufacture Outrage Over Biden Remark
Topic: CNSNews.com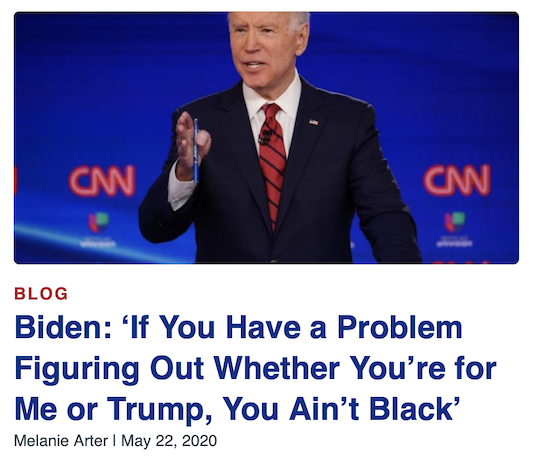 CNSNews.com is looking for any excuse to attack Joe Biden because he's running against its preferred candidate, President Trump, and Biden's statement on a radio show that if black voters "have a problem figuring out whether you're for me or Trump, you ain't black" was a good as any. CNS wasn't going to offer the likelihood that Biden was joking by taking his entire interview with radio host Charlamagne tha God into context, even though it regularly gives Trump an out by giving him a pass on offensive comments he later deems to be "sarcastic."
Melanie Arter's inital story on Biden's comments editorialized by trying to portray them as part of a pattern with Democratic presidential candidates:
Incidentally, former Secretary of State Hillary Clinton also appeared on "The Breakfast Club" during her presidential run, where she made her infamous line about carrying hot sauce in her purse - a comment that was seen by some as pandering to blacks because it paralleled singer Beyonce's "I got hot sauce in my bag swag" lyric from the song "Formation."
Arter failed to mention that Clinton's love of hot sauce and spicy peppers has been documented for decades.
CNS did an anonymously written sidebar to this also taken from the same interview maliciously headlined "Joe Biden: 'I Know a Lot of Weed Smokers'."
From there, it was the usual "news" articles on conservative figures -- Republican Sen. Tim Scott and BET co-founder Robert Johnson -- denouncing Biden. Managing editor Michael W. Chapman made sure to tell us that Johnson "is Black."
CNS then ran an op-ed by black conservative activist Ken Blackwell that was filled with manufactured outrage (and typos):
Shut up. Don't think. Do as your [sic] told. See you in four years. That's what Joe Biden essentially projected to America's black community Friday morning.

"If you have a problem figuring out whether you're for me or Trump, then you ain't black," Biden said on the popular New York City-based "Breakfast Club" radio show.

Biden's remarks sent shock waves across social media and in the political press, but it shouldn't have shocked anyone. Joe Biden and the Democrat Party [sic] have long sowed racial division and promoted identity politics in order to maintain power and control.

His condescending remark is indicative of the Democrat Party's [sic] overall attitude towards blacks and minority groups—Shut up and listen. We decide what you think and how you vote.

[...]

Joe Biden and the Democrat Party [sic] will continue to talk down to the black community and lie about President Trump's record in an effort to sow division and hate, while President Trump is laser focused on criminal justice reform, rebuilding our economy, and safely re-opening America so that all Americans can continue to pursue greater economic opportunities for themselves and their families.
CNS tried to hide Blackwell's partisan intent, describing him only as "the former Mayor of Cincinnati, Ohio and U.S. ambassador to the United Nations Human Rights Commission," not telling readers his current job is with the right-wing Family Research Council.
CNS even published a column by Pat Buchanan -- for whom CNS editor in chief Terry Jeffrey worked when he ran for president -- complaining that "Biden was saying that no self-respecting black American would vote for Trump over him this November. Indeed, any such individual would have been labeled in the 1960s with the slur Uncle Tom." Because Jeffrey and Buchanan are such close buds, CNS isn't going to tell its readers that Buchanan has his own issues with race.
Posted by Terry K. at 1:46 PM EDT