CNS Pretends Trump Writes All Of His Own Tweets
Topic: CNSNews.com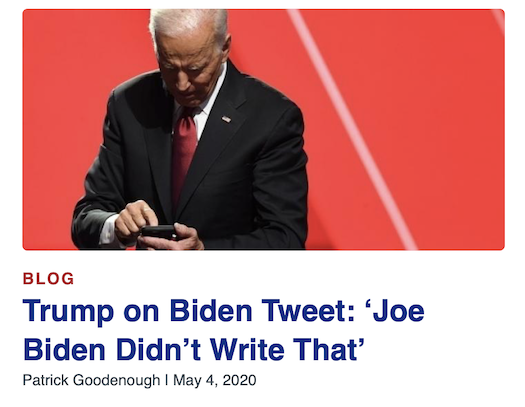 Patrick Goodenough wrote in a May 4 CNSNews.com article:
Confronted by a tweet from former Vice President Joe Biden criticizing his response to the coronavirus pandemic, President Trump said Sunday the tweet was not written by Biden but "by a young man that got very good grades at a very good school."

Trump, a prolific tweeter himself, was speaking during a "virtual town hall" event broadcast by Fox News.

Host Bret Baier drew his attention to a recent tweet on Biden's Twitter feed responding to Trump's criticism of the Obama administration.

"We left a playbook. He ignored it," the tweet read. "We created an office for pandemics. He gutted it. We had CDC officials in China to detect and contain outbreaks. He pulled them out. Trump can try and shift blame all he wants, but the fact is his actions left us unprepared."

"First of all, Joe Biden didn't write that," Trump retorted. "That was written from a young man that got very good grades at a very good school. That was not written by him. I promise you that."
But Goodenough didn't tell you that Trump doesn't write all of his tweets either. As an actual news organization detailed, White House social media director Dan Scavinois believed to write about half of Trump's tweets:
If you look at Trump's Twitter page, you'll see, for one thing, a few sort of anodyne things: "I'll be at such-and-such a place at 1 o'clock." Trump's not writing that; Dan Scavino is.

Then you'll see other things that will say, "I'm not the corrupt one; Hillary Clinton is corrupt." And it will list three or four reasons why Hillary Clinton is the corrupt one, not Trump. Well, that's Trump, but it's Trump in "collusion," as it were, with Scavino, who will supply the litany of examples.

There are also some tweets that Trump will dictate to Scavino and Scavino will then polish them up, make sure there are no grammatical errors or anything like that. Trump will look at them and then say, "OK, that looks good," or "No, no. I want you to put this back in." Then he'll say, "Go ahead and hit send," and Scavino will do so. ...

There certainly are tweets that Trump himself writes in the dark of night or first thing in the morning that Dan Scavino sees when the rest of the world sees. That's probably about half of the tweets overall. But of the 37,000 or so tweets that Trump has sent out, Dan Scavino is responsible for — at least as a "co-conspirator" to — about half of those.
Goodenough did tiptoe toward doing a fact-check on Trump, which his employer is usually too dedicated to stenography to touch:
Trump then said that after he restricted travel from China in early February – doing something that nobody had wanted to do – "Joe Biden said, 'he's xenophobic. He's a racist.' They called me a racist."

"And I saved hundreds of thousands of lives. And he actually apologized with a letter on a Friday night saying 'he made the right move.' It wasn't well played by the press, but he said I made the right move."

The Biden campaign has disputed in the past that the Democratic presidential candidate had written a letter and apologized.

Biden's campaign did issue a statement a month ago, on a Friday, saying the candidate supported the travel ban that barred entry to any non-U.S. national who has visited China in the previous 14 days. He did not apologize.
Oh, so close. Actually, not only is there no evidence whatsoever that Biden ever apologized to Trump for anything regarding to Trump's attempt to stop travel from China , it's false for Trump to claim that Biden branded him "xenophobic" or "racist" for doing so; the Biden campaign says his reference to xenophobia was about Trump's long record of scapegoating others at a time when the virus was emerging from China.
It's unclear why Goodenough thought it was important to note that the Biden campaign's statement was issued "on a Friday."
Posted by Terry K. at 4:05 PM EDT