MRC Censors Fact That Cop Killer Is A Right-Wing Extremist
Topic: Media Research Center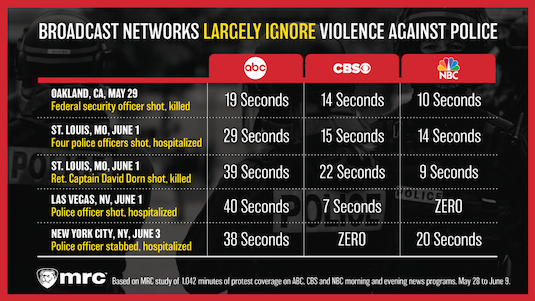 In a June 11 item, the Media Research Center's Bill D'Agostino complained that "ABC, CBS and NBC have churned out a massive amount of coverage for protests during the past two weeks (1,042 minutes on their morning and evening news programs), but these same networks have spent almost no airtime letting viewers know about the injuries and death inflicted on police officers during these two weeks of social unrest." He cited two incidents in particular:
On the night of May 29, federal law enforcement officer Dave Patrick Underwood was killed in a drive-by shooting while providing security at a U.S. courthouse in Oakland. The incident was labeled "an act of domestic terrorism" by Acting Deputy DHS Secretary Ken Cuccinelli. Underwood's death received just 10 seconds of airtime from NBC; the incident received 14 seconds from CBS and 19 seconds from ABC.

[...]

Another police killing -- the June 6 ambush and murder of a sheriff's deputy in Santa Cruz, California -- was not immediately linked to the protests and social unrest, but it also received miniscule coverage: 2 minutes, 14 seconds on ABC; 50 seconds on CBS; and 46 seconds on NBC.
The MRC has yet to tell you, however, that the man arrested in both killings is a right-wing extremist.
Steven Carrillo, an Air Force sergeant who is apparently affiliated with the far-right Boogaloo movement -- which seeks to ignite a second civil war in the U.S. -- was arrested on June 11, the same day as D'Agostino's post, for the Santa Cruz ambush, then was charged five days later with the killing of the Oakland officer.
The MRC has invoked both incidents to suggest that left-wing Antifa activists are responsible for these officers' deaths:
A June 3 post by Kristine Marsh claimed Underwood's death was an example of how "The media also largely ignored when another black man was killed last week during the riots.

A June 4 item by D'Agostino invoked Underwood's death in a similar "study" on law enforcement deaths that were "glossed over or were ignored outright by the broadcast networks."

In his June 6 column, Jeffrey Lord referenced "the murder of Dave Patrick Underwood, a black federal security officer in Oakland" as an example of the "looting and burning."

Nicholas Fondacaro complained in a June 7 post that "ABC chief global affairs correspondent Martha Raddatz appeared on Good Morning America claimed Trump wanted to bring 'combat troops' to bear against peaceful protesters. But while ABC was mischaracterizing Trump's use of active-duty military, they completely ignored the ambush of sheriff's deputies in Santa Cruz, California, where one was murdered and two more injured.

Fondacaro used the Santa Cruz incident to attack Raddatz in another post the same day: "But even though a Santa Cruz County sheriff's deputy was killed and two others were injured in an ambush the previous night, Raddatz indignantly declared: 'There have not been too many examples in the last few days.'"
The MRC should tell its readers the full story about the incidents it cites -- you know, what it demands from the media outlets it criticizes.
Posted by Terry K. at 9:40 PM EDT