MRC Gets Mad When Other Media Critics Use MRC Tactics
Topic: Media Research Center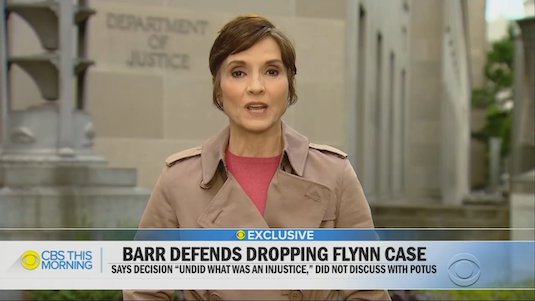 The Media Research Center viciously smears journalists it despises all the time -- remember how it cheered those "CNN sucks!" chants from Trump rally attendees -- but God forbid that anyone should treat the MRC's favorite pro-Trump journalists with anything even remotely approaching that sort of hate.
Thus, we have Tim Graham devoting a May 16 post to fretting that CBS correspondent Catherine Herridge -- who used to work at Fox News -- was being criticized for advancing a pro-Trump narrative in the case of Michael Flynn:
Can Fox News reporters ever truly succeed at liberal networks? Or is the Foxophobia so strong within the "mainstream" media that they are always suspicious? Some reporters succeed -- Major Garrett's still at CBS after a Fox News stint. But the guns are out for Catherine Herridge and her reporting on the Justice Department and the Michael Flynn case.

[...]

The Beasties offered this summary on Twitter: "Democrats on Capitol Hill have grown particularly irked by Catherine Herridge's work, believing she's become a de facto clearing house for conservative conspiracy theorists who want to give their material the veneer of mainstream objectivity."

CBS, the "veneer of mainstream objectivity." That's hilarious.
Graham then made an unfortunate comparison: "But it's not hard to imagine that Herridge is finding herself to be the new version of Sharyl Attkisson, where many stories are sidelined to the internet because they're too upsetting for liberals to grant the 'imprimatur of neutrality.'"
Attkisson was beloved by the MRC a few years back for her anti-Obama reporting -- so much so that Graham and Co. overlooked her record of shoddy reporting and endorsement of anti-vaxxer conspiracy theories and earned a dubious endorsement of her work from WorldNetDaily's Joseph Farah. Attkisson's relationship with WND grew so suspicious that we had to wonder if she was paying WND to do fawning "news" articles about her then-new TV produced by the right-wing TV station owner Sinclair.
The MRC has been aggressively defending Fox News lately, and that apparently goes for former Fox News employees who take that attitude and bias into the mainstream media. Though Graham noted that CBS has another Fox refugee on its staff in Major Garrett, the MRC has never really defended him the way it's doing for Herridge, though it did highlight a time in 2018 when Garrett portrayed President Obama's criticism of Fox News during his presidency as equivalent to Trump's attacks on the entire "liberal media."
If Graham thinks Herridge is the new Sharyl Attkisson, that doesn't exactly bode well for Herridge -- and demonstrates once again that the MRC cares only about forwarding its bias and nothing about advancing the news media, and it absolutely hates when other use MRC tactics against its friends.
Posted by Terry K. at 10:58 AM EDT
Updated: Saturday, June 6, 2020 11:09 AM EDT