CNS Reporter Parses Words To Defend Trump
Topic: CNSNews.com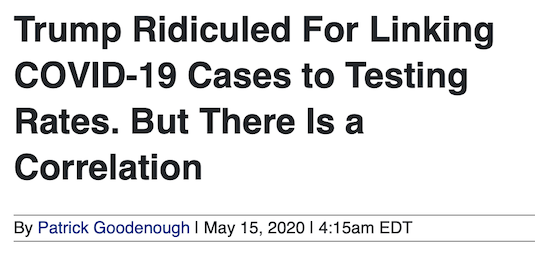 Patrick Goodenough had a reputation as the closest thing to a real reporter left at CNSNews.com. But his work of late has been veering slowly toward the pro-Trump agitprop that dominates much of CNS' original content. Goodenough served up this aggressive defense of Trump in a May 15 article:
President Trump was derided on Twitter Thursday for saying that the high number of confirmed coronavirus cases in the United States was related to the significant increase in testing. But the data suggest that he is right.

[...]

In saying, "If we didn't do any testing, we would have very few cases," Trump clearly meant that if testing was not being carried out, then many cases would be going unconfirmed and unreported – not that they would not exist.

By the same token, in saying, "When you test, you have a case," he self-evidently did not mean that the testing causes the case.

[...]

Jennifer Mercieca, who teaches in the Department of Communication at Texas A&M University, tweeted

(Trump did not say that the test causes the case.)
Goodenough cranked out another word-parsing pro-Trump defense on May 20:
A leading medical journal on Tuesday took issue with President Trump for citing its research in a letter to the World Health Organization – but evidently misinterpreted what Trump had written.

In his letter to WHO Director-General Tedros Adhanom, Trump called for major reforms, failing which the organization would lose U.S. funding permanently, he warned, and the U.S. could even withdraw altogether.

Outlining his concerns about WHO's response to the coronavirus outbreak, Trump wrote that WHO "consistently ignored credible reports of the virus spreading in Wuhan in early December 2019 or even earlier, including reports from the Lancet medical journal."

The Lancet in a statement Tuesday called Trump's comment "factually incorrect," and added that it had "published no report in December, 2019, referring to a virus or outbreak in Wuhan or anywhere else in China."

Trump did not, however, say the relevant reports in The Lancet had been published in December.

In referring to December, he was clearly speaking about the month during which the coronavirus was spreading in Wuhan – according to credible reports, including those published in The Lancet.
But Goodenough suddenly wasn't interested in word-parsing or context in a June 1 article, since the goal was to play guilt-by-association with former President Obama:
The Council on American-Islamic Relations (CAIR) is demanding that Twitter suspend President Trump's "racist" account, over his recent tweeted warning that looters exploiting protests sparked by the death of George Floyd risk being shot.

CAIR based its charge that the warning amounted to a "racist threat of violence" on the fact that Trump used the word "thugs" to describe those looting, vandalizing and torching businesses.

"Thugs," explained CAIR, is "a race-coded word that bigoted politicians use to negatively describe African-American protestors."

[...]

Five years ago, President Obama used the same word in connection with those looting and destroying businesses in Baltimore, amid protests over the death of Freddie Gray, a 25-year-old black man who died of a spinal-cord injury while in police custody.

"A handful of criminals and thugs who tore up the place," were the words Obama used to describe the perpetrators of the violent behavior.

[...]

Trump, who just weeks later [in 2015] would formal announce his presidential run, scoffed at the criticism around the use of the word.

"They now say using the word 'thug' is, like so many other words, not politically correct (even though Obama uses it)," he tweeted. "It is racist. BULL!"
For some reason, Goodenough declined to clarify that, unlike Trump, Obama did not use the word "thug" on Twitter.
Posted by Terry K. at 12:37 AM EDT