AIM's Month of Bad Benghazi News
Accuracy in Media not only felt compelled to laughably insist the House Republicans' Benghazi committee isn't politically driven, a key member of its own Benghazi "citizens' commission" has turned out to be an apparent fraud.
By Terry Krepel
Posted 10/29/2015
---
Roger Aronoff
October has been a bad month for Accuracy in Media when it comes to justifying the existence of right-wing efforts centered around the 2012 Benghazi attack that killed four Americans, including the ambassador to Libya.

In an Oct. 2 column, AIM editor Roger Aronoff tried to mount a desperate defense of the House Select Committee on Benghazi following Republican Rep. Kevin McCarthy's statement that the committee was designed to hurt Hillary Clinton's presidential prospects. While that appeared obvious to most political observers, Aronoff tried to deny it anyway.

Oddly, Aronoff ended up proving the opposite. He complained that earlier committees on Benghazi were "rather uneventful" -- which we can presume is right-wing-speak for "failed to indict Hillary Clinton" -- and touted how a House effort to set up the select committee had "approximately 185 Republican House members as co-sponsors" and how "a Select Committee isn't limited by the normal rules, in which each questioner has only five minutes, which can easily be eaten up by a single answer." Still, he insisted the committee "had nothing to do with driving down Hillary Clinton's poll numbers."

Why the effort to defend the committee's legitimacy? Because it runs its own little group called the "Citizens' Commission on Benghazi," which Aronoff implies inspired the creation of the House Select Committee. Aronoff proudly noted how the AIM commission is made up of "top retired military leaders, former CIA officers, and congressmen, including the former chairman of the House Intelligence Committee, Pete Hoekstra, with the purpose of doing our own independent investigation in an attempt to reveal the truth about what happened."

In fact, AIM's Benghazi group is an even more obvious effort to attack the Obama administration and Clinton over the Benghazi attacks, stuffed as it is with far-right Obama-haters, birthers and conspiracy theorists like Paul Vallely and Clare Lopez -- indeed, it looks more like a kangaroo court than any sort of legitimate investigating body.

Another key member of the AIM commission is Wayne Simmons, a self-proclaimed terrorism expert and a conspiracy theorist who insists that, despite evidence proving otherwise, the White House gave a "stand down" order during the Benghazi attack.

In mid-October, Simmons was charged with fraud, with federal prosecutors stating that Simmons' purported 27-year career as a CIA operative didn't actually happen, and that he had used the fake career to obtain federal security clearances and government contracting jobs.

But instead of voicing a defense like it did with the Benghazi committee, Simmons is the last thing AIM wants to talk about.

AIM has not mentioned Simmons on the front page of its website, and his name has gone unmentioned on the Twitter feeds of both AIM and its chairman, Don Irvine.

The only mention at all of Simmons' woes by AIM is buried on the section of its website that houses all of its "Citizens' Commission on Benghazi" information, with a statement oddly placed in the website's header and not on its own page:
We were stunned and saddened to hear the news about Wayne Simmons. He has been a colleague of ours on the Citizens' Commission on Benghazi since we were established in 2013. We have removed Wayne's name from the list of members on the website of the CCB, pending the outcome of the legal proceedings. As with everyone charged with a crime or crimes in this country, he is innocent until proven guilty. We wish him the best.
But removing Simmons' name from the CCB is not all AIM has done. Media Matters documented how AIM has been systematically scrubbing its website of any page that prominently features Simmons, particularly if they reference his relationship to the CCB. AIM has not publicly admitted it's doing this, much like it refuses to admit Simmons' very existence.
To demonstrate how much Simmons has suddenly become persona non grata at aim: The only way anyone was aware of AIM's buried statement on Simmons was a Friday-info-dump-style Twitter message saying only "Statement on the Citizens' Commission on Benghazi."
Indeed, it seemed that AIM would tweet about anything but Simmons. In the days after the scandal broke, both AIM and Irvine promoted the latest trailer for the new "Star Wars" movie (AIM even added an R2D2 emoji), and Irvine complained about the weather and his car: "Lovely. Tire pressure monitor light goes on in 32 degree weather. It'll have to wait." Irvine also took the time to do a little live-tweeting about the latest episode of "The Walking Dead":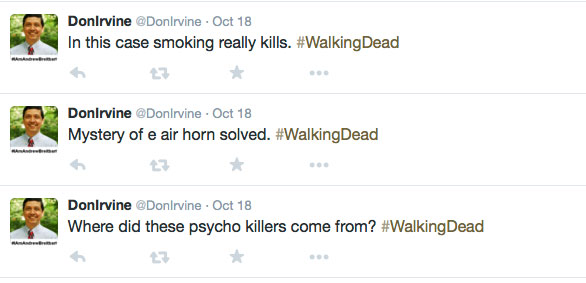 But they didn't say a word about a scandal they are at the center of, and which directly affects the credibility of their own political efforts.
As Hillary Clinton's testimony before the House Select Committee on Benghazi neared the following week, Aronoff wrote an Oct. 21 AIM article describing how "We at the CCB have compiled a list of questions that we hope are asked during Thursday's High Noon showdown between Mrs. Clinton and the House Select Committee on Benghazi." Aronoff remained in denial about the Benghazi witch hunts' loss of credibility, whining that Clinton allegedly demonstrated a "new attitude of defiance—acting as if recent statements by Rep. Kevin McCarthy (R-CA) and Rep. Richard Hanna (R-NY) have somehow proven that this has been a political witch-hunt all along—they prove nothing of the sort." And, of course, Aronoff didn't say a thing about Simmons.
Related articles on ConWebWatch:
Irvine himself took to the AIM website the same day to blog about Democratic adviser James Carville claiming that the House Benghazi committee is "a creation of Rupert Murdoch and the Koch brothers." He claimed Carville was "spewing ... misinformation," but he censored the part of Carville's comments in which he cited evidence backing up his claim: Fox News aired more than 1,000 segments on Benghazi in the 20 months before the House Select Committee was created.

Irvine also omitted the part of Carville's comments where he challenged "everybody" to fact-check him. AIM couldn't be bothered; instead, Irvine was in the same state of denial that Aronoff is, grumbling: "Carville, Clinton and other Democrats are trying to turn the perception of the Benghazi committee investigation into a 'vast right wing conspiracy.' But except for House Majority Leader Kevin McCarthy's (CA) foolish statement about the committee's purpose, they don't have any facts to back up their claims and they know it."

And, no, Irvine didn't mention Simmons either.

This isn't even the first time AIM has had to do damage control on the subject of Benghazi. ConWebWatch documented in 2013 how, after a "60 Minutes" segment peddling a right-wing-friendly Benghazi narrative fell apart after it was discovered the key witness told a different story to investigators, Aronoff declared that while this witness turned out to be a liar, "the administration still has much to answer for," which was "why Accuracy in Media founded the Citizens' Commission on Benghazi, which is searching for the truth behind the attacks."

It seems the collapse of Simmons' charade is a microcosm of the collapse of the right wing's Benghazi narrative. If AIM is this desperate to deny the obvious partisan nature of the House Select Committee, it's certainly not going to admit the partisanship and credibility issues of its own "Citizens' Commission on Benghazi" and how Simmons' longtime presence on it further harms that credibility -- even more than all the Obama-haters and birthers that remain on it.

Portions of this article also appeared at the Huffington Post.