CNS Published WH Press Sec's Lie, Hasn't Told Readers It's A Lie
Topic: CNSNews.com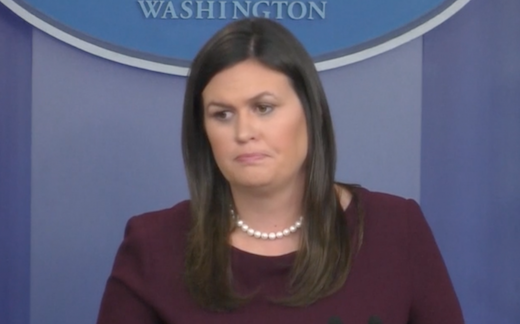 One of the side stories of the Mueller report is that it exposed as a lie a statement by then-deputy White House press secretary Sarah Huckabee Sanders at a 2017 press briefing (remember those?) that "countless members of the FBI" had lost confidence in James Comey, who had just been fired by President Trump. Sanders insisted the claim was a "slip of the tongue" made in "the heat of the moment" and that it "was not founded on anything." Sanders has since doggedly stood by the "slip of the tongue" defense.
Among the outlets that published Sanders' original lie was CNSNews.com. A May 2017 article by pro-Trump stenographer extraordinaire Melanie Arter dutifully repeated Sanders' talking points:
One reporter asked what gives the White House "such confidence that the rank-and-file" within the FBI lost faith in Comey, given the perspective of an FBI special agent who said "the vast majority of the bureau is in favor of Director Comey" and "the real losers" are those in the FBI who "lost the only guy working in the past 15 years who actually cared about them."

"Look, we've heard from countless members of the FBI that say very different things. In fact, the president will be meeting with Acting Director McCabe later today to discuss that very thing -- the morale at the FBI -- as well as make an offer to go directly to the FBI if he feels that that's necessary and appropriate, and we'll certainly provide further information on that meeting for you guys," Sanders said.
Since the release of the Mueller report, CNS has not only ignored this revelation about Sanders -- thus hiding from its readers the fact that 1) Sanders told a lie and 2) CNS published it -- it has also failed to update its original article to acknowledge this fact. Not exactly a credibility-enhancing move.
Posted by Terry K. at 9:17 PM EDT