MRC's Bozell Made Last-Ditch Effort To Save Moore's Fed Nomination
Topic: Media Research Center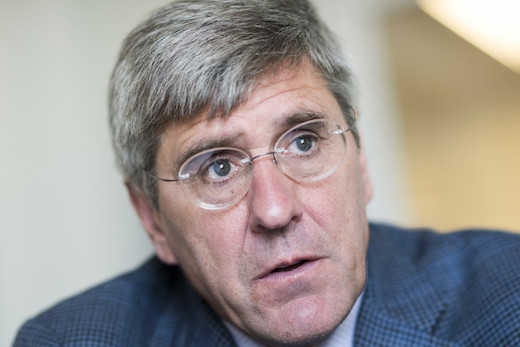 When President Trump first presented Herman Cain and Stephen Moore as possible nominees to the Federal Reserve board of governors, the Media Research Center didn't do all that much to boost them other than complain that the media was accurately reporting on the sleazy personal lives of both men -- Cain's sexual harassment, Moore's mistreatment of his ex-wife. Cain dropped out of the running soon after, leaving only Moore, whose scandal-ridden past was exposed further as his long history of comments denigrating women was documented.
Only then did the MRC feel the need to step things up a bit. An April 30 article at, of all places, Newsmax (and curiously not a MRC-operated outlet) touted an "exclusive statement" from MRC chief Brent Bozell:
The conservative Media Research Center on Tuesday unveiled a highlight reel of economist Stephen Moore's strongest media appearances that may help explain the tempest over his expected nomination to the Federal Reserve Board -- his effectiveness communicating Trump's economic policies.

On ABC News's "This Week With George Stephanopoulos" Sunday, Moore noted the initial objections to his nomination focused on his credentials. Once that effort collapsed, he says, Plan B for Trump administration antagonists was to resort to a "sleaze campaign" focusing on "character assassination," he said.

The longtime columnist said at least half a dozen mainstream media reporters are now sifting through everything he's ever written, including columns that he says were written as provocative spoofs.

Those columns have now been used to link him to views that now sound antediluvian, such as questioning the advisability of having women receive equal pay. Moore now admits those tongue-in-cheek remarks were not funny, and has apologized.
Are Newsmax and Bozell claiming Moore's misogynist views were not "antediluvian" when he said them? Anyway, back to the video:
The video released Tuesday of recent appearances by Moore across the media spectrum provides voters a chance to see Moore defend his own record free from the filter of the mainstream media.

"The media's broadside against Steve Moore is no surprise," MRC founder Brent Bozell told Newsmax on Tuesday in an exclusive statement. "Moore's pro-growth vision has been proven right by the booming economy.

"The liberal media's mentality is we must stop any success coming from conservatives," he added, "so they have launched a smear campaign against Moore that is unprecedented against a Federal Reserve Board nominee -- before he has even been nominated."
The video -- posted at the MRCTV account on YouTube, but apparently not at MRCTV itself -- is just a clip package of Moore talking about his economic experience and criticizing the Fed for its recent monetary policy decisions.
Newsmax then quoted Bozell saying of the video: "Watching him make the TV rounds, I don't think there is a more articulate promoter of the Trump economy than Moore." Of course, Moore's job on the Fed board would have been about making sound monetary policy, not being a "promoter of the Trump economy."
Meanwhile, at the MRC's "news" division CNSNews.com, a similarly half-hearted effort took place to boost Moore, whose column CNS publishes. An April 24 column by Phil Kerpen complained that "The dishonest criticisms of Moore's qualifications and independence are almost as bad as the desperate personal attacks," ignoring the fact that Moore's fealty to Trump is being touted by conservatives as his most salient qualification. Still, Kerpen insisted that "Moore's effectiveness as an advocate for Trump should not be mistaken for a lack of independence" and that he has an "impressive track record of getting it right when so many others got it wrong." Actually, being wrong is kinda Moore's thing.
CNS managing editor Michael W. Chapman was then drafted to write a piece compiling how "numerous economic conservatives praised the White House and the economic forecasting of Stephen Moore." Chapman was silent on Moore's personal scandals.This was followed by a May 1 column by Ken Blackwell complaining that Moore was "savaged by the liberal press—and not for his economic knowledge or his views of domestic monetary policy—but via personal attacks on him and his family," further whining that "We have clearly reached a troubling point in American politics in which Republican presidential nominees are no longer reviewed based on the quality of their credentials (Moore's are sterling) or the merits of their ideas (ditto), but are squeezed through a gauntlet of brutal, vicious attacks on their personal lives, reputations, and actions dating back as far as ten years."Blackwell didn't explain how this was different from the way Republicans have treated nominees under a Democratic president.
Alas, all this partisan political boosterism -- which would seem to bump up against the limits of the MRC 501(c)3 nonprofit tax status -- was too little, too late: Moore withdrew as a nominee. Curiously, CNS didn't find this to be newsworthy enough to report.
Posted by Terry K. at 9:12 PM EDT