CNS Spins the Mueller Report
Topic: CNSNews.com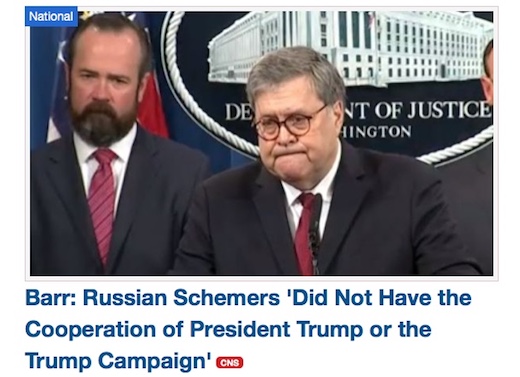 CNSNews.com is a highly biased pro-Trump spin factory, and the spin got taken up to 11 over the release of the Mueller report.
The day before the release, CNS was in pre-spin mode, dedicating four articles to Republican members or ex-members of Congress downplaying the presumed contents:
There was also an article on CNS right-wing fave Mark Levin dismissing a report that nobody (including him) had read as "bogus" and "outrageous."
The day of the report's release,
Aril 18, started with Attorney General William Barr pre-spinning the findings to make Trump look good. CNS flooded the zone on Barr's pre-release presser:
That's five articles on Barr's pre-release presser. By contrast, CNS published only one article taken from the actual contents of the Mueller report on the day of release, a piece by Susan Jones narrowly focusing on a finding that "Russian officials, including Russian President Vladimir Putin, weren't sure how to get in touch with Trump to congratulate him on election night." That was joined by a blog post featuring one of the Republican members of Congress CNS called upon to pre-spin the report justifying Trump's anger over the Mueller investigation.
The next day brought more articles on the report's contents -- apparently needing the extra time to figure out how to best spin things for Trump. Jones spun the hardest, insisting that Trump's reported statement on learning Mueller's investigation had started -- "Oh my God. This is terrible. This is the end of my Presidency. I'm fucked." -- was really about how "he feared he wouldn't be able to get anything done as president with the cloud of investigation hanging over him.," lecturing: "Various liberal media outlets have seized on the President's "I'm f****d" remark to make it appear that he knew he had something to hide. A full reading of the paragraph suggests otherwise."
Jones also framed the no-obstruction narrative by highlighting how the president largely failed to obstruct the investigation because "Trump was unsuccessful in getting his subordinates to carry out his will."
Patrick Goodenough seized on a claim that "Weeks before President Trump took office, he and his transition team tried energetically to thwart a major U.N. Security Council resolution condemning Israel," thus demonstrating "a foreshadowing of what would became a signature policy of the Trump administration's dealings with the U.N., where strong defense of Israel has been a high priority."
Jones did an article on one negative claim from the report -- that Trump ordered then-White House counsel Don McGahn to fire Mueller, then asked him to create a false record that he never asked such a thing -- but spun it her president's way, leading not with the claim but, rather, with Trump alluding to the note-taking McGahn by calling his claims "fabricated" and "bullshit."
The coverage concluded with another rant from Levin denouncing the report post-release (though it's unclear how much he actually read before launching said rant).
Posted by Terry K. at 1:37 AM EDT