Newsmax's Kerik Serves Up More Right-Wing Ranting
Topic: Newsmax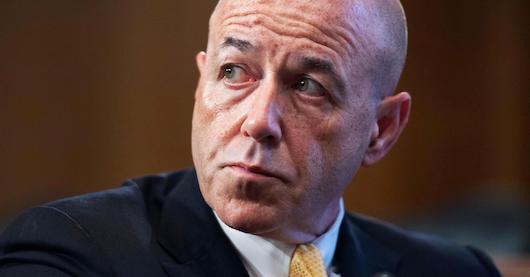 We've noted how disgraced ex-New York City police chief Bernard Kerik is trying to reinvent himself as a right-wing-ranting Newsmax columnist (the place that has done more than a little image rehab on him over the years). The ranting hasn't really stopped.
Kerik served up more pro-Trump huffing in an April column, declaring that the search warrants served up dubious Trump attorney Michael Cohen "should scare the hell out of every American in our country," adding that "Like an out of control locomotive, it appears by all reports that these prosecutors are extremely dangerous and acting with impunity, and unfortunately, with their actions against Michael Cohen, they just drove that locomotive smack into the scales of justice — and shattered the Constitution and what it stands for."
In another April column, Kerik attacked former FBI director James Comey, alleging that he was "leaking classified information" and that he should receive "the same treatment as Matt Bissonette, General Michael Flynn, and so many others that have dedicated their lives to the service of our country, only to be targeted by the very government they worked for, for selective and political reasons." Kerik has apparently not considered the possibility that Trump is targeting Comey for selective and political reasons."
Kerik's May 1 column attacks Democrats for allegedly abandoning blacks in favor of undocumented immigrants, going on to tout how "Blacks like [Candace] Owens, Ben Carson, retired Milwaukee Sheriff David Clarke and Trump supporter Joy Villa, a black female singer and song writer, have been taking their message to America's black communities." In fact, Clarke didn't "retire"; he abruptly resigned amid growing questions about his mismanagement of the county jail.
Then, on May 7, Kerik penned a screed against the purportedly "corrupt" FBI and Department of Justice, painting himself as a victim in the process:
For any American that has ever been the subject or target of a federal criminal investigation, there are three things that become abundantly clear to you — and your family — as you are dragged into a nightmare intended to bankrupt you, as well as destroy you personally, financially, and professionally.

First, that the good guys are not always good guys. Second, you do not have the constitutional rights you believe you have, especially if you don't have the money to fight for those rights. Third, it's not always about truth or justice for U.S. prosecutors — it's about winning at all costs.

[...]

Having run two of the largest law enforcement agencies in the nation, the NYPD, and New York City jail system — including Rikers Island — I was completely oblivious to these tactics and injustices by federal prosecutors. Then I was targeted.

In the last two years however, things have changed, and unless you're hiding under a rock, the American public has gotten to see firsthand how the FBI and Justice Department selectively violates U.S. law and their own policies with impunity.
As usual, Kerik's Newsmax bio omits the fact that he spent three years in prison on tax-related offenses, charges to which he pleaded guilty.
Posted by Terry K. at 12:42 AM EDT