WND Desperately Tries, Fails To Manufacture A Clinton 'Scandal'
Topic: WorldNetDaily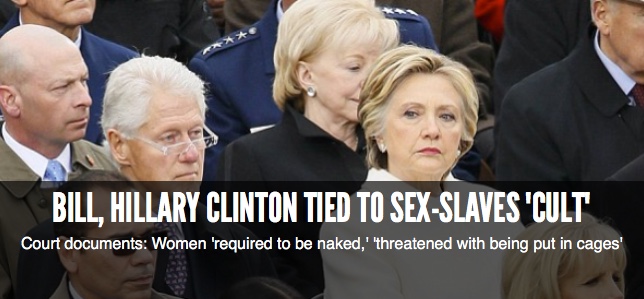 An anonymously written March 27 WorldNetDaily article carries the lurid headline "Bill, Hillary Clinton tied to sex-slaves 'cult." The lead paragraph tries to amp that up:
It's a bizarre and twisted tale of brainwashed sex "slaves" who were branded with a leader's initials on their private parts – and top executives of the secretive group in upstate New York reportedly pumped thousands of dollars into Hillary Clinton's 2008 presidential campaign.
But this Clinton "scandal" is a dud. It's not until the article's 14th paragraph that the anonymous writer finally gets around to explaining the connection between the Clintons and the "secretive group" known as NXIVM:
In October 2007, then-New York Post writer Charles Hurt reported that leaders of the Albany group gave thousands to Clinton's 2008 presidential campaign. And Salzman, the woman whose home was reportedly raided by the FBI, is reportedly a member of the Clinton Global Initiative.
That's it -- something that happened a decade ago, well before any "sex slave" accusations were ever made against the group (Hurt makes no mention of it in his article). Hurt offered no proof that the donations were offered with the intent of something in return, or that the donations are in any way linked to becoming a member of the Clinton Global Initiative; both Hurt and WND note that Clinton pointed out that she had more than 100,000 donors to her campaign.
WND also obscures one key exculatpory piece of Hurt's story, one that Hurt thought was important enough to put in his lead paragraph and explain later on: that Arkansas in 1992 -- when Bill Clintion was still governor, charged the leader of NXIUM, Keith Raniere, with running a pyramid scheme, which resulted in fines against Raniere's then-company and, in Hurt's words, being "run out of Arkansas."
WND includes this crucial information only a screenshot of Hurt's article but not in the article text itself.
It's sad that WND remains so desperate to hate the Clintons that it tried to manufacture such a lame "scandal." No wonder nobody believes WND.
Posted by Terry K. at 2:24 AM EDT
Updated: Wednesday, May 1, 2019 10:53 PM EDT