CNS' Hilariously Biased Coverage of Trump's State of the Union
Topic: CNSNews.com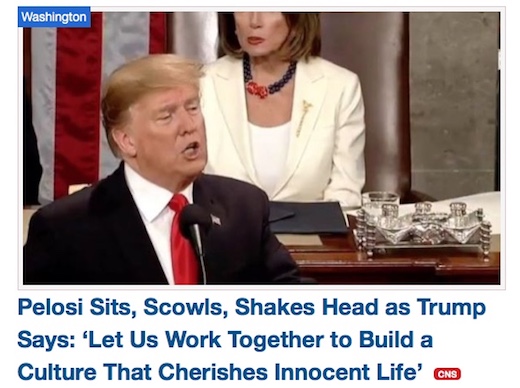 As if the right-wing bias of CNSNews.com was obvious, they made it crystal clear in its coverage of President Trump's State of the Union Address.
CNS published four "news" articles centered on, or completely made up of, quotes from Trump's address:
These were followed by three articles focusing on the facial expressions of Democratic politicians listening to the address -- all centered on CNS' pet issue of abortion:
Additionally, CNS published no article on Stacey Abrams' Democratic rebuttal to Trump's address -- effectively censoring its existence for its readers. It did, however, publish a column by Tom Kilgannon of Freedom Alliance declaring that State of the Union rebuttals should be banned because they're "pointless, petty and uninspired" and "only perpetuates distrust and discord in our political life." Kilgannon claimed he was making a bipartisan demand -- "It matters not whether the respondent is Stacy Abrams or Marco Rubio, the evening belongs to the president" -- but we found no instance of Kilgannon making the same demand while Barack Obama was president.
CNS' Media Research Center would be up in arms if it found bias this blatant at a "liberal" media outlet.
Posted by Terry K. at 2:00 PM EST