CNS Can't Stop Obsessing Over Peter Strzok's Sex Life
Topic: CNSNews.com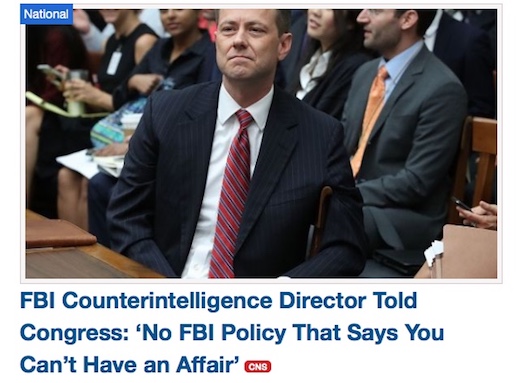 Despite calling itself a "news" organization, CNSNews.com is very selective about the news it reports -- espeically if it makes President Trump look bad. We've noted that CNS never reported on Paul Manfort's conviction on fraud charges or Michael Cohen's plea deal with prosecutors. Since then, CNS failed to do any story on Manfort being sentenced in March to 7 1/2 years in prison on those fraud charges, and it offered highly biased coverage of Cohen's testimony before Congress, featuring only Republicans' hostile questions to him and censoring any questiong from Democratic members of Congress.
By contrast, CNS can't stop obsessing about the sex life of a minor player in the Mueller investigation, former FBI agent Peter Strzok. When Strzok testified before Congress last summer, CNS writers took every available opportunity to brand Strzok as an adulterer because he was having an affair with another FBI agent while he was investigating Russian involvement in the 2016 election.
CNS returned to that well-trod territory yet again in an April 4 article by Susan Jones:
The man once responsible for all FBI counterintelligence investigations, including the Clinton email and Trump-Russia probes, told Congress in a closed-door session last June that the FBI has no policy forbidding agents from having adulterous affairs.

"There is no FBI policy that prohibits somebody from having an affair," FBI Assistant Director E.W. "Bill" Priestap told House Judiciary and Oversight Committee investigators on June 5, 2018. "There's no FBI policy that says you can't have an affair, and if you do, you're going to be punished."

A transcript of Priestap's remarks was released this week.

The subject of extramarital affairs arose several times in Priestap's interview, in connection with Priestap's deputy, Peter Strzok, who was having an extramarital affair with FBI attorney Lisa Page. Strzok and Page were part of the Clinton email investigation and immediately afterward, the Trump-Russia investigation, both of which Priestap was overseeing.
Jones did not report on what the FBI thinks about a president of the United States who pays hush money to porn stars to cover up their adulterous activity.
Posted by Terry K. at 12:32 AM EDT