CNS Cheers Gay-Bashing of Buttigieg
Topic: CNSNews.com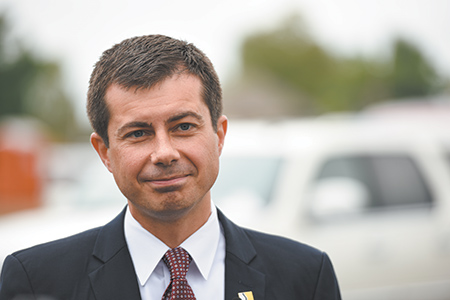 The anti-gay activists in charge of CNSNews.com will not let you forget that Democratic presidential candidtate Pete Buttigieg is gay. CNS also loves it when someone -- preferably right-wing political pastor Franklin Graham -- attacks Buttigieg for being gay.
So when Graham lashed out at Buttigieg for proclaiming his Christian faith, CNS managing editor Michael W. Chapman -- who loves Graham as much as he hates the LGBT community -- was on it, complete with scare quotes for Buttigieg's marriage:
Reverend Franklin Graham criticized Democratic presidential contender Pete Buttigieg, who is openly gay and "married" to another man, for stressing that God does not belong to a political party while ignoring God's commandments against homosexual behavior and so-called gay marriage. Without following God's Word, he said, we have no moral foundation and are at risk of "eternal damnation."

Pete Buttigieg, 37, is the mayor of South Bend, Ind. He is a graduate of Harvard University and Pembroke College, Oxford. Buttigieg is "married" to Chasten Glezman, a teacher.

In an April 23 post on Facebook, Rev. Graham wrote, "Presidential candidate and South Bend Mayor Pete Buttigieg is right—God doesn't have a political party. But God does have commandments, laws, and standards He gives us to live by. God is God. He doesn't change. His Word is the same yesterday, today, and forever."
Chapman filled out his article with selected gay-bashing Bible verses and a statement from St. Bernardine. But he was silent on Graham's hypocrisy in bashing Buttigieg but lending his political and religious support to a thrice-married adulterer who pays hush money to porn stars.
The next day, Chapman gave attention to a rant from "Ana Samuel, Ph.D., a research scholar at the Witherspoon Institute and founder of the marriage movement CanaVox," a "Latina Mama" who hates gays as much as Graham does:
But this "cuts both ways," wrote Samuel, specifically naming "policies that undermine our parental rights and duties by seeking to indoctrinate our children in progressive sexual ideology without our consent and sometimes in spite of our explicit protest."

These policies, she said, include reading assignments in the public schools that are explicitly designed "to normalize LGBT lifestyles"; sex education classes that promote abortion, masturbation, condom use, sex toys, and rectal intercourse; "[p]ediatricians who ask to see our teenagers alone and then push to prescribe them contraceptives or ask them about sexual behaviors that we find offensive"; "public library programming where unicorns, rainbows, gingerbread persons, drag-queen story hours, and other symbols of progressive sexual ideology make an appearance, so that we must regularly steer our toddlers clear of the propaganda"; and promotion of transgender propaganda in the schools.

"Mr. Mayor, it is hypocritical for you to cry foul about policies that 'harm you and your family' while your side pushes for government intrusions into the parent-child relationship at the most fundamental levels," said Samuel.

[...]

As for the gay lifestyle itself, Samuel said, "It is not a good idea to tell society that you don't need a member of the opposite sex to have a baby or that kids don't need a mom and a dad because they will do fine in any kind of arrangement. That's not true, and there's plenty of empirical data to prove it."

[...]

"Ask yourself: is the lifestyle you are setting up as a pattern for others to follow replicable and sustainable?" said Samuel. "Or does it further destabilize the family form that has provided the greatest financial and social stability to women, children, and the poor? The evidence consistently points to the latter."

"The weight of the past 50 years of social science evidence is virtually unanimous in its conclusion: children—and societies—do best when kids are raised by their married, stable, biological parents," said Samuel.

[...]

In conclusion, Samuel said, "Speak up! Do not let the gender ideology of the Left destroy our family values! Do not stop exercising your rights as mothers! Mamas of the world, unite!"
A few days after that, CNS' Craig Bannister complained when Buttigieg once again invoked religious values:
Morals and values are "grievously missing" from the White House today, gay Democrat Presidential Candidate Pete Buttigieg said Monday night.

[...]

But, Christian leaders, such as Reverend Franklin Graham, say that, by practicing homosexuality and gay marriage, Buttigieg is behaving immorally and violating Christian values.

As previously reported by CNSNews.com, Rev. Graham recently rebuked Buttigieg for "ignoring God's commandments against homosexuality"[.]
Like Chapman, Bannister also failed to point out that Graham's political hypocrisy in bashing Buttigieg while gushing over the amoral Trump.
Posted by Terry K. at 2:42 PM EDT
Updated: Friday, May 10, 2019 7:58 PM EDT