CNS' Starr Unhappy That Gays Are Representing U.S. At Olympics
Topic: CNSNews.com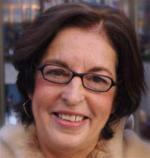 Penny Starr, CNSNews.com's most homophobic reporter -- something of an achievement considering that some level of homophobia is apparently a requirement for working there -- has struck again.
On the heels of being annoyed that President Obama committed the offense of acknowledging that gays exist, Starr used a Dec. 18 article to grouse about Obama sending "at least two homosexuals" to represent the U.S. at the Winter Olympics:
President Barack Obama has named at least two homosexuals to the delegation that will represent the United States at the upcoming Olympic winter games in Russia.

The move is seen as a jab at the Russian law that bans propagandizing about homosexuality to children.

Retired tennis star Billie Jean King and Caitlin Cahow, an Olympic medalist in women's ice hockey, are both open lesbians. King will attend the opening ceremony and Cahow will attend the closing ceremony.
Despite Starr's description of the law in question, observers have called it "vaguely defined and definitively antigay," so let's not pretend it's limited to "propaganda" aimed at "children."
The general huffy tone of Starr's article suggests she would like to see a similarly restrictive law in the U.S.
Posted by Terry K. at 5:24 PM EST