Newsmax Buys Into Myth of A Non-Conservative Megyn Kelly
Topic: Newsmax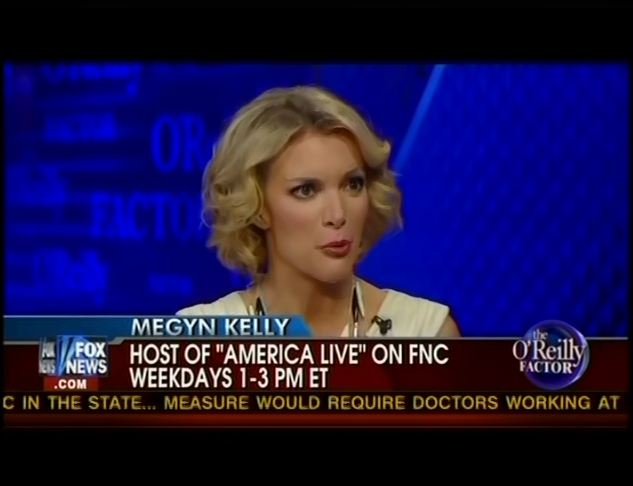 Newsmax goes into stenographer mode in a Dec. 15 "Insider Report":
Fox News anchor Megyn Kelly asserts that she is a "straight news anchor" and not an "opinion host" or "conservative operative" on the highly-rated network.

When Kelly made her inaugural appearance on NBC's "The Tonight Show with Jay Leno" on Monday, Leno asked her: "People assume, if you're on Fox News, you have a certain bias. How do you deal with that?"

Kelly, whose show "The Kelly File" airs weeknights at 9, responded: "I'm a straight news anchor. I'm not one of the opinion hosts on Fox. But I always laugh, because I'll have a conservative pull me aside and say, 'I love your conservative principles,' and I'll say, 'You assume too much.'

"And then the liberals will pull me aside and say, 'I know you're one of us,' and I'll say, 'You assume too much.'

"But I always tell people if they think I'm this conservative operative, ask Karl Rove if that's true."

[...]

Kelly told Leno: "The way we do it on the Fox News Channel is the straight news anchors like myself give a hard time to both sides. And my legal background plays right into that," added Kelly, who practiced law for nine years before launching her news career.

"I don't care about pandering to the left or right, I care about protecting my audience," she said. "My boss Roger Ailes pays me a decent amount of money to go out there and ask questions, because he thinks that I know the questions my audience wants answers to.
Newsmax doesn't mention that Kelly has more conservative-leaning guests on herFox News show than that of unabashed conservative Sean Hannity, which does raise legitimate questions about Kelly's objectivity. Newsmax simply took Kelly at her word and didn't investigate whether she really does give an equally hard time to both ends of the political spectrum.
Posted by Terry K. at 3:13 PM EST