'Universe-Shattering' Birther Evidence? Not Likely
Topic: WorldNetDaily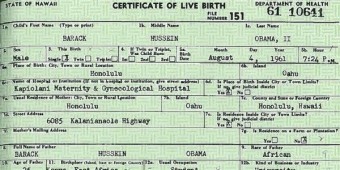 WorldNetDaily is apparently going all in on its birther revival.
After hinting about conspiracies in the death of a Hawaii official who was in charges of state records like President Obama's birth certificate, Bob Unruh turns stenographer in uncritically repeating Cold Case Posse chief Mike Zullo's latest claims in a Dec. 13 WND article:
The lead investigator in Sheriff Joe Arpaio's Cold Case Posse investigation of President Obama's birth certificate says the case has taken a startling turn, and sheriff's investigators now are assisting the Cold Case volunteers.

"When this information is finally exposed to the public, it will be universe-shattering," Mike Zullo told WND. "This is beyond the pale of anything you can imagine."

Zullo explained that because it's an active investigation that could produce criminal charges, he's unable to reveal details at the moment.

But the allegations, he said, which go far beyond a fraudulent birth certificate, could be public as early as March.
Given the history of Zullo's so-called investigation -- which relies on heavy input from birther extraordinaire Jerome Corsi and the complete dismissal of any evidence that contradicts their pet birther conspiracies -- the chances are better than good that Zullo's "universe-shattering" evidence really means "easily debunked."
After all, Zullo was caught making simple mistakes as applying the wrong race code to Obama's birth certificate -- not that WND will tell you about that, of course. Indeed, as before, Unruh fails to report that much of what Zullo and WND have claimed about the alleged fradulence of Obama's birth certificate has been discredited.
Further demonstrating what a lazy reporter he is, Unruh simply copies-and-pastes much of his previous article's boilerplate recitation of birther evidence, never bothering to tell readers it's been debunked.
Of course, as we all know, Unruh rejected real journalism the day he was hired by WND. His lazy stenography -- which would make a real journalist vomit in shame -- is exactly what Joseph Farah is paying him to do.
The man has no pride in telling the truth. You know, like the rest of WND.
Posted by Terry K. at 6:57 PM EST