WND's Ellis Washington Hides History to Bash Mandela
Topic: WorldNetDaily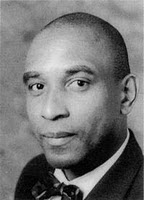 Ellis Washington rants in a Dec. 13 WorldNetDaily column:
Here's the truth about Mandela: On Jan. 31, 1985, the state president of South Africa, P.W. Botha, speaking in parliament, offered Mandela his freedom on one condition: that he "unconditionally reject violence as a political weapon." This offer of freedom was repeatedly made to Mandela during his 27 years in prison at Robben Island where all of his co-conspirators rejected political violence and were eventually set free. Mandela, the so-called "man of peace," repeatedly rejected all offers of freedom. Why? Because unlike the phony, global adulation of this man, Mandela and the ANC were brutal murderers of children and innocent civilians. Just look at who attended his funeral celebration earlier this week – a veritable rogue's gallery of every tyrannical communist, Islamic and Marxist dictator on the planet, with the socialist Obama leading this pack of wolves. Indeed, birds of a feather do flock together.
As we pointed out when his boss, Joseph Farah, made the same claim, Mandela actually said in response to Botha's offer:
What freedom am I being offered while the organisation of the people remains banned? What freedom am I being offered when I may be arrested on a pass offence? What freedom am I being offered to live my life as a family with my dear wife who remains in banishment in Brandfort? What freedom am I being offered when I must ask for permission to live in an urban area? What freedom am I being offered when I need a stamp in my pass to seek work? What freedom am I being offered when my very South African citizenship is not respected?

Only free men can negotiate. Prisoners cannot enter into contracts.
In other words, his freedom would be meaningless in a country that still practiced apartheid.
Washington went on to grouse:
According to the original 1963 and 1964 indictments of the Rivonia Trial: The State v. Nelson Mandela et al, Supreme Court of South Africa, Transvaal Provincial Division, Mandela was not charged for being a political dissident but for four acts of TERRORISM. Specifically, he was originally incarcerated for involvement in 23 different acts of sabotage, conspiracy to overthrow the government and treason. He and his fellow terrorist conspirators of the ANC and the South African Communist Party (SACP) were caught by the police while in the possession of 48,000 Soviet-made anti-personnel mines and 210,000 hand grenades! Mandela lied when he confessed that the ANC only adopted violence as a means of protest "when other forms of resistance were no longer open to us."
Again, context matters (though not to Washington). Here's the full text of what Mandela said, again from the 1985 response to Botha:
I am surprised at the conditions that the government wants to impose on me. I am not a violent man. My colleagues and I wrote in 1952 to Malan asking for a round table conference to find a solution to the problems of our country, but that was ignored. When Strijdom was in power, we made the same offer. Again it was ignored. When Verwoerd was in power we asked for a national convention for all the people in South Africa to decide on their future. This, too, was in vain.

It was only then, when all other forms of resistance were no longer open to us, that we turned to armed struggle.
Washington also ignores that the ANC did not embrace violent protest until after the Sharpesville massacre in 1960, when South African police killed 69 black anti-apartheid demonstrators and wounded dozens of others.
For Washington to claim that Mandela "lied" requires him to ignore inconvenient facts. We also suspect that Washington won't be as harsh with anyone who resorts to violence against his hated President Obama.
Posted by Terry K. at 5:52 PM EST