WND's Flaherty Race-Baits on Zimmerman Case, Because Why Wouldn't He
Topic: WorldNetDaily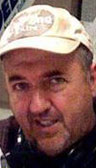 Colin Flaherty writes in a July 11 WorldNetDaily column:
I owe a whole lot of people an apology. A real big one.

Soon after I first started writing about black mob violence two years for WND and other places, I started seeing comments about Obama.

A whole lot of people thought he was personally behind efforts to gin up the epidemic of black mob violence I was writing about – and the local and national media ignored.

I kind of brushed it off. No, I did worse than that: I mentally placed all these comments into my "black helicopter international banker kook" file.

The president of the United States personally encouraging racial violence? That struck me as crazy.

[...]

Now this week, thanks to the heroes over at Judicial Watch, we learn that the federal government of the United States has been sending community organizers to Florida to ratchet up the pressure to indict and convict George Zimmerman.

The Department of Justice people called themselves "peacekeepers." As in: No justice, no peace.

I keep reading the documents, and I can scarce believe what I am seeing. The president of the United States is sending people to foment racial violence in Florida.
As usual, Flaherty is too busy race-baiting to get his facts straight. There is no evidence whatsoever that Obama "fomented racial violence in Florida" -- representatives of the DOJ mediated to make sure rallies were peaceful. But Slate's David Weigel points out that race-baiters are trying to twist this intervention into the DOJ's Community Relations Service encouraging the rallies:
If you think the government should materialize when some racial controversy starts boiling, you have no problem with the CRS. But if you think Obama and Holder are habitual race-baiters, the CRS's Sanford adventure fits into a pattern. Instead of nailing the New Black Panthers, Obama's saying, "If I had a son, he'd look like Trayvon," and Holder's calling America "a nation of cowards on race." That's why they went after Zimmerman. That's why you can't trust the Obama regime.
But who cares about facts when there's race-baiting to do? Thus, Flaherty race-baits on:
Obama's secretive peacekeepers failed in their stated mission. In "White Girl Bleed a Lot: The return of racial violence and how the media ignore it," I documented more than a dozen cases of black mob violence connected to Trayvon Martin in the run up to the indictment of George Zimmerman.

Today, all over the country, police departments are on alert for the violence that could follow Zimmerman's acquittal.

Like Winston Smith, we are now supposed to believe something that is transparently not true. They had nothing to do with the black resentment and animosity and violence connected to this case. And others.
Just like Flaherty wants us to believe that his obsession over "black mob violence" has nothing to do with his own obvious anti-black resentment and animosity.
Posted by Terry K. at 10:57 PM EDT
Updated: Monday, July 15, 2013 12:41 PM EDT