Conspiracy Theorist Noel Sheppard Mocks Conspiracy Theorist Alex Jones
Topic: NewsBusters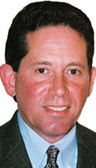 Noel Sheppard begins his July 4 NewsBusters post by asking, "Have you ever wondered if conspiracy theorists actually live in their own world with little contact with anything close to reality?"
When it comes to Sheppard, yes, we have. He's a global warming denier who is so committed to denialism he actually showed up on a TV show actually called "Conspiracy Theory" to skulk around in the shadows and spin his denialism to host Jesse Ventura.
Oh, I'm sorry, Noel. You weren't talking about yourself?
As it happens, he wasn't. He was mocking radio host Alex Jones for saying, "I will defeat Rush Limbaugh in the free market of ideas. People, people like this show more than his." After posting ratings for top radio hosts, Sheppard adds:
You see Alex Jones's name anywhere on that list?

No. Neither do I.

Just keep that in mind the next time he spouts another crazy conspiracy theory.
Keep in mind, too, that the folks at Alex Jones' website loved his show on global warming conspiracies.
Posted by Terry K. at 11:10 PM EDT