CNS' Jeffrey Selectively Reports on Pope's Speech
Topic: CNSNews.com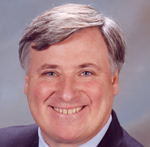 Terry Jeffrey writes in a July 26 CNSNews.com article:
Speaking in the impoverished Varginha neighborhood of Rio de Janeiro, Brazil, on Thursday, Pope Francis said that it is necessary to "give bread to the hungry," but stressed that society cannot promote the common good when it ignores the "fundamental pillars that govern a nation"--listing as the first two of these "life" and "family."
Jeffrey made no mention of the pope's main message during his Varginha speech -- that the wealthy should do more to help achieve justice for the poor:
Speaking amid cheers in the soccer field of a Rio de Janeiro shanty town, Pope Francis urged people who are more economically privileged to "never tire" of working for solidarity and social justice.

"The Brazilian people, particularly the humblest among you, can offer the world a valuable lesson in solidarity, a word that is too often forgotten or silenced, because it is uncomfortable," he said July 25 to the residents of Varginha, a "favela" of the city hosting World Youth Day.

He continued, "I would like to make an appeal to those in possession of greater resources, to public authorities and to all people of good will who are working for social justice: never tire of working for a more just world, marked by greater solidarity."
Is that message from the pope not important to a man who makes more than $122,000 a year?
Posted by Terry K. at 12:18 PM EDT