WND Touts Birther Radio Host And His Discredited Guest
Topic: WorldNetDaily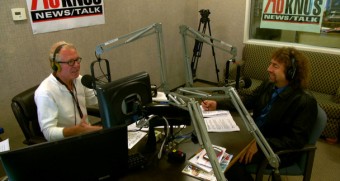 WorldNetDaily is a little too excited to have an obscure radio host return to the airwaves.
A July 10 WND article informed us that "Popular radio talk-show host Peter Boyles returned to the airwaves on Denver's KNUS Monday and immediately took up where he left off." Surprisingly, WND actually reported negative information about Boyles, conceding that he "lost his program on Clear Channel's KHOW after a violent confrontation with his own producer for which he accepted responsibility."
But that's not the reason WND cares about Boyles. The Denver Post has noted that Boyles has been hailed as "probably the leading birther talk-show host in America." Which brings us to the main reason WND is touting Boyles' return.
Remember that part about Boyles having "took up where he left off"? That he did, WND reported, with "a discussion about Barack Obama's disputed origins with "Dreams from My Real Father" director Joel Gilbert." WND goes on to inform us that "Boyles and Gilbert discussed a number of subjects, including Gilbert's documentary "Dreams from My Real Father," which alleges that President Obama's real father is none other than Communist Party USA activist Frank Marshall Davis."
What Boyles and Gilbert presumably didn't talk about was the fact that "Dreams From My Real Father has been utterly discredited. WND has yet to admit this fact to its readers, one of many discredited birther-related conspiracies WND will not tell its readers about.
Posted by Terry K. at 11:30 AM EDT