MRC's Graham: It's 'Liberal Junk' To Say Tsarnaev Was 'Promising'
Topic: NewsBusters
Tim Graham uses a July 18 NewsBusters post to rail against the Rolling Stone cover featuring Boston Marathon bomber Dzhokhar Tsarnaev:
Rolling Stone tried to manage the controversy label with the words over the picture: "THE BOMBER: How a Popular, Promising Student Was Failed by His Family, Fell Into Radical Islam, and Became a Monster."

So there are the words "bomber," "monster," and "radical Islam." But there's also that usual liberal junk about being "popular" and "promising," as if anyone in high school is voted "Most Likely To Kill and Maim In a Terrorist Attack."
So only "liberals" would have described Tsarnaev as "popular" and "promising"? Really, Tim?
Of course, RS is hardly alone in sprucing up the image of terrorists. Here's Graham's boss, Media Research Center chief Brent Bozell happily sharing his stage at the MRC's 20th Anniversary Gala with domestic terrorist and Hitler enthusiast G. Gordon Liddy (far left):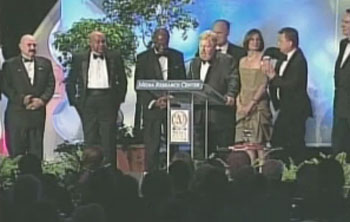 We're guessing Graham didn't voice any objection to that.
Posted by Terry K. at 3:18 PM EDT