MRC Hunter Biden Derangement Syndrome Watch
Topic: Media Research Center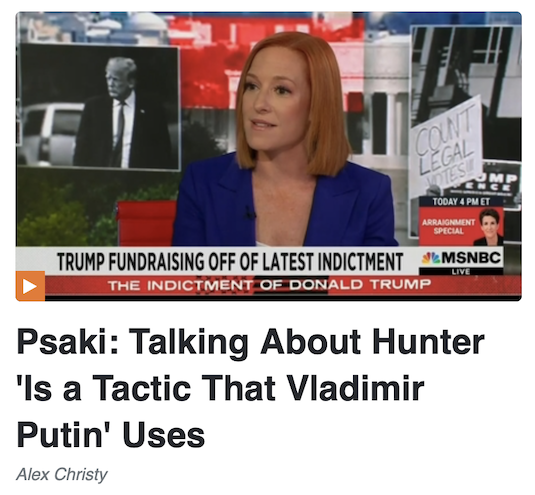 The Media Research Center's Hunter Biden Derangement Syndrome is so pervasive, we're still catching up on stuff that happened in late July and August. For instance:
Kevin Tober raged in a July 26 post that President Biden wasn't being attacked as a bad father because of Hunter's issues:
On MSNBC's All In, guest host Jen Psaki invited failed former Democrat Senator and MSNBC contributor Claire McCaskill to huff and puff about how poor Hunter Biden has been unfairly targeted by Republicans in light of the debacle Wednesday in which his sweetheart plea deal was revoked. McCaskill even went so far as to suggest that President Joe Biden is being targeted by Republicans because he loves his son Hunter.

Teeing up McCaskill, Psaki noted that "Hunter Biden is a favorite target of Republicans in the House. Republicans from the Trump wing of the party, and others." She then asked McCaskill: "What accusations & arguments do you think they're gonna make, given this didn't go exactly as planned today?"

"They're going to keep doing what they've been doing," McCaskill shrieked. "They're gonna try to indict a father for loving his son, who has been addicted to drugs and or alcohol. And without evidence of the father doing anything other than loving that son."

Yeah, forget the mountains of evidence showing Joe & Hunter Biden shaking down foreign governments for cash, and Biden admitting on tape that he got the Ukrainian prosecutor fired who was investigating his son. According to McCaskill, Joe's only crime is loving his son Hunter.
Cassandra DeVries spent an Aug. 1 post being annoyed that it was pointed out that Hunter does not work in the Biden White House and that the Trump kids are more directly connected to their father's credibly alleged criminality:
Devon Archer testified on Monday that his former business partner, Hunter Biden, called then-Vice President Joe Biden during business meetings to "sell the illusion of access to his father" and America's government. Tuesday's CNN This Morning dismissed Hunter's use of his father's position as vice president for business advancement as typical political behavior, more suitable than that of Trump's children, irrelevant to voters compared to Republican extremism, and unimportant to the public.

[...]

When asked if Hunter's use of his father's position for monetary gain would resonate with voters, Jessica Washington, senior reporter for The Root, parlayed and asserted that Trump's children shared tighter business ties with former him than Hunter and President Biden:

I think to a certain extent it will resonate with some voters. But I do think this kind of -- we have no direct connection to Biden in anything unethical at this point. And so, right now, we're talking about Hunter Biden who isn't in the administration. It's not like the Trump kids, where they had these close business ties, where he brought them into the administration. So, I don't think it resonates in the same way what happened with Jared or Ivanka or the Trump kids does.

Brownstein remained unconcerned that Hunter's conduct would matter politically. He reminisced about 2022, claiming Democrats won despite disapproval of Biden's performance because Republicans were 'extremists':
Alex Christy groused in an Aug. 3 post that his fellow right-wingers' Hunter derangement was being called out:
Former White House Press Secretary and current weekend MSNBC host Jen Psaki joined the network's Thursday coverage of President Trump's third indictment and arraignment to discuss the GOP's reaction, specifically their attempts to equate the situation with Joe and Hunter Biden's problems. Psaki was not thrilled with the comparison, claiming to do so in reminiscent of Vladimir Putin.

After co-host Jose Diaz-Balart observed Republicans are trying to tie Joe and Hunter Biden together, Psaki recorded, "Of course they are. And there is no evidence of that, but they're going to keep trying because that is the argument that they want to fuzzy the waters out there, muddy the waters, not fuzzy them, muddy the waters out there."

"That, by the way, is a tactic that Vladimir Putin and other authoritarian dictators use, but that's their strategic objective, to make it all seem the same," Psaki continued.

Interestingly enough, the man who allegedly paid the Bidens a $10 million bribe at Burisma, Mykola Zlochevsky, worked in the administration of Viktor Yanukovych, who ran away to Russia in 2014 after the Ukrainian people got tired of being governed by a Putin stooge. If a Republican father-son were facing these allegations involving Putin-aligned foreigners, the media would be paying far greater attention.
In fact, Devon Archer -- the same guy whose testimony DeVries credibly cited -- also testified that he had no knowledge of any bribe paid to the Bidens by Zlochevsky and that the Form 1023 released by Republicans as purported evidence of the bribe doesn't actually support it.
Posted by Terry K. at 10:49 PM EST