MRC's DeSantis Defense Brigade Watch, Education Edition (With Added Racist Massacre)
Topic: Media Research Center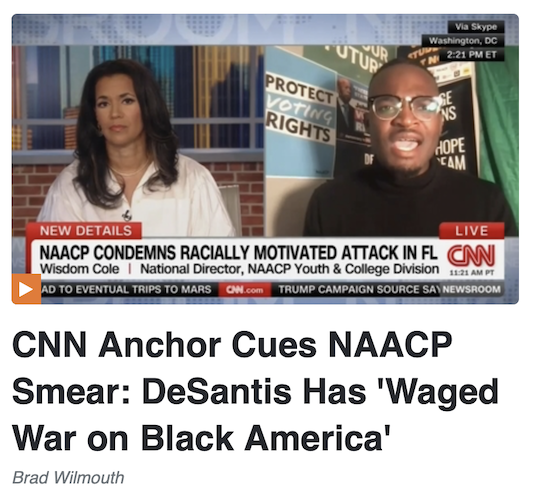 The Media Research Center's DeSantis Defense Brigade was an aggressive defender of educational standards imposed on Florida by Gov. Ron DeSantis, and it just couldn't stop doing so. Alex Christy spent an Aug. 15 post complaining that critical race theory is a high-level concept that isn't taught in high schools, making DeSantis' claim that he banned CRT in Florida school to be inaccurate, because certain things that might be part of CRT might get sneaked in:
Even if one were to accept [PolitiFact researcher Samantha] Putterman's arguments as true, it is possible Florida wanted to preemptively guard against the insertion of CRT into K-12 education as its ideas have escaped academia and started infecting Corporate America's diversity training and corporate social responsibility campaigns.

Second, just because a teacher isn't mandating that students read Kimberlé Crenshaw doesn't mean that CRT isn't woven into the curriculum. If the assumption is that "systemic racism" is the explanation for every racial statistical disparity in America, then CRT is part of the curriculum or teacher training programs whether it is explicitly named or not.

[...]

That it isn't a fact-check, it's an opinion-check. The law says what it says and DeSantis's summation of it was accurate.
In an Aug. 19 post, Brad Wilmouth complained that it was pointed out how teaching of black history had to include examples of black-on-white violence:
After a brief clip of Governor DeSantis declaring that "These are the most robust standards in African American history," [CNN correspondent Carlos] Suarez continued:

Last month, the state's board of education approved new standards for teaching black history in order to comply with, quote, "anti-woke policies" led by Governor Ron DeSantis that limit how race is discussed in schools and businesses. The board now requires that events like the Ocoee massacre to be taught as, quote, "acts of violence perpetrated against and by African Americans" -- a distinction historian Dr. Marvin Dunn says is wrong.

Then came a soundbite of Dr. Marvin Dunn: "There was no black-on-white racial violence in Ocoee. The state of Florida requires teachers to teach that lie."

But if one looks at the actual text of the new standards, it doesn't exactly say that there was black violence in the Ocoee incident. Rather, it lists several examples of anti-black violence, including Ocoee, and generally states that examples of both black on white violence should be included, which could have been referring more to the other incidents.

For example, in the Tulsa killings from 1921, one-third of the official death toll consisted of whites, some of whom allegedly were among the first to be killed in the initial skirmish.
Given DeSantis' overall unfriendliness to black people, it was probably unsurprising when, after a shooter targeted black people at a store in Jacksonville and killed three, there was criticism of DeSantis and his education standards.Wilmouth complained this was broughtup in an Aug. 28 post:
In the aftermath of a racially motivated murder spree in Jacksonville, Florida, CNN host Fredricka Whitfield on Sunday afternoon allowed two of her guests to try to push blame onto Governor Ron DeSantis (R-FL) while discussing the killings.

At about 2:20 p.m. Eastern, the CNN host gave no pushback when her guest, Wisdom Cole of the NAACP Youth and College Division, charged that Governor DeSantis has "waged war on black America."

Whitfield threw a softball, just asking for deep thoughts: "What are your thoughts today, especially after hearing even more details about how the suspect targeted black people, left behind evidence that he hated them, and even with swastikas on his guns?"
Wilmouth huffed that later guest Van Jones "accused Governor DeSantis of being opposed to teaching black history," which Wilmouth made no effort to rebut.
The more DeSantis was discussed in relation to the mass shooting, the angrier the MRC got. Curtis Houck raged in another Aug. 28 post under the headline "UGLY SMEAR":
On Monday's Today, NBC's Florida-based correspondent (and incoming White House correspondent) Gabe Gutierrez again targeted 2024 GOP presidential candidate and Governor Ron DeSantis (R-FL) by ghoulishly tying DeSantis and his administration's African-American history standards to the racist mass shooter who killed three Saturday at a Jacksonville Dollar General in a predominantly-black neighborhood.

NBC was the lone network to invoke DeSantis in their Monday morning coverage of the racially-motivated killings. Gutierrez at least made the pivot with a portion of DeSantis remarks at a vigil: "What he did is totally unacceptable in the state of Florida."

Gutierrez chimed in that while DeSantis also said he would ensure the state would "provide more security to Florida HBCUs," but he then boasted that DeSantis "fac[ed] boos from the crowd."
Kevin Tober joined the Defense Brigade with his own Aug. 28 post:
On MSNBC's The ReidOut, host Joy Reid and guest Bishop William Barber took turns smearing Governor Ron DeSantis (R-FL) by accusing him of causing the racist shooting that took place at DollarTree in Jacksonville, Florida on Saturday. The duo even suggested DeSantis is akin to racist Alabama Governor George Wallace and that he was inspired by the horrific Jacksonville riots in 1960.

"There is a history of governors, of southern governors stoking racial hatred and animus, specifically directed at black people, and then the results are reaped in black communities," Reid proclaimed.

[...]

Barber continued smearing DeSantis: "This is more blood on his hands because he even passed his policies" that "enable poverty, enable the lack of health care."

"He's saying basically, I want to be like George Wallace, southern governors and others who pushed hate. It was the playbook of the southern strategy, Richard Nixon used it, Ronald Reagan, Bush, Trump to a greater degree," Barber added.

Barber ended by outright claiming that DeSantis's educational reforms have directly led to the racist shooter targeting a black college: "Think about it, the shooter first went to a historically black college university that represents the very thing DeSantis and others have been saying we have to resist, that is dangerous to us."
Tober made no atempt to rebut any of these claims.
Posted by Terry K. at 10:38 PM EST
Updated: Tuesday, November 7, 2023 10:38 PM EST