MRC Was Ridiculously Gleeful That Hunter Biden's Plea Deal Collapsed
Topic: Media Research Center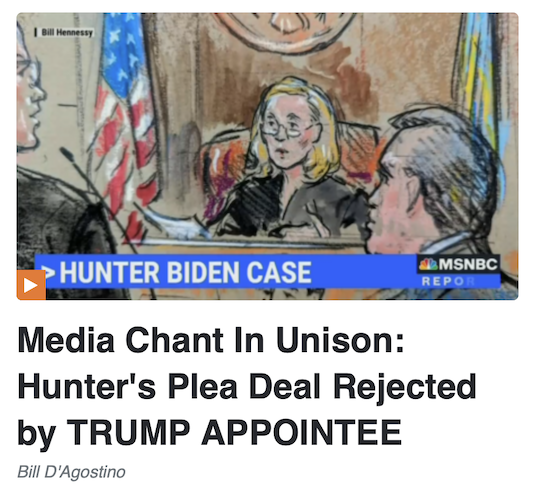 The Media Research Center experienced a widespread outbreak of Hunter Biden Derangement Syndrome when a proposed plea deal regarding various charges he faced came to light. When that plea deal collapsed, the MRC was filled with schadenfreude. A July 26 post by Mark Finkelstein hyped an MSNBC analyst who criticized the alleged sweetheart nature of the deal. That was followed by a post from Curtis Houck complaining (as it usually does) that the right-wing obsession with Hiunter was called out once again:
Ahead of what was supposed to be Hunter Biden's Wednesday morning court appearance to plead guilty to tax charges and instead turned into a not guilty plea due to a stunning breakdown between the legal teams and the judge, ABC's Good Morning America and NBC's Today were in full spin mode for the Biden family and the Biden 2024 campaign and thus engaging in election interference by misleading voters.

Not surprisingly, they trashed Republicans for not being "ready to move on" from a "painful" and "dark chapter" in the Biden family's history and insisting there hasn't been "any evidence...of wrongdoing" regarding the Biden family's overseas business dealings.

Also of note, we saw ABC finally arrive on scene with coverage on a flagship newscast of the IRS whistleblower hearing and a network mention of Hunter's love child with a former stripper.
The MRC, of course, have no problem expoiting Hunter's child for political purposes. Kevin Tober complained that non-right-wing media weren't expressing the same sinister glee over the plea deal collapse that the MRC was:
To paraphrase the Soup Nazi in Seinfeld: No plea deal for you! Sorry, Hunter! That was the end result of a tumultuous day in a Wilmington courtroom Wednesday where President Joe Biden's criminal drug addict son Hunter Biden was stripped of his plea deal and forced to plead not guilty to tax fraud charges. On Wednesday evening, the big three evening news broadcasts had the sads over Hunter's latest legal woes.

All three networks ABC's World News Tonight, CBS Evening News, and NBC Nightly News kicked off their newscasts with the Hunter news. On ABC, justice correspondent Terry Moran fretted that "Hunter Biden came to the federal courthouse in Wilmington this morning expecting to put his legal troubles behind him, but it was a day of unexpected courtroom drama and an unforeseen twist."

Moran even insisted on labeling Delaware U.S. Attorney David Weiss, who oversaw the Hunter Biden probe as someone "appointed by Donald Trump." While that was technically true, Weiss was recommended by both Democrat Senators in the state. If he was a man fully committed to the rule of law, the Democrats would have bitterly opposed him.

He didn't stop there, he even labeled the judge as well. Claiming she was "appointed by President Trump," and complained she "peppered lawyers on both sides with questions, and repeatedly took issue with the negotiated plea deal, calling it, 'not straightforward,' 'atypical.' Saying she would not 'rubber stamp' it. And asking, 'is this even constitutional?'"
Bill D'Agostino further harped on the fact that the judge who rejected the plea deal was accurately identified as a Trump appointee:
Hunter Biden's sweetheart plea deal was rejected on Wednesday by Federal Judge Maryellen Norieka, who found major inconsistencies between how the prosecution and the defense had framed the agreement. The ensuing coverage contained a lot of theatrical head-scratching, as well as routine mentions that Norieka was appointed by former President Trump.

In fact, the TV news media can hardly even mention about Hunter Biden's failed plea agreement without making really, really sure that absolutely everyone knows that the judge who tossed it was appointed by Trump. Just look at them go:

During the 2 p.m. Eastern hour of CNN News Central on Wednesday, CNN legal analyst Norm Eisen pretended to be baffled by Norieka's misgivings with the deal: "I think everyone is scratching their head a little bit."

He then called Norieka's partiality into question on the grounds that she was appointed by Trump:
This is the same MRC, mind you, that was obsessed with labeling one prosecutor of Donald Trump as linked to George Soros.
D'Agostino then harrumphed: "There are already plenty of quality legal analyses out there explaining the concerns raised by Norieka. It'd be great if the liberal TV news networks would bother sharing some of those perspectives with their viewers." But as an example, he supplied a link from the partisan right-wing site the Federalist, no normal person's idea of a source for "quality legal analyses."
Tober returned to complain that the non-right-wing media are nowhere near as obsessed with Hunter as he is:
It didn't take long for CBS and NBC to move on from the collapse of President Joe Biden's criminal son Hunter's plea deal. In fact, just 24 hours after all three networks led their respective evening newscasts with the news, only ABC's World News Tonight stuck with the story and kept their viewers in the loop about the new revelations. Including what was actually in the plea agreement, as well as details about Hunter's shakedown of foreign governments for millions of dollars.


CBS Evening News and NBC Nightly News apparently had better things to do like cover the New York City crane collapse for the second night in a row (CBS) or complain about the July summer heatwave (NBC).

Sticking with the story and performing a random act of journalism, ABC's justice correspondent Terry Moran kept on the story for his network. He did get in the obligatory partisan labeling and crying about how Hunter was a victim.
Cassandra DeVries groused that it was pointed out that right-wingers favor preconceived narratives to facts when it comes to Hunter:
On Thursday, CNN This Morning covered Judge Maryellen Noreika's dismissal of the Hunter Biden plea deal. The defense and prosecution teams appeared before the judge claiming a deal, but the parties disagreed on what Hunter could be charged with in the future. CNN assumed prosecutors lacked adequate evidence to win a trial and warned viewers not to "expect Republicans to have fidelity to the facts of the case over the narrative they're trying to pursue."

[...]

"There was sort of a little win in this pause for both sides," host Erica Hill said. "Yes, Republicans can continue to talk about it. But the fact too that this is an ongoing investigation, that may actually make it harder in some cases for Republicans to get some of the information that they're after."

Hill dismissed the Hunter Biden case as political fodder for Republicans. Still, her referral to a lack of transparency as a small win for Democrats made one wonder what information she thought they might find.
A July 28 post by Houck touted how "On Friday morning, NBC's Today was the lone flagship broadcast network news show to keep alive coverage of Hunter Biden, his life of corruption, and the shocking collapse of his shady plea deal with his father's Justice Department." He offered no evidence that the plea deal was "shady." Tober hyped a right-wing smear of Hunter in a July 30 post:
CNN's senior political commentator and Republican political strategist Scott Jennings did not play around during his appearance on CNN's State of the Union on Sunday. During the panel discussion, the topic inevitably turned to the news that broke Friday night that Joe Biden had finally acknowledged his seventh grandchild whom his drug addict son Hunter had with a stripper in Arkansas. After his fellow panelist and Democrat strategist Michael LaRosa tried to accuse Republicans of playing politics with the Biden grandchild, Jennings took the gloves off and said: "It's not Republicans, with all due respect, who made Hunter Biden into a complete scumbag on this and other issues."
We don't recall the MRC condoning this same argument when applied to Donald Trump.
Posted by Terry K. at 10:10 PM EST
Updated: Saturday, November 11, 2023 12:59 AM EST