MRC's Graham Has Thoughts About GOP Debates
Topic: Media Research Center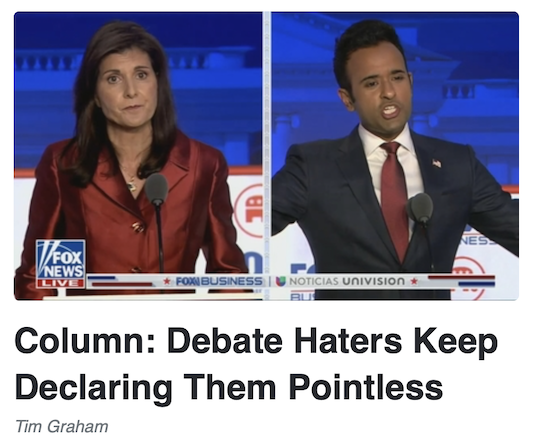 Tim Graham grumbled about how Republican debates were being treated by, well, pretty much everyone in his Sept. 29 column:
We've been subjected to years of lectures about how Republicans are a "threat to democracy," but watching the post-debate reactions to the second GOP presidential debate at the Reagan Library made you wonder who exactly hates democracy. Like the first debate aftermath, journalists assert debates are pointless.

It wasn't October yet – and about 14 weeks from the Iowa caucuses – and the horse race-obsessed prognosticators suggested that if debates don't move any polling needles, why bother with debates? The liberal media are lining up neatly with Trump, asserting that he's paying no price for skipping debates, so who cares?

"Does anybody see a VP in that group? I don't think so," Trump quipped in his counter-programming speech in Michigan. Trump believes everyone daring to challenge him for the nomination is engaged in some kind of pro-Biden conspiracy, so they're all disqualified. Only MAGA devotees are "qualified."

Trump and the media are not completely aligned, since George Stephanopoulos on ABC was wondering why we need debates if they're not obsessing over Trump's allegedly damaging array of indictments and civil lawsuits. This tells you how ABC would run a GOP debate, which is why the GOP has started with Fox channels so far.

MSNBC host Mehdi Hasan tweeted the same line, that it's not a debate if we're not obsessing about Trump allegedly over-valuing his real estate. "Not a single candidate has said a word about it. Not a single question on it from the moderators. This is not actually a debate."
Note Graham's conspiracy theory here: that "the media" (read: non-right-wing outlets) want Trump to be the Republican nominee because they think his numerous scandals will drag Republicans down to defeat. He didn't acknowledge that a sizable majority of Republicans also want Trump to be the nominee. Are they in on the conspiracy too? Graham then changed his story -- Trump's scandals don't affect his popularity so there's no need to discuss them at all, and the real reason the non-right-wing media opposes the debates is beause they are are full of Biden-bashing:
Now imagine if we turned the logic around on the pundits and proclaimed that all these indictments and civil lawsuits aren't damaging Trump's standing at all, so why don't we just call all the legal maneuvering off? Turn off the courtroom theatrics. If that sounds incredibly irresponsible if not premature, then why all this grumbling about debates being unnecessary?

With the pro-Biden press, we might imagine why they don't like these events. It allows a national television audience to absorb an hour or two of fairly animated assaults on the competence and wisdom of the Biden team. We certainly know that these "guardians of democracy" have absolutely no interest in primary debates on the Democrat side, since they realize Biden is always 30 seconds away from a verbal face-plant. Instead, Joe Scarborough and others just denounce the debate as a "disaster" for everyone involved.
Graham concluded by whining: "If people really claim to love and honor democracy, they would let the primary campaigns and debates play out, and perhaps even suggest Joe Biden should have to submit himself to a primary debate." He's presumably referring to Robert Kennedy Jr., whose campaign the MRC had been ironically promoting because it might hurt Biden's re-election, not because Graham and Co. actually want him to be president.
For his podcast the same day, Graham rehashed the MRC's smears of a debate co-moderator who committed the offense of not being employed by Fox News like the other moderators:
The second GOP presidential debate on Fox Business took an odd turn to the Left in the questions of Univision anchor Ilia Calderon, who pressed the candidates like an MSNBC host on guns, fentanyl, '"dreamers," LGBTQ issues, and Florida's black history curriculum. The woman who co-anchors with leftist Jorge Ramos sounded like a Ramos echo.
We haven't listened to the podcast, but we can presume that Graham did not ask guest Nicholas Fondacaro to back up his vicious smear of Calderon as "anti-American" with any sort of actual evidence beyond her asking challenging questions of Republicans.
Posted by Terry K. at 3:46 PM EST