WND Whitewashes Capitol Rioters
WorldNetDaily believes that it has to mislead about -- and outright censor -- what participants in the Capitol riot did in order to create a narrative that they are victims and "political prisoners."
By Terry Krepel
Posted 10/9/2023
---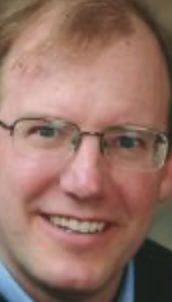 Peter LaBarbera
WND is so desperate to minimize the Capitol insurrection that it feels it must lie to and mislead its readers in order to keep a bogus narrative alive. It has published numerous articles over the past year falsely portraying rioters as victims, minimizing their offenses and whitewashing their violent nature.

Bob Unruh wrote in a July 2022 article:
One of the protesters caught up in the Jan. 6, 2021, events at the U.S. Capitol – a man who has not yet been convicted of anything – has unleashed on the federal government during a telephone interview with The Gateway Pundit.

It is Andrew Taake, 33, of Houston, who said in the interview that he'll take punishment if it's something he deserves.

But he wants those who were on the other side – the side of the government – who violated the law to face their punishments, too.

"I have said since day one, I will stand for my JUST punishment with my head held high, as long as the officer who sprayed me with pepper spray as soon as I walked up near the building smiling and holding my hands up empty gets his due justice. Same for the baton wielding, boot stomping officer who mangled my hand so badly, that I now am faced with having half my ring finger amputated as it is too far gone to ever repair. What about officer Lila Morris who murdered Roseanne Boyland, by beating her relentlessly in the head with a baton (as seen on her own body camera footage I personally have watched), or Lt. Michael Byrd who shot Ashli Babbitt in cold blooded murder? What of the officer I watched time concussion grenades to explode right by peoples' heads, of which two other protesters were killed, and then lied about saying they died of 'natural causes'? When do the people murdered at the hands of Nancy Pelosi's Stormtroopers get any justice?"
But Unruh is censoring what Taake did during the insurrection -- and the fact that he was wasn't just "caught up in ... events." (Yes, Unruh has downgraded the insurrection to an "event.")
Taake has been charged with numerous felonies and misdemeanors, including "assaulting, resisting or impeding" law enforcement officers, and the charging document includes pictures of Taake "using what appears to be a metal whip and pepper spray to attack law enforcement officers." Further, Taake effective incriminated himself by bragging about taking part in the insurrection on a dating app, and the target of his failed affection turned him in. He is currently in custody at a federal penitentiary at Lewisburg, Pa., awaiting trial but his lawyers are trying to get him moved to a jail closer to Washington while also trying to negotiate a plea deal.
Much of Unruh's article was devoted to uncritically repeating Taake's rantings about how badly he was supposedly being treated in prison -- apparently oblivious to the fact that it's how most criminals are, in fact, treated that way and that there's no reason to treat this violent criminal otherwise. Unruh also failed to correct Takke's false assertion that Babbitt was the victim of "cold blooded murder"; in fact, she was a domestic terrorist preparing to rush at law enforcement when she was killed by one of her potential targets.
Unruh also wrote that "One of the schemes of the Biden administration has been to detain offenders suspected of minor crimes such as trespassing without bond – and then not even try to hold trials "until 2023 or later" -- again failing to disclose the violent nature of Taake's crimes, none of which involved being charged with trespassing.
Peter LaBarbera tried to turn an insurrectionist into a victim in a March 15 article:
Tucker Carlson used his popular Fox News show to highlight the case of Jan. 6 defendant Daniel Goodwyn, who faces up to a year in prison for entering the U.S. Capitol and leaving within one minute, committing no violence of any kind.

Carlson interviewed Goodwyn and his attorney, Carol Stewart, and played surveillance video released to him by House Speaker Kevin McCarthy. The J6 video aired by Carlson shows Goodwyn entering the Capitol building ("through an open door," Carlson notes) and then exiting less than a minute later after being asked to leave by police.

As video plays in the background showing the footage of Goodwyn amongst the crowd in the Capitol, Carlson states, "This is video of a man called Daniel Goodwyn walking through the Capitol, through an open door, on January 6, 2021 at exactly 3:32 PM. That is long after the doors were breached.

"In it you can clearly see that Goodwyn was inside for less than a minute. When he was asked to leave, he left!" Carlson said. "There's no dispute about any of that. It's all on tape." He said the footage was also provided to Goodwyn's attorneys.

"But the DOJ is still trying to send Goodwyn to prison, and in the meantime they have wrecked his life," he said.
Because LaBarbera is serving as Carlson's stenographer and not as a reporter -- right down to uncritically repeating his bogus statement that "January 6th, I think, is probably second only to the 2020 election as the biggest scam in my lifetime" -- he failed to tell his readers important information about Goodwyn that helps to explain his current situation. First of all, Goodwyn considers himself a member of the Proud Boys, a violent right-wing militia group, and that several members of that group are facing charges of seditious conspiracy for their actions in the riot. He had posted images of the Proud Boys logo with the words "Stand Back, Stand By" -- the phrase Donald Trump spoke during a presidential debate that the group adopted as a rallying cry. And contrary to his claim that he did nothing beyond entering the building, prosecutors said he egged on other rioters.
LaBarbera also censored the fact that Goodwyn disrupted his legal proceeding by refusing to wear a mask at a time when COVID was still spreading rapidly, prompting the judge at one point to ask him, "When did you go to medical school, sir?"
Even though LaBarbera's article has a section called "Background on Daniel Goodwyn," he failed to include this highly relevant background; instead, he simply regurgitated things from a pro-Goodwyn website that portrays him as a victim. But the government is not the one who "wrecked his life" -- Goodwyn wrecked his own life by choosing to take part in a violent insurrection and is now falsely portraying himself as a victim because he has to face the consequences of his actions.
Whitewashing the "QAnon Shaman"
ConWebWatch has shown how WND has been desperately trying to turn "QAnon Shaman" insurrectionist Jacob Chansley into a victim by hyping cherry-picked and misleadingly edited video aired by then-Fox News host Tucker Carlson showing him acting peacefully. LaBarbera found another piece of cherry-picked video to promote for a March 16 article:
Newly-released police bodycam footage from Jan. 6 shows Trump supporters obeying cops leading them out of the Senate chamber, with some even thanking the police — further eviscerating the Democrats' "deadly insurrection" J6 narrative.

The footage came to light due to the sentencing trial of Jacob Chansley, the infamous horned J6 protester dubbed the "QAnon Shaman" by the media. Chansley is shown in the video thanking the police officers who are clearing ralliers out of the Senate chamber in the U.S. Capitol building.

The video shared on Twitter by "D. Scott" (@eclipsethis2003) hit social media on Tuesday and conservatives responded with outrage, with many saying the liberal J6 narrative is collapsing before their eyes. D. Scott's March 14 tweet reads: "Newly released video footage captured by body-worn police cameras has shown a new perspective of the clearing of the Senate chamber from Jan. 6. The footage was presented as evidence during Jacob Chansley's sentencing [hearing] and was finally made public today."

[...]

Chansley himself is shown in footage, saying to the officers as he approached the door, "Thank you for your patience. We really appreciate it." It was Fox News Tucker Carlson's airing of previously unseen J6 footage of a cooperative Chansley being led around inside the Capitol by police that engendered a new wave of outrage and skepticism among conservatives toward the Democrat-run Jan. 6 Committee and the "insurrection" narrative it attempted to sell to the public (in part through cherry-picked videos).
Of course, the video LaBarbera is hyping was cherry-picked. By contrast, prosecutors pointed out that these selectively edited videos "did not show Chansley, who was sentenced to 41 months in prison for his actions on January 6, facing off with officers for half an hour outside the Senate chamber or when Chansley refused to be escorted out of the Capitol by an officer and only left after being forcibly removed," adding: "Chansley was not some passive, chaperoned observer of events for the roughly hour that he was unlawfully inside the Capitol. ... He was part of the initial breach of the building; he confronted law enforcement for roughly 30 minutes just outside the Senate Chamber; he gained access to the gallery of the Senate along with other members of the mob (obviously, precluding any Senate business from occurring); and he gained access to and later left the Senate floor only after law enforcement was able to arrive en masse to remove him."
When Chansley was moved to a halfway house a couple weeks later, Unruh tried to credit those videos in a March 30 article:
Security video of the U.S. Capitol on Jan. 6, 2021, shows Jacob Chansley, 35, the "QAnon Shaman," being escorted into the Senate that day by security officers in the building.

Now, after his lawyer charged that the government deliberately had withheld exculpatory information about his client, Chansley has been released from a federal prison and moved to a halfway house.

[...]

Chansley was a key part of many of the videos of the Jan. 6 events at the Capitol, when hundreds protested what they saw as an unfair – even stolen – election, with his costume of helmet and such.

He pleaded guilty in September 2021 to civil disorder and violent entry and was given 41 months in prison.

The report explained, "Bureau of Prison records confirmed that Chansley is in the custody of the Residential Reentry Management field office in Phoenix, with a release date set for May 25."

[Chansley attorney Albert] Watkins decline[d] to attribute a reason for the decision.

"This was a decision of the US Bureau of Prisons," he said.

The report pointed out federal guidelines allow for reduced time for good behavior, "but under those guidelines Chansley would have expected to serve at least 35 months and 22 days of his 41-month sentence."

Watkins had argued only weeks ago that Chansley should be freed based on video publicized by Fox News host Tucker Carlson that showed him not breaking into the Senate, but actually being escorted there by security officers in the Capitol.
In fact, Watkins also admitted that "It was a decision which was part of an established protocol in place since well prior to the release of the videos" -- meaning the videos played no role whatsoever.
More whitewashing
An anonymously written March 30 article attempted another whitewash:
There's a lot of review going on now of the Jan. 6, 2021, events at the U.S. Capitol in Washington, where hundreds of supporters of President Donald Trump followed his instructions to go to the Capitol and protest the suspect Joe Biden election victory peacefully.

Of course, there were a few who got out of hand, breaking windows to enter and then vandalizing.

Democrats for the last two years have released cherry-picked segments of video to try to portray the events as an actual attempt to overthrow the U.S. government, even though there was no plan, no military involved, no leader and such.

Now, the Republican party, in the majority in the U.S. House, is releasing more video, and it shows that the "insurrection" storyline is anything but true.

Likewise are the facts of some individual cases misleading.

For example, the Gateway Pundit cited the case against Jake Lang, who attended the protest and rally "because he believed the election was stolen from Donald Trump."

After Trump's rally, he "walked to the U.S. Capitol where he was gassed and trampled when Capitol Police pushed Trump supporters down the stairs. Jake was nearly killed. The woman next to him was gassed, knocked down, trampled and then beaten with a stick by police. She died on the steps of the U.S. Capitol. Her name is Rosanne Boyland."

The report continued, "Jake Lang was next to Rosanne when she died. Being a former wrestler, Jake was able to crawl out of the pile. He then went back and saved Phillip Anderson who was knocked unconscious next to Rosanne Boyland. Jake was not able to rescue Rosanne but he saved the life of another man that day."

The result that he was accused of taking "swipes" at police after they killed Boyland, and was arrested.

He's been held in prison without trial ever since – a total of 800 days.
Of course, what Lang actually did is much worse than the whitewash WND attempted, as a more honest website reported:
Lang is allegedly seen on video picking up a police riot shield and slamming it to the ground near law enforcement, according to prosecutors. He is also accused of swinging a baseball bat at police officers multiple times, striking the officers' shields.

Lang, for his part, seemed proud of his actions, according to court filings.

"This is me," Lang reportedly posted on Instagram, using an animated finger symbol to point himself out at the front of the crowd facing off against police.
Funny that WND didn't mention the shield or baseball bat.
WND went on to falsely claim that Lang faces "misdemeanors " -- in fact, the charges against him include multiple counts of civil disorder and assaulting, resisting, or impeding law enforcement, which are felonies. WND also repeated Gateway Pundit's assertion that Lang is "a political prisoner of the regime," which is also not true. He was denied release last year pending trial because he assaulted police officers:
The Appellate Court upheld the Sept. 20 decision by Judge Carl J. Nichols, writing: "The evidence proffered by the government shows that, over the course of two and a half hours on January 6, 2021, appellant repeatedly pushed, punched, and kicked at police officers defending the Lower West Terrace entrance to the Capitol building. He also slammed a door against one officer's head and struck other officers first with a stolen riot shield and later with a metal baseball bat."

The Appellate Court referenced another Jan. 6 case, United States vs Munchel, in their ruling: "As we explained in Munchel, 'those who actually assaulted police officers ... are in a different category of dangerousness than those who cheered on the violence or entered the Capitol after others cleared the way.'"
Gateway Pundit stenography
The counterfactual whitewash campaign went to a new level in a May 7 article by Joe Kovacs:
A Kentucky welder who never entered the U.S. Capitol on Jan. 6, 2021, was sentenced Friday to a stunning 14 years in prison, the longest sentence to date for any Jan. 6er, and longer than the term of his convicted murderer prison mate.

Peter Schwartz, a 47-year-old Army reservist, gave a phone interview Saturday to the Gateway Pundit, recalling his arrest when he was with his wife in Uniontown, Pennsylvania, on Feb. 2, 2021.

Some 30 agents "assaulted him with flashbang grenades, armored vehicles, and more than 10 assault rifles aimed at his chest," the Gateway Pundit indicated.

"At no point did either my wife or I resist but we were both roughly handled and forced/dragged up the stairs after being shackled and handcuffed as we were shoved around," Schwartz said.
At no point in the article did Kovacs list what Schwartz was charged with or what he as accused of doing -- a egregious omission -- instead just lazily and uncritically repeating his self-proclaimed sob story with the help of the highly unreliable conspiracy site Gateway Pundit. So one must turn to a real news organization to learn the truth about what Schwartz did:
A Pennsylvania man who threw a folding chair at law enforcement and repeatedly used pepper spray on police during the January 6, 2021, attack on the US Capitol was sentenced Friday to more than 14 years in prison – the longest of any January 6 defendant so far.

Peter Schwartz, 49, was found guilty on 10 charges in December 2022 during a jury trial, including four felony charges of assaulting, resisting or impeding officers using a dangerous weapon. Schwartz's prior criminal history of 38 felony convictions dating to 1991 was a significant factor behind his sentence.

"Mr. Schwartz, dare I say, there are not many people who have come to this court with a criminal history like yours," District Judge Amit Mehta said during a sentencing hearing on Friday.

On January 6, 2021, prosecutors allege that Schwartz thew the first folding chair at police that opened the police line and enabled hundreds of rioters to impede the officers.

Schwartz, according to prosecutors, found an abandoned Metropolitan Police Department-issued canister of pepper spray. He then used the irritant to spray officers, causing them to retreat and put on gas masks, and found a second can of pepper spray that he sprayed at officers, they said.

Schwartz was on probation during the time of the offenses, according to court documents. During his arrest, law enforcement found that he had at least one firearm in his possession at his residence in Pennsylvania. Schwartz has two prior convictions of possessing a firearm after being convicted of a felony.
Another actual news organization added:
Prosecutors said Schwartz has bragged about his participation in the riot, shown no remorse and claimed that his prosecution was politically motivated. He referred to the Capitol attack as the "opening of a war" in a Facebook post a day after the riot.

"I was there and whether people will acknowledge it or not we are now at war," Schwartz wrote.

Schwartz was on probation when he joined the Jan. 6 riot. His criminal record includes a "jaw-dropping" 38 prior convictions since 1991, "several of which involved assaulting or threatening officers or other authority figures," Bond wrote.
Kovacs made no mention whatsoever of Schwartz's extensive criminal history, let alone that it was a likely factor in the show of law enforcement during his arrest.
Instead, Kovacs simply copy-and-pasted large chunks of the Gateway Pundit propaganda piece, in which the only allusion to his violent past and present came from Schwartz trying rather lamely to defend himself:
I read an article in the Huffington Post today where if you read the article, you can see that it's saying that I sprayed mace. I didn't hit anybody, and I was accused of throwing a chair that also hit the ground safely, they said. And I never went inside the Capitol building. But they gave me 14 years and two months. Oh, my God. They're basing that off of what they say is they're saying I have a horrible criminal record, which they don't mention because they're talking about stuff from 30 to 35 years ago, which is predominantly traffic offenses. A few little incidents along the way where I've just pled out to some things, but 90 plus percent of it is traffic offenses, and they don't mention that. And I wish I would encourage anybody listening that look up my record. It's not criminal stuff.
Schwartz is lying, of course. It's nearly impossible to rack up one or two felonies -- let alone 38 -- on traffic offenses, but Kovacs couldn't be bothered to do basic research to look into his background. Indeed, those prior offenses include a 2019 conviction on terroristic threats "for threatening police officers who placed him under arrest for domestic assault" and a 2020 conviction for domestic violence after he bit his wife on the forehead and punched her multiple times, and on the day of the riot he was on probation for at least one other case that involved both assaultive conduct and illegal firearms possession.
Kovacs uncritically served up more of Schwartz's sob story, then concluded by linking to a crowdfunding account that "has been set up to donate to Schwartz's cause."
Even by WND standards, the total censorship of inconvenient facts is egregious -- and done in the service of trying to present a cop-hating thug as a victim. Kovacs should be ashamed of himself -- at least if he was capable of shame, which he probably isn't given that he works for WND.
An anonymously written May 17 article attacked police for using typical crowd control procedures to beat back the mob at the riot:
The crowd already was rowdy on that fateful Jan. 6, 2021, when hundreds were at the U.S. Capitol to protest what they viewed as a purloined American presidential election.

But the police lines largely were holding protesters in a group, on the sidewalk, with some minor skirmishes.

But then the shooting started. By the police, since they were the only ones armed.

And that's when, according to a lawyer representing Jan. 6 defendants, it all went bad.

It is the Gateway Pundit that has posted a long series of videos showing the change from protesters angry and upset to unarmed protesters being shot and injured by police.

[...]

The report said the confirmation of "unjustified use of deadly force" reveals "the precise time the typical protest escalated into 'the most investigated demonstration in FBI history.'"

That's according to defense attorney Steven Metcalf, who told the Gateway Pundit, "This is crucial — this is crucial — because this is where what everybody is saying" about J6 being a set-up and a fedsurrection "actually matters. But nobody is pinpointing the precise time."
President Trump ordered law enforcement to use tear gas and rubber bullets against largely peaceful protesters in Lafayette Square, outside the White House, during protests following the death of George Floyd, and we don't recall WND being bothered by that.
The anonymous WND writer also repeated old grievances:
Ex-House Speaker Nancy Pelosi set up a partisan committee – including only harsh critics of President Trump – to "investigate" the Jan. 6 events, but its members focused almost solely on issues they thought they could attribute to Trump's actions – and his instructions to supporters to demonstrate "peacefully" that day.

In fact, the committee deliberately withheld massive amounts of surveillance footage from the public, video that still hasn't fully been made available to Americans.
The writer censored the fact that Trump also said during his pre-riot speech: "We fight like hell. And if you don't fight like hell, you're not going to have a country anymore," which would seem to overrun his CYA call for peace.
WND took the lazy way out for one attempt, republishing an pathos-laden July 16 article by the notoriously unreliable Gateway Pundit written by onetime WND reporter Alicia Powe:
J6 defendants Casey Cusick, his elderly father James Cusick, and David Lesperance, a family friend who is also elderly, are facing up to three years in prison for walking into the Capitol building on January 6 for nine minutes to use the bathroom.

When they entered the Capitol building, a cop told them how to get to the bathroom while other surrounding law enforcement officials waved the massive crowd of peaceful demonstrators into the building as lawmakers certified the stolen 2020 election results.

[...]

Casey, a father of three, James, a 74-year-old pastor and purple heart recipient and David, a 70-year old grandfather, are charged with four federal felonies for stopping to use the bathroom in the Capitol building, including Knowingly Entering or Remaining in any Restricted Building or Grounds Without Lawful Authority, Disorderly or Disruptive Conduct in a Restricted Building, and Violent Entry and Disorderly Conduct on Capitol Grounds, according to the Department of Justice.

To everyday Americans, the government's charges against Casey, James and David are bogus, absurd and preposterous. But the litigation will not be an open and shut case.

The odds are stacked against J6 defendants on trial in the District of Columbia, where the pool of potential jurors has a 92 percent rate of voting for Joe Biden in the District of Columbia. District federal judges have almost resoundingly sided with the government against so-called insurrectionists, resulting in an overwhelming, unprecedently high conviction rate for J6 defendants.
That two of the defendants are "elderly" is irrelevant to the case, and it's something Powe apparently added to up the perceived victimhood quotient. While the Cusicks and Lesperance appear to have not to have committed any violence, there is much evidence that they were inside the Capitol when they weren't supposed to be. Powe also neglected to mention that, as a real journalism organization did, that the Cusicks' church "presented a blend of Christian theology and patriotism to its audience," but appears to be currently inactive.
Related articles on ConWebWatch:
Powe also complained that "The Justice Department's U.S. Attorney's offices have secured a 99.8% conviction rate on at least one charge in each case, including half through guilty pleas," but didn't mention that this is in no small part due the fact that the riot was incredibly well documented due in part to many of the defendants posting photos and video of what they did on social media. There was plenty of other video available to document what people did; indeed, the charging document for the Cusicks and Lesperance point out that CCTV inside the Capitol and Capitol Police body cameras captured them and geolocation data from Lesperance's phone placed him inside the Capitol; photos taken by Lesperance (which Lesperance tried to delete but were recovered from his iCloud account) showed the Cusicks in action.

Powe went on to state that "When Casey, James and John left Washington, DC, they had no inclination that they had committed any crime on January 6" -- never mind the fact that it should have been obvious that entering a restricted public building as part of a mob was a crime.

Powe also hyped claims of innocence by the trio's lawyer, John Pierce:
Despite the tainted jury pool and corrupt judges, Pierce is confident the Cusicks and Lesperance will be acquitted.

"This is by far, might be the best chance anybody has to get a full-on jury verdict acquittal of all charges because the facts are probably the best of any facts that we have in the case," he said. "These defendants are pretty much the most credible and sympathetic defendants in any case. Our plan is to win this — I mean, every defendant, every charge, not guilty."
In fact, by the time WND published this story, the Cusicks and Lesperance had been found guilty on all charges, and sentencing was set for October. WND didn't see fit to report this development to its readers.
The latest from