MRC Pushed Unproven Republican Narrative That Bowman Deliberately Pulled Fire Alarm
Topic: Media Research Center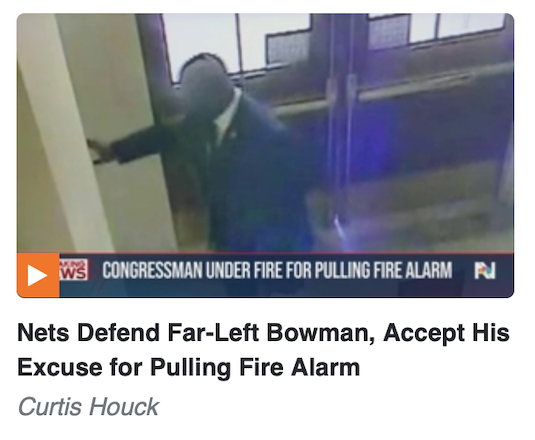 When Democratic Rep. Jamaal Bowman pulled a firearm at the Capitol in an attempt to leave the building during a contentious showdown over attempts to avoid a government shutdown, the Media Research Center repeatedly attacked non-right-wing outlets for refusing to echo right-wing claims that he did it deliberately to disrupt the debate and -- even worse -- reported bowman's side of the story. Alex Christy complained in a Sept. 30 post:
Saturday brought the simultaneously bizarre and outrageous development of New York Democratic Rep. Jamaal Bowman pulling the fire alarm in order to disrupt the House's business as it eventually passed a 45-day continuing resolution to avert a government shutdown. Naturally, MSNBC's Yasmin Vossoughian accepted the statement that it was just an accident.

At the end of a long diatribe against Republicans ranging from Speaker Kevin McCarthy to Rep. Matt Gaetz, Vossoughian added, "Last thing I wanna mention and then we're going to take a quick break, there was a mention of Jamaal Bowman, Congressman Jamaal Bowman, and the pulling of some sort of fire alarm."

[...]

Bowman, who as a former school principal who knows candy does not fall from the ceiling upon the pulling of the fire alarm, did not trip over himself while running and pull the alarm in a freak accident. He is clearly standing by the alarm and deliberately pulling it.

Vossoughian and MSNBC would never give a Republican the benefit on the doubt if they were to pull the fire alarm with photographic evidence. Instead, Vossoughian went to break and on the other side of that break, conducted an interview with Rep. Jamie Raskin where she proceeded to ignore his fire-alarm pulling colleague as the two spent that entire time attacking Republicans.

Meanwhile, over at CNN's Smerconish, McCarthy's presser was the only immediate reference to the almost certain felony.

Christy is admitting his own bad faith by pushing the right-wing narrative that Bowman acted with malign intent without any evidence to prove it.
Curtis Houck similarly whined in a Oct. 2 post:
This week in liberal media double standards, ABC, CBS, and NBC spent the weekend and Monday morning defending far-left Congressman Jamaal Bowman (D-NY) after he pulled a fire alarm< inside a House office building, delaying a vote to keep the government open. In all but two instances, the "big three" uncritically accepted his excuse that it was an "accident." If this were a Republican, it'd be a safe bet they'd cover it differently.

With college football airing Saturday on ABC, only CBS Weekend News and NBC Nightly News aired. In both cases, they only relayed what happened and Bowman claimed it was a mistake.
Houck did not explain the relevance (or the accuarcy) of labeling Bowman as "far-left." He then cheered that some in the media were fowarding Repubican narrative attacks on Bowman:
CBS Mornings had a full segment on Bowman as part of its "What to Watch" block and co-host Vladimir Duthiers noted Bowman's excuse runs counter to "images obtained by Punchbowl News" that "show the exit with a number of signs warning about an alarm sounding if you push on the door clearly labeled 'emergency use only.'"

"It's the same one we all have in this building, in high school, in elementary school. It says 'fire.' 'Pull in case of'...I like what Republican Congresswoman Nicole Malliotakis from New York said, 'this is the United States Congress, not a New York City high school,'" he added.

Co-host and Democratic donor Gayle King seemed sympathetic to Bowman, but even she conceded it's "a little difficult" to accept him saying he didn't think the lever he pulled "was a fire alarm."

"It says fire...We gotta call it for what it is. You're a congressman," Duthiers replied.
The Bowman story crossed over into Nicholas Fondacarto's hate-watching of "The View" in an Oct. 2 post:
Over the weekend, we saw the liberal media rush to spread New York Democratic Representative Jamaal Bowman's disinformation that he set off a fire alarm in a House office building because he thought that's how doors worked. But, on Monday, a couple of the radical liberals on ABC's The View had their own conspiratorial theories. According to both moderator Whoopi Goldberg and racist co-host Sunny Hostin, the door he was trying to get through was closed as part of a Republican plot to stop him from voting.

Despite the fact Bowman and his office admitted he set off the fire alarm, faux conservative Alyssa Farah Griffin asserted he "allegedly pulled a fire alarm." "He claims that it was because he was trying to get to the House floor," she added while pivoting her words to admit he did pull the alarm. "The video seems -- or the pictures suggest otherwise."

Hostin decried any suggestion that Bowman pulled a "stunt" and cooked up a conspiracy theory that there was an ulterior and nefarious reason the emergency exit Bowman was trying to get through was closed: "I know Jamal, and so again, I'm a little biased, but the doors that are normally open so that he could get to the chambers to read were somehow miraculously closed. How did that happen?"
Fondacaro offered no evidence to back up has assertion that Bowman;'s explanation is "disinformation." (Shouldn't that be "so-called disinformation"?) And, again, Fondacaro thinks Hostin is "racist" largely because he doesn't understand how metaphors work.
An Oct. 2 post by Kevin Tober whined that non-right-wing outlets weren't obsessing over the Bowman story they way they do in the right-wing bubble:
After running with New York Democrat Congressman Jamaal Bowman's absurd excuse for why he pulled the fire alarm in one of the House office buildings on Saturday, it appears at least two of the big three news networks grew tired of the scandal and decided to move on and hope Americans forget about the serious crime Bowman committed. CBS Evening Newswas the only nightly network news broadcast to continue covering Bowman's stunt.

[...]

While CBS Evening News continued their coverage from earlier in the day, they only deserve half credit since correspondent Scott MacFarlane painted the crime as simply Republican accusations despite there being video footage of the incident:

"Some Republicans are also calling for the ouster and prosecution of New York Democrat Jamaal Bowman, a former middle school principal who they accuse of pulling a House office building fire alarm to delay the tense proceedings Saturday," MacFarlane whined.

He then simply regurgitated Bowman's excuses: "Bowman apologized and said he thought the alarm would open a locked doorway as he rushed to votes," MacFarlane said. "The House Administration Committee and U.S. Capitol Police are investigating."
Tober failed to back up his claim that Bowman was deliberately performing a "stunt."
Bill D'Aogstino spent an Oct. 3 post insisting that reporting Bowman's side of the story was "spin":
This past weekend, CNN and MSNBC found themselves in the awkward position of having to defend Representative Jamaal Bowman (D-NY), who on Saturday afternoon pulled a House office building fire alarm during a vote. While some journalists on these networks have uncomfortably questioned Bowman's excuse that he pulled the alarm by "accident," the more partisan among them have been trying everything they can think of to spin the story.

On multiple occasions, talking heads on both liberal cable networks uncritically read Bowman's official statement aloud. MSNBC host Yasmin Vossoughian was the first to do so on Saturday, during a quick aside which reeked of damage control.

Her colleague Alex Witt later followed suit, going on to complain to Congressman Ro Khanna (D-CA)that Republicans were criticizing Bowman: "What do you say to Republicans who just jumped on this, saying, 'Oh, he should face an ethics investigation for creating a delay in voting and be expelled,'?"

[...]

This story was supposed to be a slam dunk for the media: a chance for them to demonstrate their supposed even-handedness by criticizing a Democrat who had clearly acted improperly. Instead, it was a tortured scene of political damage control — the kind one might expect to play out in Bowman's DC office, rather than on national television.

What D'Agostino ignores is that, unlike right-wing media activists, actual journalists wait for evidence before accusing someone of malign intent -- and there was still no evidence that Bowman set off the alarm deliberately.
Tim Graham rehashed the incident on his Oct. 4 podcast with numerous personal attacks on Bowman that have nothing to do with what happened:
Managing Editor Curtis Houck joined the show to discuss this and radical leftist Rep. Jamaal Bowman, who pulled a fire alarm in a House office building to delay a vote on a shutdown package on Saturday. They can never identify someone like Bowman as a "hard left" Democrat. Alex Christy hopped on the pro-Democrat media trend right away, explaining away that this was some sort of accident. Bill D'Agostino made a video clip package of all the pathetic press release-reading and excuse-making.

CBS reporter Scott McFarlane spun furiously: "Some Republicans are also calling for the ouster and prosecution of New York Democrat Jamaal Bowman, a former middle school principal who they accuse of pulling a House office building fire alarm to delay the tense proceedings Saturday," MacFarlane whined. "Bowman apologized and said he thought the alarm would open a locked doorway as he rushed to votes." How stupid do they think we are?'

How nutty is Bowman? According to the leftist website Raw Story, Jamaal Bowman said this about on Tim Scott saying America's not a racist country. This was apparently pro-Trump: "Now the fact that he would want to be VP to a racist, fascist person is beyond me, but that was him pandering to the Sambo section of the Black community." Black conservatives are always abused like this.
What does that rant have to do with the incident at hand? Nothing. Graham is simply lashing out because that the facts don't support right-wing attacks on Bowman over the incident.
When Bowman eventually pleaded guilty to a minor crime related to the alarm incident and paid a fine, Houck returned to spend an Oct. 25 post whining that non-right-wing networks didn't cover the relatively insignficant news while praising Fox News for keepingup the right-wiong obession:
Late Wednesday afternoon, it was announced that far-left Congresswoman Jamaal Bowman (D-NY) will be facing a single criminal charge for his September 30 pulling of a fire alarm at a House office building the briefly delayed the House's passing of a continuing resolution to avert a government shutdown. Given how the "big three" of ABC, CBS, and NBC barely covered the initial incident, it's not surprise none of the Wednesday evening flagship newscast covered it.

But just as unsurprising was the fact that the Fox News Channel's flagship newscast Special Report was all over it with a full, two-minute-and-53-second report. Host Bret Baier announced the breaking news that "Democratic congressman who pulled the fire alarm before a House spending vote will surrender to Capitol Police tomorrow."

[...]

Was Wednesday a busy news night? No doubt about it as there wasn't even time for a puffball human interest story on any of the network.

But if this were a Republican, there's no doubt ABC's World News Tonight, the CBS Evening News, and NBC Nightly News would find a way to work this story in and maybe a few seconds less on, say, promoting the Hamas propaganda of the day and their dubious death tolls.
Like Christy, Houck doesn't understand that non-right-wing media cares more about facts than right-wing media. He would rather praise Fox News for keeping Bowman conspiracy theories alive -- indeed, he cheered that the Fox News report quoted a Republican congressman "to represent how Republicans aren't 'buy[ing]' Bowman's excuses" -- than admit that the facts don't support such speculation. And, again, he failed to justify the relevance or accuracy of labeling Bowman "far-left" here; it seems he wants to hint at malign intent by labeling his purported beliefs.
That's not "media research" -- that's partisan activism. That would seem to violate the nonprofit tax charter the MRC runs on, which restricts the kind of political activity it can engage in.
Posted by Terry K. at 9:46 PM EST
Updated: Friday, December 1, 2023 11:00 AM EST