MRC Tried To Blame Biden For U.S. Credit Downgrade
Topic: Media Research Center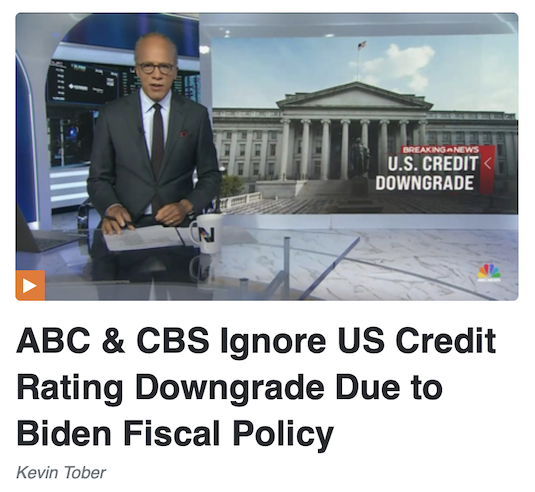 The Media Research Center has long tried to blame President Biden for everything bad that's happening with the economy while talking down When the U.S. saw a credit downgrade amid Republican efforts to shut down the federal government, the MRC tried to blame that on Biden too. Kevin Tober huffed in an Aug. 1 post:
On Tuesday, the credit rating agency Fitch Ratings downgraded the United States' credit score for the first time since 2011 due to the mounting debt and federal government disfunction that has occurred during the first two years of the Biden administration. Of the "big three" evening news broadcasts, only NBC Nightly News bothered to cover the credit downgrade.

Instead, ABC's World News Tonight & CBS Evening News were more preoccupied with a group of pedestrians getting hit by a car in NYC (ABC), and the U.S. Women's soccer team playing their first World Cup with "equal pay" (CBS). This is in addition to their obsessive coverage of Tuesday's indictment of former President Donald Trump in which ABC spent 11 minutes and 56 seconds harping on the news.
Tober wouldn't admit that Republicans are playing a big role in creating that "disfunction" (or that he should have run a spell-check on his item before posting it).
In an Aug. 3 post, Alex Christy whined that one outlet did point out Republican blame:
During a discussion on former President Donald Trump's latest indictment related to January 6, MSNBC's Stephanie Ruhle went on a bit of a digression on Wednesday's The 11th Hour to discuss Fitch downgrading the U.S.'s credit rating, which according to her was caused by "was the chaos created by the GOP" including January 6. Of course, Fitch's own explanation was a little bit more complicated.

Ruhle was joined by former Reps. Tim Ryan and Charlie Dent, a progressive Democrat and moderate-to-liberal Republican respectively, and addressing Ryan she wondered:

The power of our democracy, the power of our economy, Tim, just yesterday, Fitch, the rating agency, downgraded U.S. credit. And one of the factors was what happened on January 6th, was the gridlock, was the chaos created by the GOP, by these falsehoods and the misinformation getting pushed. Do people realize this, and how fragile things are? And do they care enough?

[...]

With Ruhle nodding in agreement, Ryan continued, "but it's also, you know, huge tax cuts, and me and Charlie may have a conversation about, this but the huge tax cuts that blew a huge hole in the deficit after two wars and after the Bush tax cuts, yeah, of course, you know, we're running deficits that are huge."

In their "rating action commentary", Fitch does not use the word "wars" even once. While, it does mention tax cuts, it also mentions "new spending initiatives" and the lack of entitlement reform, "Additionally, there has been only limited progress in tackling medium-term challenges related to rising social security and Medicare costs due to an aging population."

Fitch also mentions that a significant rise to deficit-to-GDP ratio and while citing debt-limit brinkmanship, laments that the deal that was reach was only "a modest improvement to the medium-term fiscal outlook."
Christy censored the fact that theFitch commentary also referenced "erosion of governance ... that has manifested in repeated debt limit standoffs and last-minute resolutions" -- which is Republican-generated.
Keter Kotara issued a similar complaint later in the day:
Thursday's Morning Joe featured a defensive segment where host Joe Scarborough and President Emeritus of the Council on Foreign Relations Richard Haass teamed up to shove blame on Republicans for the recent credit downgrade of the United States received from Fitch.

Seeking to promote the lie that national debt doesn't matter and that "Bidenomics" was working, Haass and Scarborough sought out a way to blame the "dysfunctional" state of American politics and name Republicans for that dysfunction, while leaving out any mention of Democratic responsibility.

[...]

Haass thought he could just skirt over the fact that the US has an unprecedented, massive amount of debt that Biden and the Democrats recently added to with their infrastructure legislation and pandemic spending spree. Credit rating is an assessment of whether or not someone can pay back their debt, and the biggest factor into that was the size of the debt.

[...]

So even if political instability was the reason why the credit was downgraded, it was Democrats' fault.

They spent the money. They forced the debt limit to be raised. They put America in a situation where it couldn't pay its debts, then called it "Bidenomics" and gaslighted the country into thinking the economy was great. And now, America has begun to pay the price of their financial recklessness and irresponsibility. But you won't hear that from the media, just finger-pointing and pandering to the far left.
Is that like how Kotara is finger-pointing and pandering to the far right?
Cassandra DeVries served up her own version of the approved partisan spin in another Aug. 3 post:
On Thursday, CNN News Central discussed President Joe Biden's low approval ratings and the even lower approval rating of his management of the economy. They subsequently covered Fitch's downgrade of the U.S.'s credit score from an AAA to an AA+ on Tuesday because of "deterioration in governance." Instead of linking the troubling economic conditions to Biden's policies, CNN quoted Biden's administration and blamed the previous Trump administration.

[...]

Like most Americans, Fitch disapproved of how Biden handled the economy and the government's constant increase in borrowing. They distinguished between the economy's condition and how the economy was handled and subsequently lowered the U.S.'s debt rating.
Nicholas Fondacaro brought the narrative to his hate-watching of "The View" in an Aug. 4 post:
In the same week that credit rating agency Fitch downgraded the United States' credit from AAA to AA+, partially because President Biden refused to negotiate on the debt ceiling with Republicans until the 11th hour, multimillionaire and co-host of ABC's The View, Joy Behar whined that Biden was not getting "credit" for a "booming" economy. She falsely suggested that "inflation is down" and that average Americans were "having an easier time putting bread on the table."
Fondacaro offered no evidence that the previous shutdown threat was solely because of Democratic refusal to negoatiate. Hasn't he heard that one is not supposed to negotiate with terrorists (economic ones in this case)?
Posted by Terry K. at 10:19 PM EDT
Updated: Wednesday, November 1, 2023 10:33 PM EDT