MRC's Jean-Pierre-Bashing, Doocy-Fluffing Watch
Topic: Media Research Center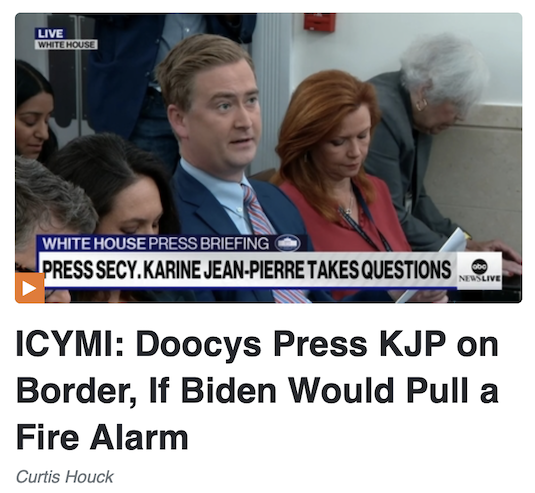 In his writeup of the Oct. 2 White House press briefing, the Media Research Center's Curtis Houck served up huge dose of Doocy-fluffing, insisting that only biased right-wing reporters like Peter Doocy were asking "real questions":
Monday's White House press briefing started on a pathetic note with the first flurry of questions consisted of the press corps sticking up for and asking questions on behalf of the Ukrainians, not the American people. Eventually, there were real questions asked, thanks in part to Fox's Peter Doocy and wife Hillary Vaughn of the Fox Business Network.

Vaughn came first: "New York Governor Kathy Hochul says the border is too open right now. Does the President think that the border is too open?"

Jean-Pierre launched into a hilarious answer that began with the token point that Biden "put forward a comprehensive piece of legislation to deal with immigration reform" when he took office, but Republicans won't acquiesce.

She then added that Biden's tackled the border through "enforcement," "detergence," and "diplomacy." On the second point, she comically bragged that "we've made clear that attempting to cross the border unlawfully will result in prompt removal, a five-year ban on — on reentry, and potential criminal prosecution."

[...]

A few minutes later, Doocy drew some laughs at the White House when he alluded to Congressman Jamaal Bowman (D-NY) pulling a fire alarm on Saturday that delayed a House vote to keep the government open:"Would President Biden ever try to get out of a meeting by pulling a fire alarm?"

Jean-Pierre jokingly replied: "Are you talking about something specifically?"

Doocy then became more direct: "A Democratic member of Congress pulled a fire alarm around a series of votes. No fire. Is that appropriate?"

Jean-Pierre said she hadn't "spoken to the President about this and" thus wouldn't "comment."

Doocy's other questions focused on a possible strike of health care workers and riots last week with looters ransacking stores in Philadelphia[.]
In Houck's right-wing bubble, press questions are only "real" if they advance conservative narratives.
Houck's Doocy-fluffing continued the next day:
On Tuesday afternoon, the Fox News Channel's Peter Doocy wasn't having it as the ever-inept White House Press Secretary Karine Jean-Pierre reverted back to a years-long, cartoonish, pants-on-fire fable that Republicans are the true anti-cops, defund-the-police party in light of Monday night's carjacking of Congressman Henry Cuellar (D-TX) in the Navy Yard section of Washington D.C.

It started with a question from The Wall Street Journal's Catherine Lucey, who was not only the penultimate reporter called on, but shamefully only the first to bring up Cuellar: "[D]oes the White House any comment on the carjacking of Representative Cuellar? Has the President reached out to him? And more broadly, does it say anything about safety and crime in the District?"

After confirming that Biden "did have an opportunity to speak with the congressman today," that the White House is "grateful and relieved" he was okay, and calling the attack "unacceptable," she launched into blaming the GOP for cities not being fully staffed with police (click "expand"):

[...]

Doocy went straight to the obvious the left writ large — in or out of office — won't admit, which is that they run nearly all of these major cities spiraling into lawlessness: "Well, the first follow up would be, how are you going to blame Republicans for this? Isn't D.C. run by a bunch of Democrats?"

Jean-Pierre doubled down that Biden "has been very, very straightforward about" ensuring "communities are safe" whereas Republicans wouldn't support giving "communities...funding" to "hire more police officers".

Doocy hit back with this stinging hypothetical: "So, if President Biden's policies are helping bring crime down, would he be comfortable with somebody borrowing his Corvette and parking it on the street overnight in Southeast D.C.?"

The Press Secretary refused to go there, saying she'd only "get into the facts about what this President has done" and brought up the gun control legislation from last year.
Apparently for Houck, "stinging hypotheticals" 'are the same as "real questions" when Doocy says them.
Biden's decision to build parts of a border wall gave Houck the chance to spread the right-wing narrative that the president caved and to chortle that Jean-Pierre was asked a lot of questions about it at the Oct. 5 briefing:
Karine Jean-Pierre, the Biden White House's ever-inept press secretary, had a rough go of things Thursday afternoon as she took a plethora of brutal questions from the left and right over President Biden's sudden capitulation to sanity and allow for the construction of just over 20 miles of new border wall along the U.S.-Mexico border. Given it was more than just Fox's Peter Doocy and Real Clear Politics's Philip Wegmann pressing, you knew it was a grilling.

He didn't forget his Doocy-fluffing, though:

Doocy Time ended the briefing, starting with: "As a candidate, President Biden didn't say, 'there will not be another foot of wall constructed that — except what was appropriated in 2019.' He said, 'there will not be another foot of wall constructed [in] my administration.' So, something changed. What?"

This left Jean-Pierre furious (click "expand"):

[...]

Doocy's last question was spicy but pertinent: "If you have to build a border wall but you don't think that it's going to work, then once it's done, are you just going to tear it down?"

Of course, Jean-Pierre scoffed at the idea of "getting into hypotheticals".
Such partisan hackery from Doocy, remember, is what Houck considers to be "real questions" to ask the White House.
Posted by Terry K. at 9:23 PM EDT