MRC Finishes Its Highly Tranphobic Pride Month
Topic: Media Research Center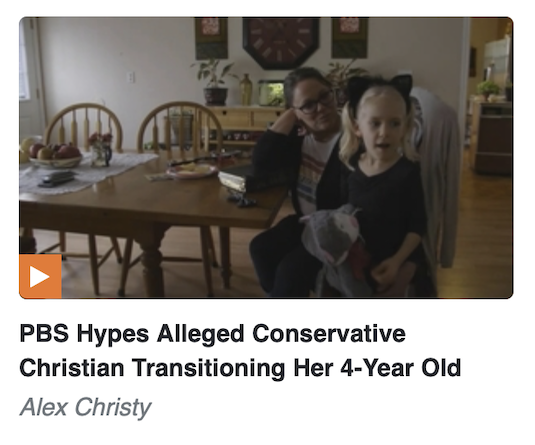 The Media Research Center spent much of Pride Month spewing hatred at transgender people, and that pattern continued the rest of the month as well. Alex Christy spent a June 21 post being angry at a documentary film that aired on PBS for highlighting conservative Christians who stopped hating LGBTQ people:
Not long after condemning Christian pastors for not wanting drag queens at their Christmas parade, PBS has managed to outdo themselves on Tuesday by claiming that the Bible teaches that there is nothing wrong with transitioning four-year olds.

A summary for the Independent Lens: Mama Bears documentary states, " Mama Bears is anchored by three intrepid women who found their relationship to the LGBTQ+ community at direct odds with their Christian upbringing. The protagonists are all members of the eponymous group Mama Bears. What started as an online network of conservative Christian mothers seeking guidance for their queer children turned into a boots-on-the-ground organization."

One of those women is Kimberly Shappley who declared that "When Kai was about four years old, she prayed and said she would like to go home and be with Jesus and never come back. All of the things I had learned about transgender children having a 41 percent risk of attempting suicide came flooding back."

A series of news clips from 2014 covering the suicide of 17-year old Leelah Alcorn was then shown, the last of which featured ABC's Lindsey Davis reading from Alcorn's suicide note, "Alcorn wrote she felt like a girl trapped in a boy's body but that her family 'Wanted me to be their perfect little straight Christian boy.' 'The only way I will rest in peace is if one day transgender people aren't treated the way I was.'"

Shappley would continue to use this emotional manipulation to justify her actions and shame anyone who objects, "I read about Leelah Alcorn and what she wrote. 'Christian parents don't do this to your kids.' And I realized I had a four-year-old who would rather go be with Jesus forever than stay here and have to live as a boy one more day."
Yes, Christy thinks it's "emotional manipulation" to point out that some transgender children are driven to suicide due to rejection by their rigid right-wing parents.Christy ranted again when Shappley argued that her child being transgender is God's will:
Trying to justify herself, Shappley continued, "The Bible tells us not to call unclean what He has made clean. So if science says that my daughter was born transgender, that means that the Lord knit her together in my womb that way. And whether religious people disagree with me or not, I have to hold firm in the truth. And that is that she was fearfully and wonderfully made in the image of God, and she was born transgender. I knew that I was choosing life for my kid."

Of course, Shappley is treating her son's body as unclean—hence the transition to something else—, but the real point of this documentary wasn't to try to win a theological argument, but rather to shame other people by tying opposition to gender ideology and transitioning minors to suicides while mangling the definition of "Christian" and "conservative" beyond recognition.
Well, yeah, Christy wouldn't recognize not hating LGBTQ people -- even your own child -- as a Christian value.
Speaking of twisting things beyond recognition, a June 27 post by Bethany Kawalec bizarrely framed a right-wing website's hatred of a transgender actor as "compassion":
YouTube once again silenced opposition to the "transgender" movement, this time suspending BlazeTV.

BlazeTV podcaster and political commentator Lauren Chen discussed actor Elliot Page, formerly known as Ellen Page, and some of the disturbing stories detailed in the actor's new book Pageboy: A Memoir. YouTube removed the video over so-called "hate speech" and suspended Blaze TV's channel for one week. Chen explained in a tweet: ".@YouTube has SUSPENDED @BlazeTV over my recent video covering Ellen Page's mental illness, specifically her admitted experiences with self-harm & her 'trans' identity."

[...]

It remains unclear exactly which specific section of Chen's video violated YouTube's so-called hate speech policy. However, the policy identifies "Gender Identity and Expression" as a protected group and gives as an example of hate speech, "'[Attribute noted above] is just a form of mental illness that needs to be cured.'"

Chen, however, did not ignore the obvious signs of mental illness described in Page's memoir. She noted Page's allegations of facing sexual abuse and the actor's struggles with self-harm prior to transitioning. "It's no wonder that Page, when we look at her now, has all of these different mental health struggles," Chen said. She later added that "as an individual, I feel sorry for her. This is clearly someone who has been through, I think, a lot. She was also a child actor and growing up in Hollywood I think it is hard to escape unharmed, and in the same memoir that she's written it seems she has serious psychological problems."

Nowhere in the video does Chen encourage hatred or violence against Page or any other people claiming a "transgender" identity. Instead, Chen actually expresses great compassion for Page. "I do think there is an actual person, under all these labels, who is hurt, who is scarred, and who needs someone who genuinely has her best interests at heart," Chen said.
Given that Chen has shown that she rejects Page's transgender identitythrough misgendering him and putting "trans" in scare quotes, it's highly unlikeluy that she has is "best interests at heart," unless those "best interests" involve fording him to stop being who he is. There's also the fact that Kawalec described Chen's video as an example of "opposition to the 'transgender' movement" (there's those scare quotes again).
Chrsity returned for a June 28 post whining that right-wing hatred of Bud Light for allowing a transgender person to drink its beer was called out:
Anheuser-Busch CEO Brendan Whitworth joined the crew of CBS Mornings on Wednesday to discuss the fallout to Dylan Mulvaney marketing campaign. It would prove to be a segment full of corporatespeak, Republican bashing, and covering up of just how badly the campaign backfired.

While talking about the Mulvaney campaign, co-host Gayle King illustrated, "How and why did it -- did it go so off the rails? Because that certainly wasn't your intention when you did one can to one person."

For his part, Whitworth conceded it has "been a challenging few weeks," but lamented "I think the conversation surrounding Bud Light has moved away from beer, and the conversation has become divisive. And Bud Light really doesn't belong there."
Christy failed to justify the right-wing war against Bud Light over Mulvaney.
Chief MRC transphobe Tierin-Rose Mandelburg raged at the Washington Post in another June 28 post for not irrationally hating a pair of transgender teenagers the way she does:
The "Washington Post" released a gross profile last week on two transgender teenagers. The piece was woven with pro-trans propaganda.

The piece by author Caitlin Gibson and photographer Emily Monforte supposedly took a few months to prepare as Monforte, who had a strange affixation for photographing queer youth, followed the lives of two "trans" children living in Los Angeles. One goes by Evan and is a 15-year-old boy who thinks he's a girl and the other, with the same type of confusion, is Natasha who is 17.

WaPo first highlighted Evan who claimed to want to be like Barbies as a child. He also claimed to frequently watch "RuPaul's Drag Race," which is a series featuring men in fishnets dancing and acting in some of the most hypersexualized ways. It's safe to say that a show of the sort is not appropriate for children.

[...]

Honestly, I could make fun of the delusion young Evan is experiencing but quite frankly, the situation is heartbreaking. In the piece, he explained how he dances ballet at school and stares at his male body all day with dysphoria.
Mandelburg doesn't have to be coy -- we already know she's so lacking in basic humanity that making fun of transgender people is second nature to her. But as usual, she's too busy raging at the mere existence of transgender people, and the refusal of others not to share her unhinged hate for them, to remember to do that:
The authors emphasized the need for a piece to push what "trans life is like" at this specific moment. "At a time when transgender youths have been targeted by state legislatures across the country, when headlines often highlight the effects of laws that would restrict trans kids from accessing medical care or playing sports or using certain bathrooms, the rest of their lives — the nuanced entirety of their childhoods — can be overshadowed."

Overall, it's incredibly obvious that by WaPo has a pro-trans agenda. By giving these two young men the opportunity to share their stories, the outlet is enabling and encouraging a delusion. It's clear that both Natasha and Evan have mental health struggles and issues that are not solved by identifying as something they're not.

But the WaPo and the leftist media still wants you to affirm and believe their delusion.
Yes, Mandelburg thinks allowing transgender people to be who they are is somehow a sinister "pro-trans agenda." She has to pretend her hate is logical in order to affirm and believe her delusion that what other people do with their lives is any of her business.
Meanwhile -- despite claiming that it's a "media research" organization -- theM RC did not tell its readers that Fox News got caught injecting biased anti-transgender language into the Associated Press and Reuters wire stories it reprints, at one point altering a quote from a state politican that referenced "gender-affirming care" to instead state "sex reassignment care." One wonders if any of the numerous former MRC employees who now work for Fox News had a hand in doing any of that.
Posted by Terry K. at 8:26 PM EST
Updated: Monday, November 6, 2023 11:23 PM EST