MRC's Jean-Pierre-Bashing, Hypocritical 'Fatal Attraction' Edition
Topic: Media Research Center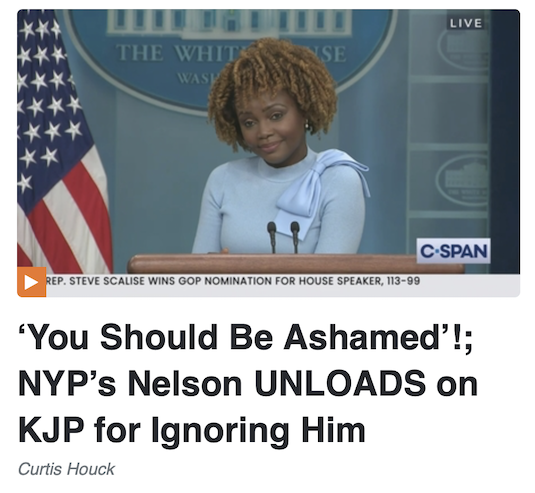 In writing up the Oct. 10 White House press briefing, Curtis Houck accused any reporter who asked a question that dared to raise concerns about Palestinians getting caught in the crossfire of war between Hamas and Israel as being "pro=Hamas":
Tuesday's White House press briefing was largely clear-eyed about the horrors caused Friday by Hamas terrorists in Israel with over a dozen Americans dead and nearly two dozen unaccounted for. There were some tough questions from usual corners, but also some predictably pro-Hamas questions standing up for the plight of modern-day Nazis.

And, amid that chaos, two reporters in the front row had the wherewithal to ask about news from late Monday that President Biden spent the previous two days being interviewed by Special Counsel Robert Hur into his handling of classified documents.

The worst question was actually the last one of the briefing as Press Secretary Karine Jean-Pierre heard this question from Anita Powell of taxpayer-funded Voice of America:

Can you guarantee that members of the Muslim diaspora or immigrant communities can still feel safe, can still exercise their civil liberties, and exercise their criticism of — of Israel's behavior? Was — was that part of the conversations and can you ensure those communities that they have all those rights?

That, readers, is your tax dollars at work in ensuring those supporting mass murder, rape, beheadings, and mutilation have rights.
Yes, Houck reaally thinks that not reflexively hating Muslims means that you somehow support terrorists. Meanwhile, he gave cookies to Fox News employees who asked conservatively correct questions: "At the other end of the spectrum, Fox's Jacqui Heinrich pressed National Security Adviser Jake Sullivan on how Hamas ally Iran had recently been greenlit to receive $6 billion in frozen funds," adding that "Fox News reporter Ryan Schmelz made sure that America's porous southern border was invoked."
In his writeup of the Oct. 11 briefing, Houck helped a right-wing reporter go all "Fatal Atrraction:" on Jean-Pierre for not giving him the attention he demands:
The tail end of Wednesday's White House press briefing was marked by a contentious moment when the White House's ever-inept Press Secretary Karine Jean-Pierre refused to call on the New York Post's Steven Nelson despite having skipped over him for nearly five months and his paper since July 7.

Jean-Pierre was searching for a final reporter to call on when Nelson chimed in, "[y]ou haven't called on me in two seasons, Karine." Before he could finish another thought, Jean-Pierre scoffed with a smirk on her face that, "I'm not calling on you today." Instead, she picked the Washington Examiner's Christian Datoc.

Datoc started to ask his question (instead of let Nelson speak), but Nelson began ripping Jean-Pierre as she repeatedly told Datoc to "go ahead":

[...]

Nelson relented when she again called on Datoc and told Nelson that she was "calling on somebody who I haven't called in a long time as well."

Question: If this were, say, CNN, or another leftist outfit during the Trump years that was being ignored, do you think the rest of the press corps would have ceded ground to let them rant? If so, why didn't the press corps rise up in the New York Post's defense?
As you might imagine, Houck treated a similar situation differently when it happened under the Trump administration. In his writeup of the a Nov. 20, 2020, press briefing, Houck wrote that "White House Press Secretary Kayleigh McEnany held a formal press briefing for the first time in almost two months and, as expected, she didn't disappoint," in part by "smacking down the hurt feelings of liberal reporters like CNN's Kaitlan Collins after they weren't called on":
Following her trademark closing statement (more on that shortly), McEnany closed her binder and thanked those called on for "very good and substantive questions," but still irked by Thursday's Coronavirus Task Force briefing, reporters began screeching (including Brian Karem blabbering about sedition).

When Collins complained about there not having been more Q&A, McEnany leaned back into the podium microphones to say,"I don't call on activists."

Collins replied: "I'm not an activist and you haven't taken questions since October 1st and you just took about five."
Needless to say, Houck is not about to admit that Nelson is the activist he clearly is, even though he works for a highly biased right-wing rag that's still operating only because of the largesse of Rupert Murdoch.
Houck went on to whine about Jean-Pierrre's supposed "pettiness" and that "May 31 was when Jean-Pierre last let Nelson ask questions," but he had no complaints when McEnany went to months without even bothering to hold a briefing, and he certainly didn't call her petty for deliberately ignoring a reporter. Talk about a double standard.
Posted by Terry K. at 8:23 PM EST